Epic Summer Waffle Brunch Board
This post may contain affiliate links.
Easy-to-make Epic Summer Waffle Brunch Board, perfect for a weekend breakfast. Building a brunch board is easy, with waffles, fruit, eggs, scones, and meat!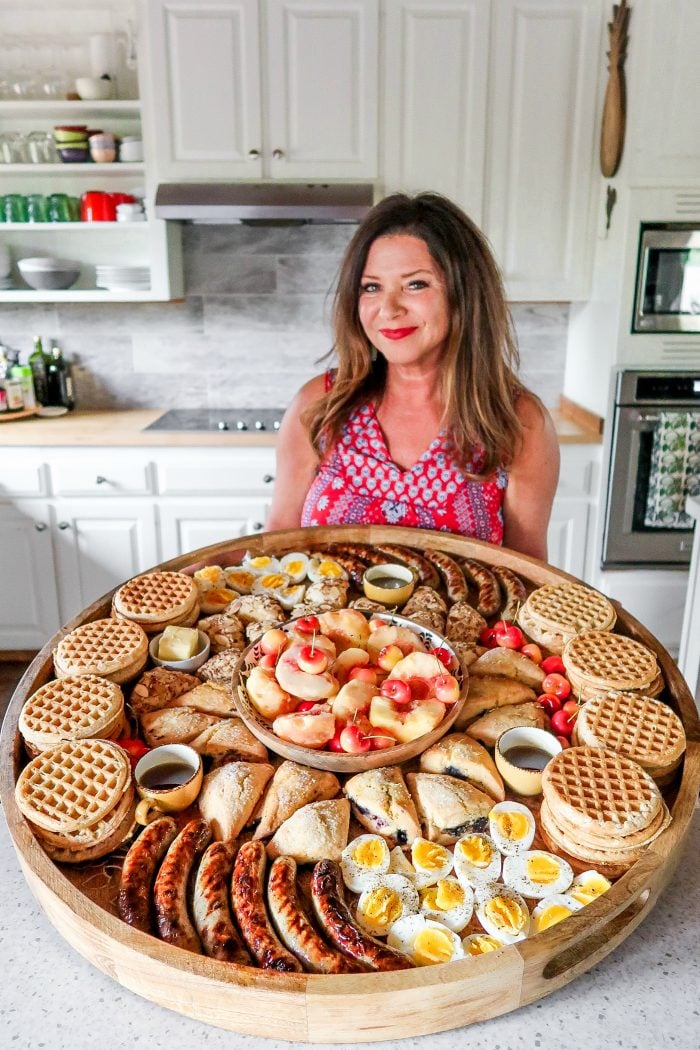 Friends, are you looking to build an Epic Waffle Brunch Board? Start with a quick run to your local Trader Joe's for everything on this list today! Grab the board links here: Best Charcuterie Boards to Buy. And get a lot more "big board" inspiration on this page, The Big Board.
Epic Summer Waffle Brunch Board
Of course if you don't have a Trader Joe's, all of these items can be found in your local grocery store.
How to make a brunch waffle board
Start with multi-grain waffles (did you know Trader Joe's also sells gluten-free?)
Next, add a fruit in season in the middle of an epic board. (*details on the board below)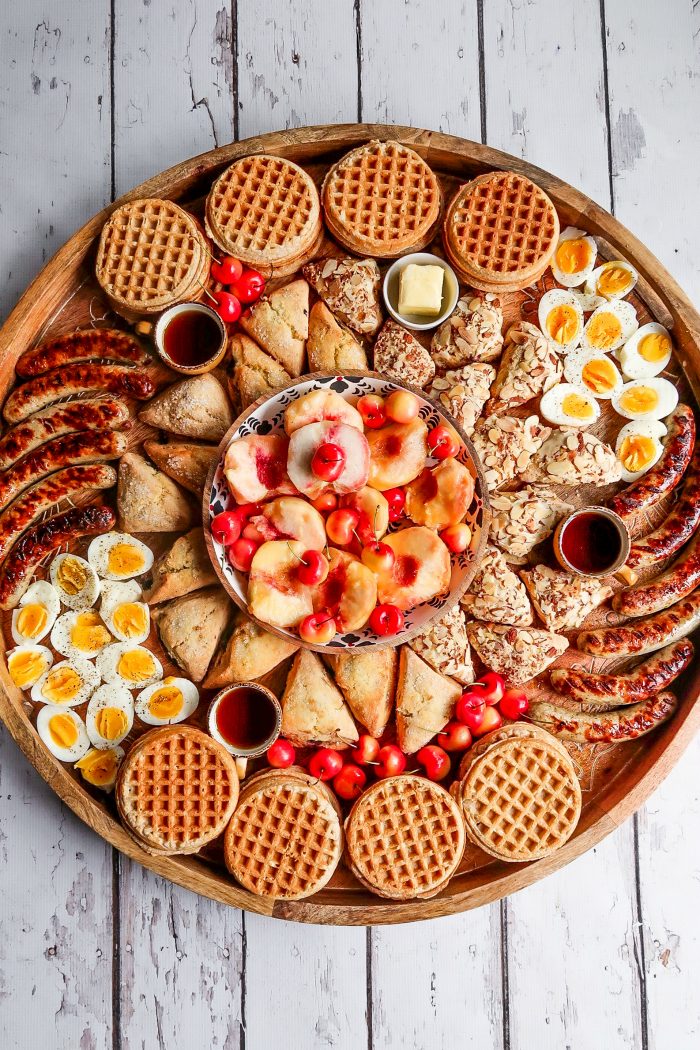 Build around it all of your favorite breakfast or brunch foods, like – scones or muffins, bratwurst or bacon, and soft-cooked eggs.
You'll need condiments like butter, jellies, and maple syrup!
Waffle TIP to keeping hot
How do you keep the waffles hot? We toast them in the oven and then keep turn the oven to low, and keep warm until right before serving. Don't set them out until you're ready to eat! Let everyone dig in!
Make ahead waffles and freeze
If you have time, you can always make your own waffles ahead and freeze. But when company's coming, or we're hosting a brunch, I keep Trader Joe's waffles in the freezer. They're actually just as good as homemade.
Here are a couple homemade waffle recipes on RE: Pear Farro Blender Pancakes and Shredded Zucchini Almond Flour Pancakes.
It only takes 5 minutes to bake all of these waffles!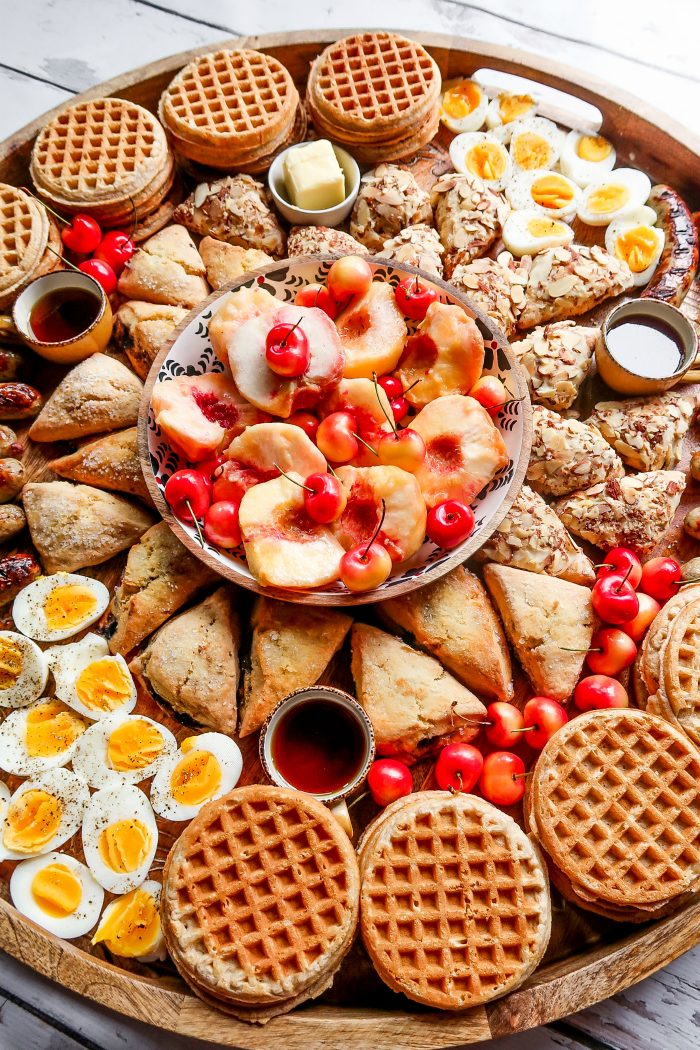 Pancakes or waffles
This is the ultimate summer Brunch Board…so good.
Or, you may want to try my Epic Silver Dollar Pancake Board or Trader Joe's EPIC Pumpkin Pancakes Board for brunch!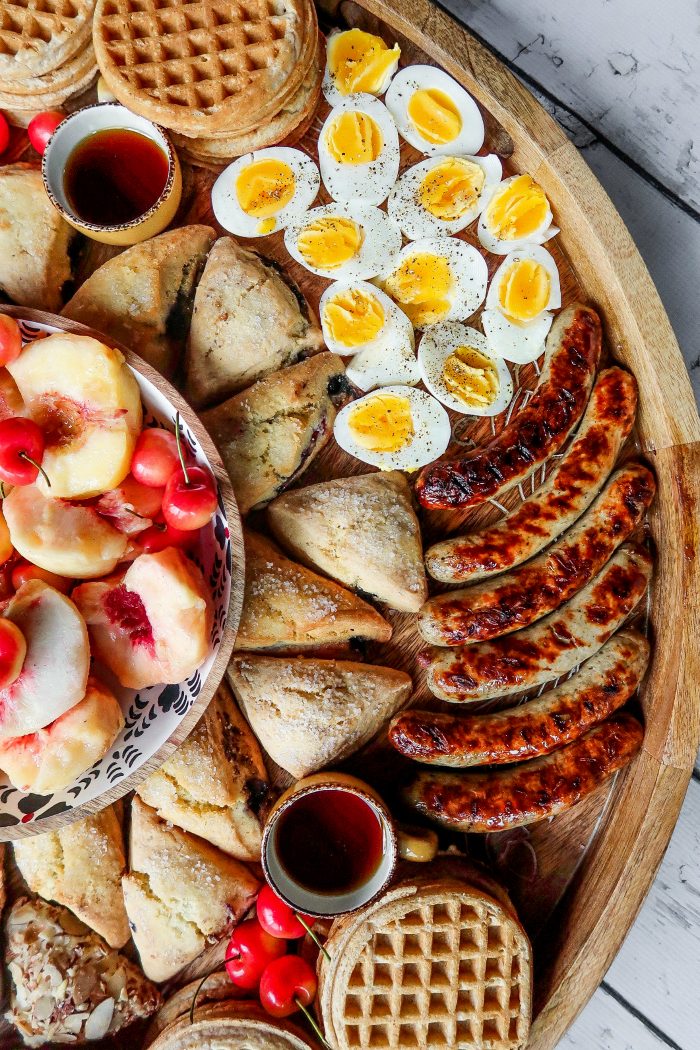 28-inch Charcuterie Board
Grab the links to many board possibilities in this post, Best Charcuterie Boards to buy!
Rememember it says it is "not food safe," so you need to prepare the board by either laying down parchment paper under the food, or you can "season" it like we did.
How to season a Charcuterie Board
If a wood board says it "not food safe," you can lightly sand it down with sand paper, and rub down with beeswax and mineral oil.
We used this butcher block and cutting board oil conditioner after we lightly sanded the board down.
Or, lay down parchment paper! Easy peasy!
You just can't beat a brunch spread for a large group, because there's something for everyone to choose from!
My epic board ideas aren't really a "recipe" but a style idea for hosting a large gathering.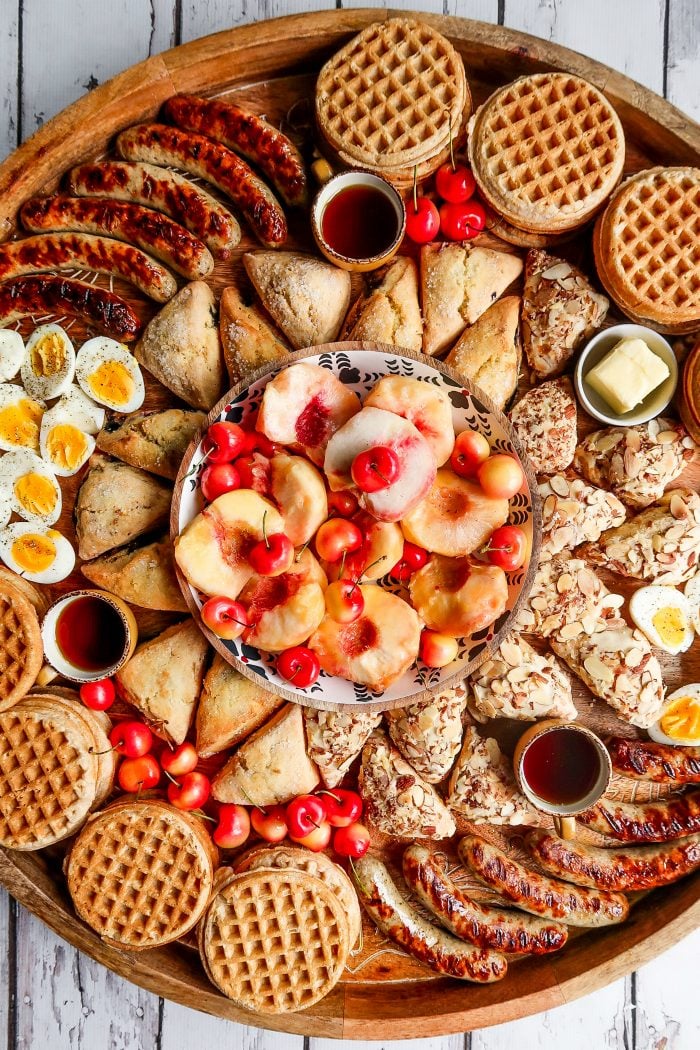 Dinner breakfast boards
I love dinner and breakfast boards because you can adapt the flavors and foods to the season, like I did with this pumpkin waffle board. This was a big hit at Thanksgiving time!
Canning peaches with mom
All the flavors you love most! For summer …. it's peaches for me!
When I think of peaches, I think of summer. Long, hot days in the kitchen with my mom skimming skin off peaches, and sliding them into canning jars. That was my job, since my hand was smaller than mom's, and at that time, she did not use "wide-mouth" canning jars. Now canning is much easier, with wide-mouth openings on jars!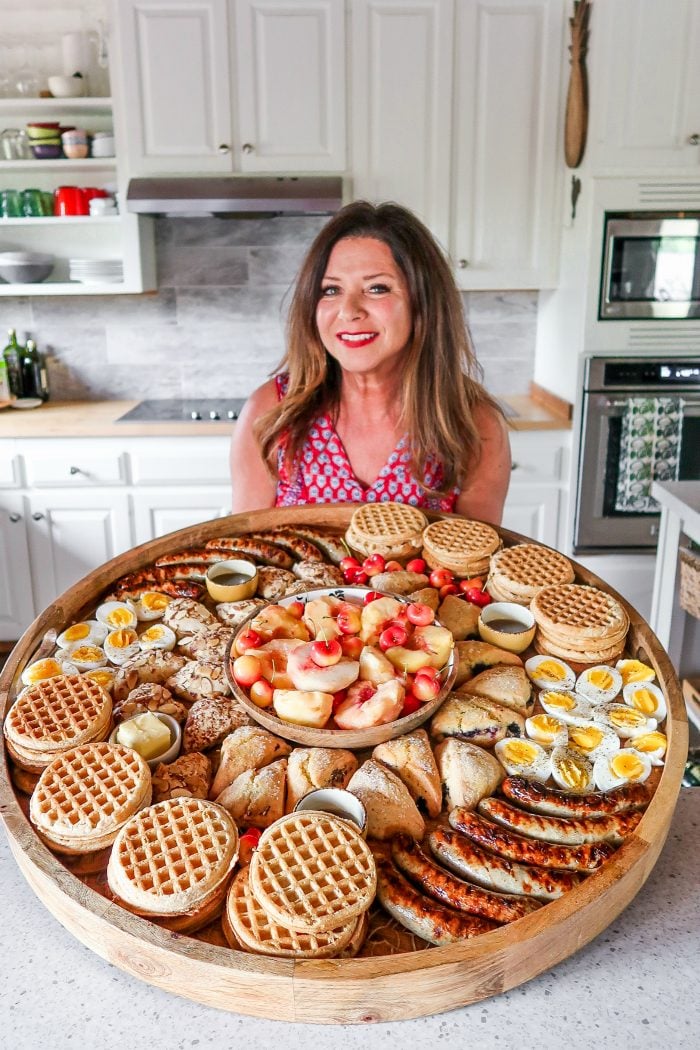 I love peach season so much, and by adding a giant bowl in the center of this Epic Waffle Board—well, that's the perfect summer treat. :)
Epic Summer Waffle Brunch Board
You can use the toaster method or the oven to cook the frozen waffles.
Ingredients
4 boxes Trader Joe's Multi-Grain Waffles, frozen
4 bags Trader Joe's Mini Tea Scones, orange cranberry and blueberry
3 packages Trader Joe's uncured Bavarian Bratwurst, cooked
1 dozen large eggs, soft cooked and halved
Maple syrup
Butter
Fresh cherries
6 peaches, skinned and halved
Instructions
Prepare a large board or serving platter (either food safe or lay down parchment paper).

In the center, place the sliced peaches and cherries.

Cook the waffles according to package directions. You can use the toaster method or the oven to cook the frozen waffles. [Oven method is very quick!]

Arrange the board with remaining food, leaving room for the hot waffles.

Right before serving, add the waffles and serve!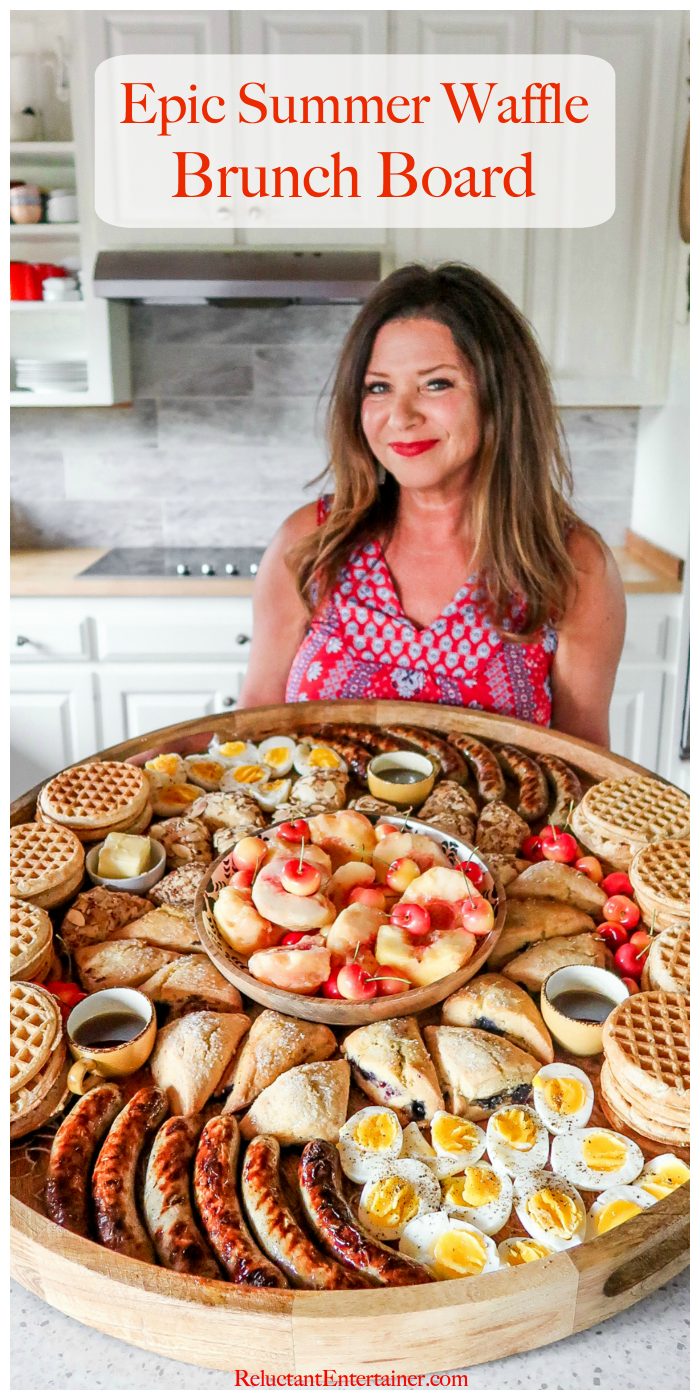 This post has affiliate links. Every purchase from these links supports RE at no extra cost to you. Thank you!
We are a participant in the Amazon Services LLC Associates Program, an affiliate advertising program designed to provide a means for sites to earn advertising fees by advertising and linking to amazon.com.