Halloween Fruit Tray
Perfect for celebrating a fun day and night in a healthier way, this Halloween Fruit Tray is almost too cute to eat! Loaded with grapes, oranges, apples, and more, there's plenty to love on this festive fruit tray. Easy and fun to make and perfect for grazing, when you're looking for something deliciously different to celebrate, give this Halloween Fruit Tray a try!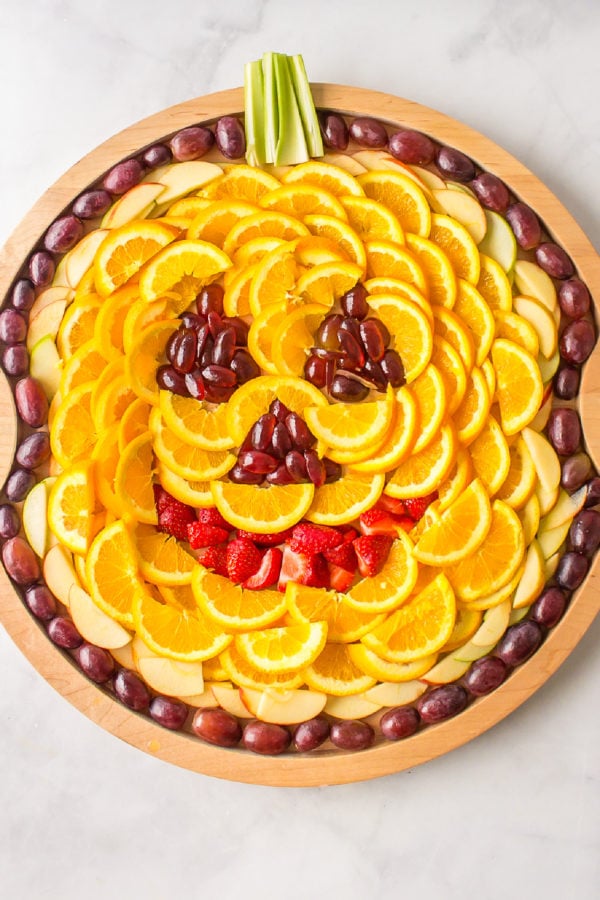 I love fruit trays and especially love how much fun you can have with them! This festive tray is loaded with all sorts of tasty bite-sized fruits, and you can even design it to look like your favorite jack-o'-lantern!
Halloween Fruit Tray
I make this Halloween Fruit Tray on my 20-inch round Big Board. It is the perfect size for this Halloween fruit platter, and with a raised edge, you don't have to worry about fruit falling off or making a mess from the juices.
I love designing this fruit tray like a jack-o'-lantern, and everybody always loves it! You can, of course, mix and match the fruit however you like, but I've got all the instructions you need to make your own Halloween Fruit Tray below!
Why I love this recipe
There's enough chocolate and candy available around Halloween, and everybody loves a bit of something fresh instead of all that sugar.
This is the perfect festive dish to serve at parties, gatherings, potlucks, and more!
It all fits on the 20-inch Big Board and is so easy to transport, thanks to built-in handles.

Gather these ingredients
Red seedless grapes – Wash them and pull them from the stems.
Celery – you'll need 3-4 pieces to make the stem.
Red and green apples – 4-6 apples, cored and sliced.
Oranges – 8-12 oranges, sliced thinly with the rind still on.
Strawberries – 10-12 berries; look for bright red berries.
You'll also need

How to make a Halloween Fruit Tray
Add a row of grapes all the way around the very outside of the Big Board.
Add a row of overlapping apple slices just inside the circle of grapes.
Add the orange slices to fill in the main body of the pumpkin. Layer them around the eyes, nose, and mouth.
Make the eyes and nose of your jack-o'-lantern with red grapes in a triangle shape.
Make the mouth with the halved strawberries.
Cut the celery into 3-4 inch pieces and clump them together as the stem. They can hang over the top of the board.
Serve and enjoy!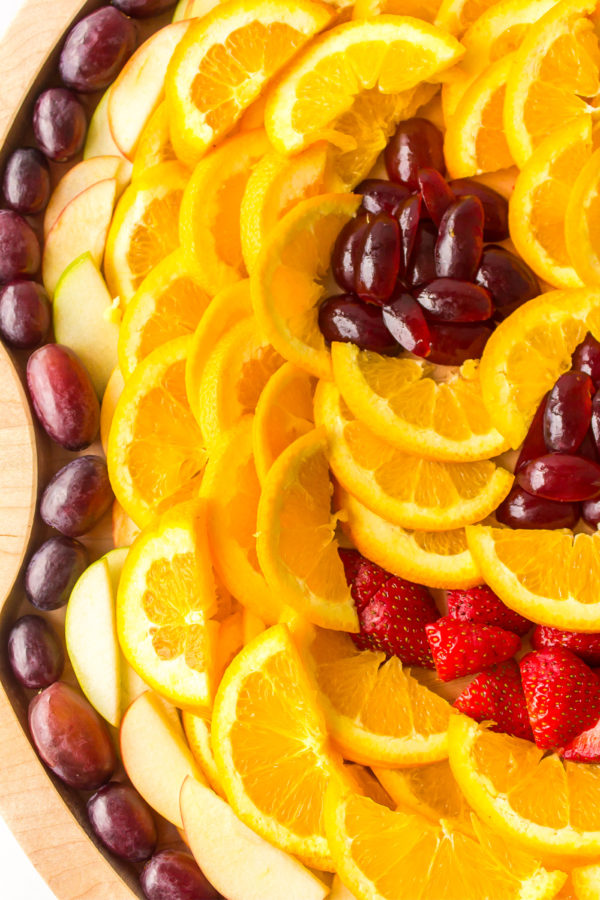 Tips & substitutions
You can use bags of pre-cut apples. You'll need 2-3 bags.
Carefully wash the fruit, even the outside of the oranges!
You can prep everything ahead of time and keep the fruit in the fridge until you're ready to build the board. Keep the apples in a container filled with water and a splash of lemon juice to keep them from turning brown.
Cut the grapes into wedges to get them to fit into the eyes and nose more easily.
Be creative! Mix and match with other fruits to make different faces on your fruit pumpkin.
Serve with your favorite fruit dip to add even more flavor!

Serving suggestions
This Halloween Fruit Tray is so much fun! I love serving it with other festive eats like my favorite Spooky Oreo Halloween Cake, Apple Pumpkin Cupcakes, and, to drink, Apple Cider Floats. This fruit board isn't just for snacking! I'll serve it as an appetizer before a meal of slow cooker BBQ pork or a fun-to-eat Walking Taco Casserole.

Storage
Store any leftover fruit in airtight containers in the fridge for 1-2 days. To keep the apples from turning brown, add them to a container with water and a splash of lemon juice.
Check out these awesome Halloween recipes while you're here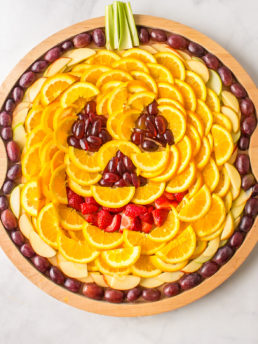 Get the Recipe: Halloween Fruit Tray
Loaded with fresh fruit and with a friendly jack-o'-lantern smile, this festive Halloween Fruit Tray is a popular addition to any gathering! MADE ON THE 20-inch round big board.
Ingredients
2 pounds red grapes, about 5 cups - remove from stem
1 bright green stalk of celery, cut into 3-4 pieces for the "stem" - it can stick up and hang over the top of the board
Red and green apples, you can buy the pre-cut bags if you want. Maybe 2-3 bags.
8-12 oranges, leave the rind on and slice thinly.
10-12 strawberries
Equipment
20" BIG BOARD (with a raised edge)
Instructions
On a round serving board (20-inches), around the outside add a row of red grapes (off the stem).

Next, add a layer of apple slices.

For the main body of the pumpkin, add the orange slices.

Make eyes & nose of a Jack o' lantern (triangle shape) with red grapes.

Make the mouth with strawberry halves.

Cut the celery stalk into 3-4 pieces for the "stem" - it can stick up and hang over the top of the board.

Serve and enjoy!
Calories: 97kcal, Carbohydrates: 25g, Protein: 1g, Fat: 0.3g, Saturated Fat: 0.1g, Polyunsaturated Fat: 0.1g, Monounsaturated Fat: 0.03g, Sodium: 4mg, Potassium: 326mg, Fiber: 3g, Sugar: 20g, Vitamin A: 263IU, Vitamin C: 55mg, Calcium: 45mg, Iron: 0.4mg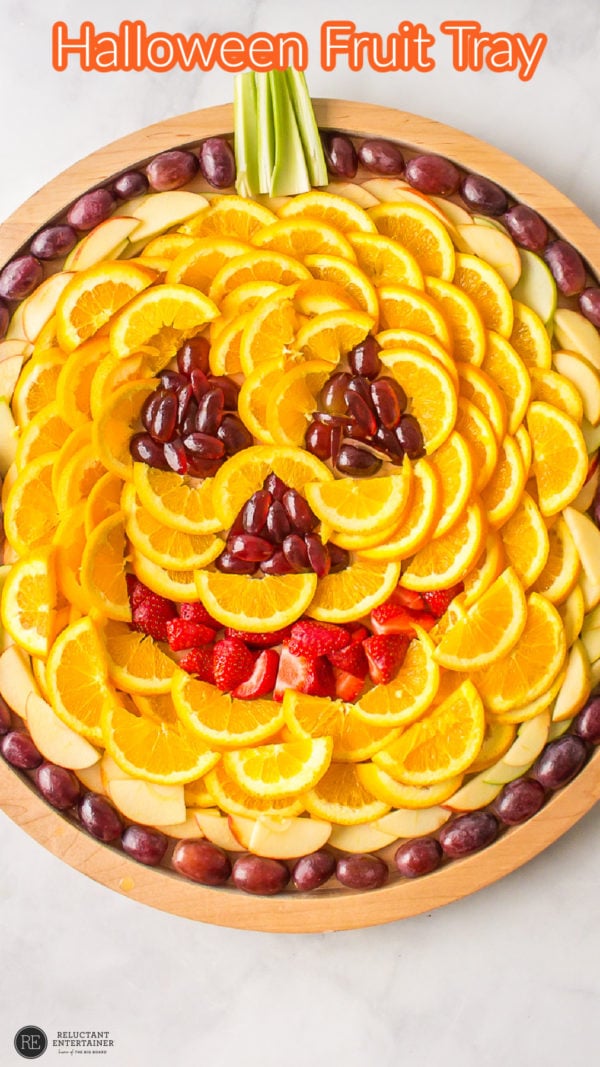 Hello and welcome to my home and table!
I'm Sandy—lover of food, family, cooking, THE BIG BOARD, travel, and bringing people together. Through great recipes and connection around the table, we become better, stronger, and more courageous people. Feasting on Life is real, and every time we do it, we grow a little more. Read more...