Walking Taco Casserole
Walking tacos have been all the rage on the Internet for a while, but this tasty Walking Taco Casserole takes all the best parts of those fun-to-eat snacks in a chip bag and turns it into a family-friendly casserole that everyone will love! Loaded with flavor, ground turkey, black beans, cheese, and more, this casserole is a must-try that's easy to make!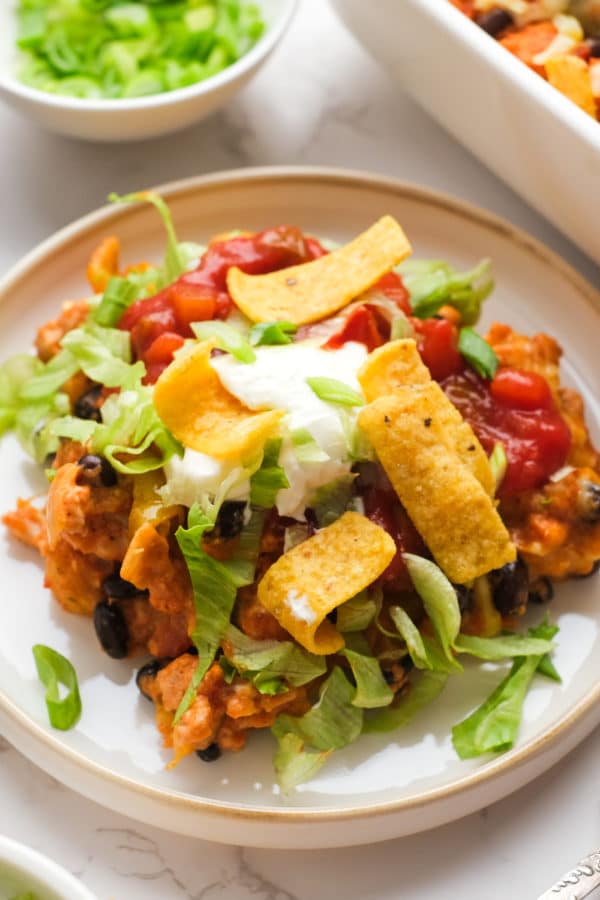 I make this Walking Taco Casserole in a 9×13-inch baking dish, and it'll feed about 8 people. But the leftovers are great, too! I love baking casseroles in my 9×13 baking dish because they cook faster than deeper casserole dishes, and there's lots of surface area at the top for the cheese to get bubbly and browned.
What's a Walking Taco Casserole?
A walking taco is seasoned ground beef, cheese, beans, and other taco toppings served right inside a single-serving size bag of Doritos or Fritos. In this casserole, you get all the same amazing flavors, but it's served in casserole form instead of single-sized portions. This makes it perfect for dinner any night of the week, but I also love taking this crowd-pleaser to potlucks, lunches with friends, or anytime friends or family come over.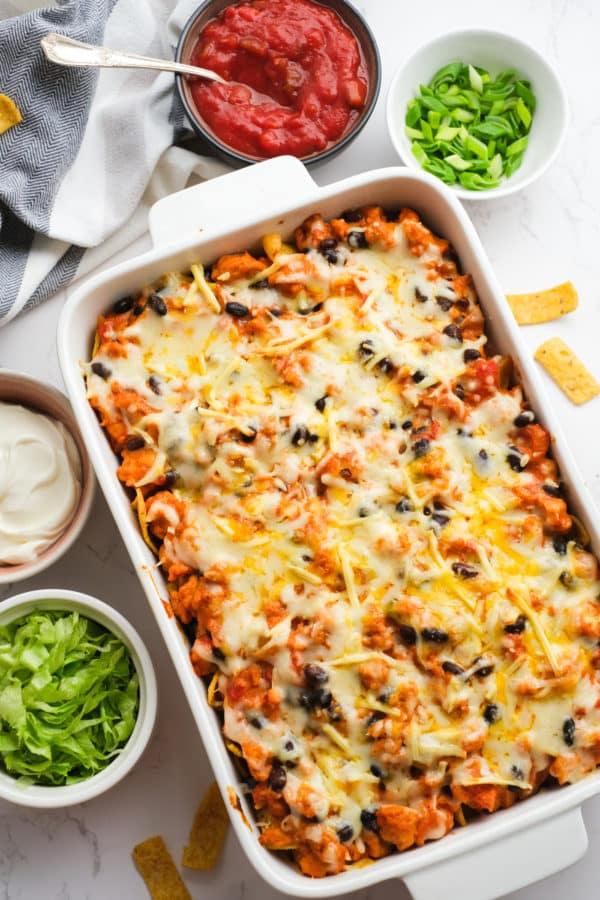 This casserole is so easy to customize, too. You can add some spice to it, switch out the cheese, and change up the protein. I use ground turkey in this casserole recipe but see my suggestions below for alternatives.
Creamy, hearty, meaty, and filled with great flavor – what's not to love about this Walking Taco Casserole? Give it a try today!

Why I love this recipe
Using some pantry staples in this casserole recipe really cuts down on prep time.
It's easy to make and bakes quickly!
Serve it with all your favorite taco toppings to really jazz it up! See all my suggestions below.

Gather these ingredients
Ground turkey
Cooking oil
Onion – Diced.
Rotel – 1 can of diced tomatoes with green chilies.
Canned black beans – 1 15-oz can; rinsed and drained.
Canned red enchilada sauce – 1 10-oz can.
Taco seasoning – 1 packet.
Frito corn chips – 1 larger bag; about 4-6 cups.
Cream cheese – Softened.
Sour cream – Full fat works best in this recipe.
Shredded Mexican blend cheese
Green onions – Sliced for the garnish.

How to make Walking Taco Casserole
Preheat your oven to 350-F and spray a 9×13-inch baking dish with nonstick cooking spray.
Add the oil to a large skillet and heat it over medium-high heat.
Saute the onions over medium-high heat for 4-5 minutes or until they've softened. Remove the onions from the skillet and set them aside.
Add the ground turkey to the skillet and cook until browned, breaking it up as it cooks. Return the cooked onions to the skillet with the cooked turkey.
Add the Rotel, enchilada sauce, and taco seasoning to the skillet with the turkey and mix well. Turn the heat back to medium and simmer until the liquid in the pan has nearly evaporated.
Turn off the heat, add the cream cheese and sour cream and mix well until combined, then stir in the rinsed and drained black beans.
Add half the Frito corn chips to the bottom of the baking dish and top with half the meat mixture and 1 cup of cheese. Repeat with the remaining chips and meat and finish with the cheese.
Bake at 350-F for about 15 minutes or until heated through, and the cheese is melted on top.
Top with chopped green onions, and serve!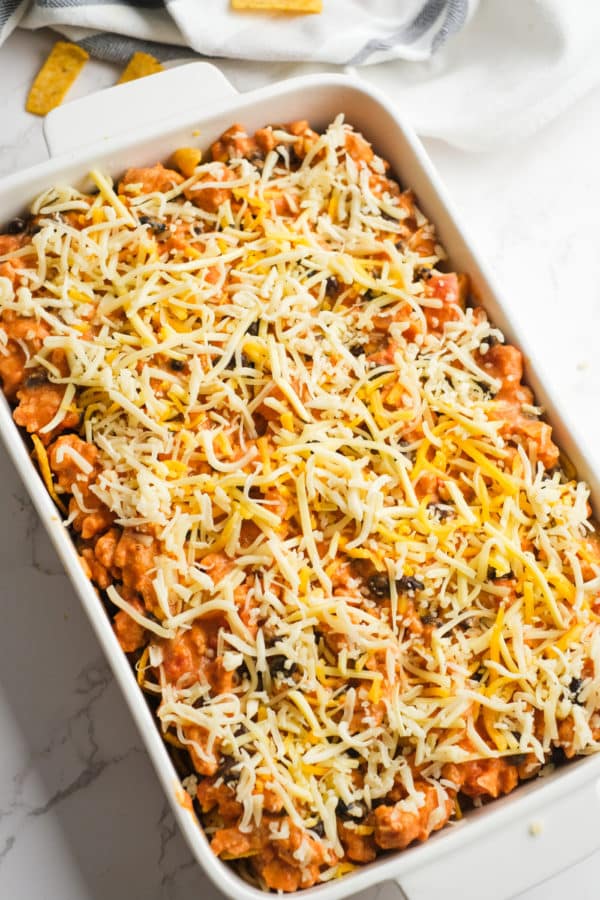 Topping suggestions
Jazz up your Walking Taco Casserole with all your favorite taco toppings, including:
Sliced fresh or pickled jalapenos
Shredded lettuce
Cherry tomatoes or diced tomatoes
Chopped cilantro
Sour cream
Salsa
Guacamole

Tips & substitutions
You can use ground beef, pork, or chicken instead of ground turkey in this easy casserole recipe.
Crunching up the Fritos a bit while still in the bag will help it all fit nicely into the baking dish.
If you like it a bit spicier, add a chopped jalapeno when you cook the onions. Remove the seeds to control the heat.
Switch up the cheese! Sharp cheddar, Monterey Jack, pepper Jack, or your favorite cheese will all work well.
Serve this casserole with all my recommended toppings, and let people top it however they like!

Serving suggestions
This is a kid-friendly casserole, but adults love it, too! Because it is so hearty and meaty, you really don't need to serve much other than a light salad with it. A green salad with Lemon-Balsamic Dressing is the perfect side, or for a hungrier crowd, serve this dish with Buttermilk Cornbread. It's also great when paired with tortilla chips and a fruity Mango Salsa.

Storage
Store any leftover Walking Taco Casserole in an airtight container for 2-3 days. You can warm the leftovers in the oven or in the microwave. Because of the corn chips in this recipe, it won't freeze well.

Check out these awesome taco recipes while you're here
Get the Recipe: Walking Taco Casserole
This tasty and easy layered Walking Taco Casserole features Fritos, a meaty layer, and plenty of cheese. There's flavor in every bite!
Ingredients
1.5 lb ground turkey, or ground beef or chicken
1-2 Tbsp oil
1 medium onion, diced
1 can of Rotel, diced tomatoes with green chillies
1 15 oz can black beans, rinsed and drained
1 10 oz can enchilada sauce
1 packet of taco seasoning
1 bag Frito Corn Chips, about 4-6 cups
2 oz. cream cheese, softened
½ cup sour cream
2 c. shredded Mexican cheese
Additional topping possibilities:
1 jalapeno, optional - depending on spice preference, ½ sliced and ½ diced
1 cup shredded lettuce
8 cherry tomatoes, halved
2 green onions, sliced
2 Tablespoons diced cilantro
¼ cup sour cream
¼ cup salsa
Instructions
In a large skillet on medium-high heat, heat the oil and add the onions. Saute the onions for 4-5 minutes. Remove onions from the skillet and set aside. To the same skillet, add the beef and cook until browned, 5-6 minutes. To the meat, add back in the cooked onions, the Rotel, enchilada sauce, and taco seasoning. Stir and simmer until liquid has evaporated. Add the cream cheese and sour cream. Turn off the heat and stir until combined. Add in the black beans; gently stir.

Take a 9x13 baking dish and prepare with non-stick cooking spray. Add ½ of the corn chips to the bottom of the pan. Top with ½ of the meat mixture, and 1 cup of cheese. Repeat the layers with chips, the rest of the meat mixture, and the remaining cheese.

TIP: If you use the large corn chips, you can crunch them first in the package with your hands to break them apart in smaller pieces. This step is optional, if you don't like large chunks of the chips in the casserole.

Bake at 350 degrees for 15 minutes; until the casserole is cooked through and the cheese is melted on top.

Top with chopped green onions and serve!

Optional to serve with more sour cream, salsa, or guacamole, or other "taco" toppings (see list above).
Notes
Calories will be less without all of the additional toppings!
Calories: 492kcal, Carbohydrates: 21g, Protein: 38g, Fat: 30g, Saturated Fat: 12g, Polyunsaturated Fat: 6g, Monounsaturated Fat: 8g, Trans Fat: 0.2g, Cholesterol: 103mg, Sodium: 727mg, Potassium: 482mg, Fiber: 2g, Sugar: 3g, Vitamin A: 826IU, Vitamin C: 8mg, Calcium: 757mg, Iron: 1mg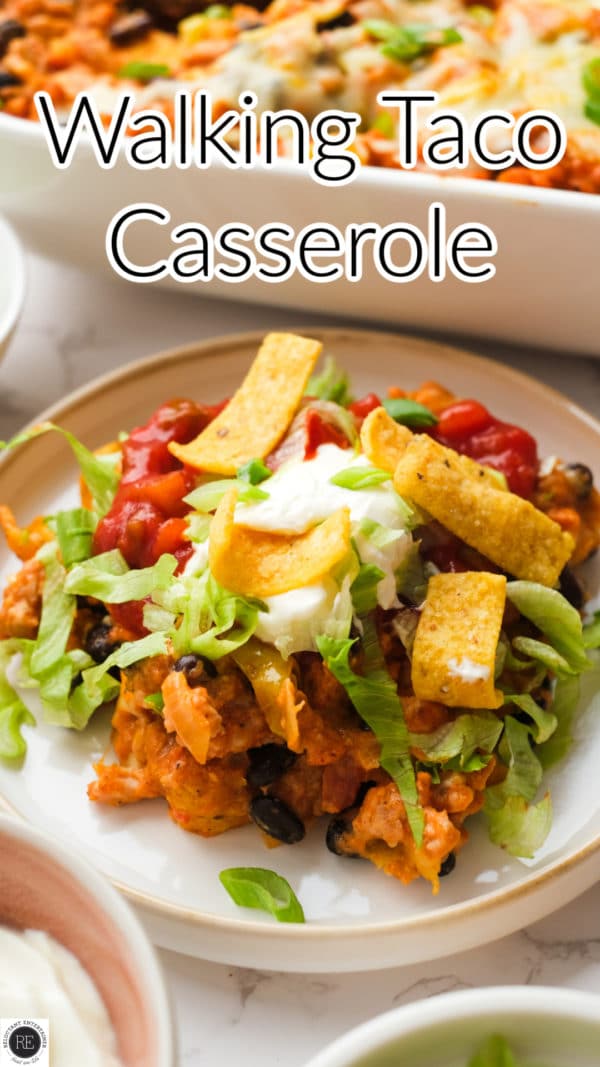 Hello and welcome to my home and table!
I'm Sandy—lover of food, family, cooking, THE BIG BOARD, travel, and bringing people together. Through great recipes and connection around the table, we become better, stronger, and more courageous people. Feasting on Life is real, and every time we do it, we grow a little more. Read more...