Mediterranean Charcuterie Board
As you may know, I LOVE serving boards of all kinds to my friends and family, and this Mediterranean Charcuterie Board is my new favorite. It's simply loaded with delicious eats, and the best part of this board is that there's no cooking involved! Make a trip to the store to grab the ingredients, assemble and serve – this charcuterie board is just that easy!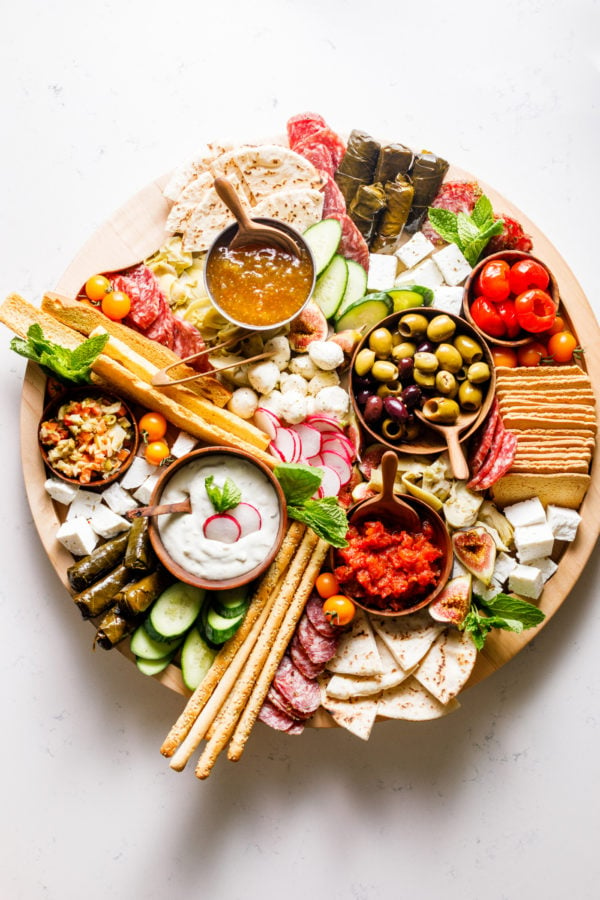 Whenever I create a new board, I always look for the best possible products and always strive to include a variety of different flavors, textures, and colors. Delallo Foods has a fabulous lineup of tasty eats that are perfect for this Mediterranean Charcuterie Board, and with such a great selection, it's so much fun to build this show-stopping board!
Mediterreanean Charcuterie Board
I recommend serving these goodies on my 26-inch Big Board. This will give you plenty of room for all the bites and nibbles, and with the raised edge, nothing will fall off. I love presenting this board of goodies to my guests and hearing all their "oohs" and "ahhs"!

I used Delallo's fabulous products for this board, but the selection may vary from store to store. Head to your grocery store's deli section and have fun shopping! Grab what you need a few days before you build the board and present it to your guests.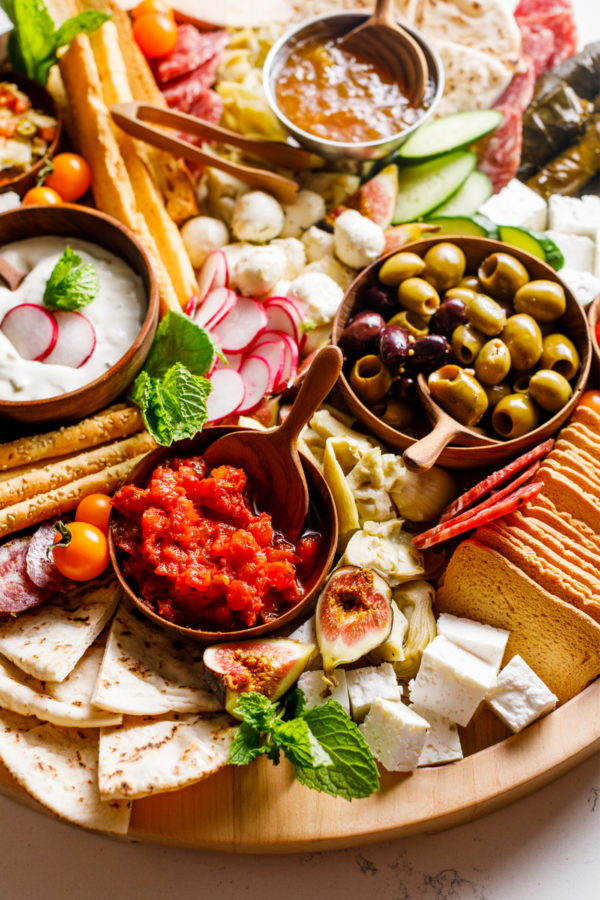 The nice thing about using Delallo's products is that not only are they delicious, but the leftovers can go back into their original containers and then pop them into the fridge for nibbling on later.
Why I love this charcuterie board
Served on my 26-inch Big Board, it's impressive and fun to nibble from!
I love mixing and matching with all my favorite Delallo products to create the most delicious spread of eats.
This board will feed 8-10 people, but you can reduce the number of items for a smaller group. These charcuterie boards are customizable!

Gather these ingredients
This Mediterranean Charcuterie Board is sponsored by Delallo so I'm using their products, most of which you can find in your local grocery store.
Delallo Jubilee pitted olives
Delallo stuffed grape leaves – 2 5.25-oz jars.
Delallo fig spread
Delallo garden vegetable bruschetta
Delallo tomato bruschetta
Delallo marinated artichoke hearts – Drained.
Delallo sweet sopreseta sausage – Sliced.
Delallo Italian herbs sausage – Sliced.
Figs – Fresh or dried.
Cherry tomatoes
Radishes – Sliced thinly.
English or Persian cucumbers – Sliced.
Sweet pickled cherry peppers
Feta cheese – Cubed.
Marinated mozzarella balls
Tzatziki
Pita bread – Cut into triangles.
Delallo sesame Italian breadsticks
Deallo original crostini
Delallo focaccia toasts

How to make a Mediterranean Charcuterie Board
Now for the fun part – assembling your board!
Plan where you're going to serve your board. You should have napkins, small plates, and serving utensils set out and ready.
Get everything ready to go. Remove lids and open packaging, and have your Big Board ready to load.
Place the olives, garden vegetable bruschetta, tomato bruschetta, artichoke hearts, and sweet peppers into small bowls and place them around the board.
Fill in the spaces with the stuffed grape leaves, meats, cheeses, and crackers.
Add the vegetables and figs to any remaining spaces – make room if necessary – and then garnish with mint, dill and basil leaves.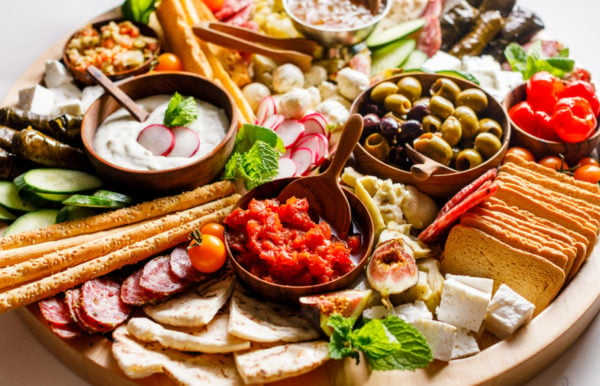 Tips & substitutions
Delallo Foods is my favorite brand for this kind of board, but you can switch things up with whatever is available at your store.
Mix and match with all your favorite breads, cheeses, meats, veggies, and more!
When building your board, keep soggy items away from the breads, and watch that you don't place similar colored items near each other.
Have a variety of small plates and serving utensils on hand to make the snacking easier.
You can build this board 1-2 hours before serving.

Serving suggestions
Just about everything you could ask for is on this Mediterranean Charcuterie Board, and all you're missing is some drinks! Offer your guests a chilled glass of sangria or set up a mocktail station for everyone to help themselves. You could also set out some lovely desserts, like Myer Lemon Strawberry Bars or Blackberry Tarts.

Storage
Store any leftover items back in their original jars or packages, or wrap them tightly in plastic wrap and store them in the fridge.

Check out these awesome board recipes while you're here
This post is sponsored by Delallo.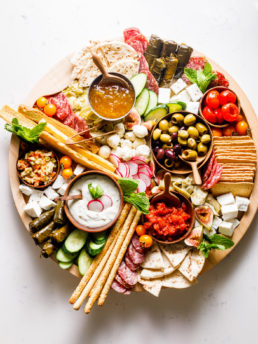 Get the Recipe: Mediterranean Charcuterie Board
Loaded with a variety of tasty eats, this Mediterranean Charcuterie Board is a show-stopping way to serve family and friends! Made on the 26" BIG BOARD.
Ingredients
1 7 oz Delallo Jubilee pitted olives
2 5.25 oz Delallo stuffed grape leaves
½ c Delallo Fig spread
1 7 oz jar Garden Vegetable Bruschetta
1 9.8 oz jar Tomato Bruschetta
1 12 oz jar Marinated artichoke hearts, drained
Meats
7 oz Delallo Sweet Sopressata Sausage, sliced
7 oz Delallo Italian Herbs Sausage, sliced
Produce:
3-5 fresh or dried Figs
1 c fresh cherry tomatoes
4 radish, sliced
1 c English and Persian cucumber, sliced
basil, dill, mint, to garnish
1 c sweet pickled cherry peppers
Cheeses and Dips:
8 oz Feta cheese, cubed
1 c marinated mozzarella balls
1 c Tzatziki
Crackers and Bread:
4 pieces Pita bread, cut into triangles
1 4.4 oz Delallo Sesame Italian breadsticks
1 3.5 oz Delallo original crostini
1 3.5 oz Delallo focaccia toasts
Instructions
To assemble the board, place the olives, Bruschettas, fig jam, Tzatziki, and sweet peppers into bowls.

Space them out on the board and then fill in the remaining spaces. Begin with the grape leaves, meats, cheeses, and crackers followed by the artichoke hearts, veggies, and fruits.

Finally, add the mint leaves for garnish and serve.
Notes
Sponsored by Delallo Foods
Calories: 334kcal, Carbohydrates: 24g, Protein: 14g, Fat: 20g, Saturated Fat: 8g, Polyunsaturated Fat: 1g, Monounsaturated Fat: 6g, Cholesterol: 49mg, Sodium: 1419mg, Potassium: 239mg, Fiber: 2g, Sugar: 8g, Vitamin A: 279IU, Vitamin C: 4mg, Calcium: 180mg, Iron: 1mg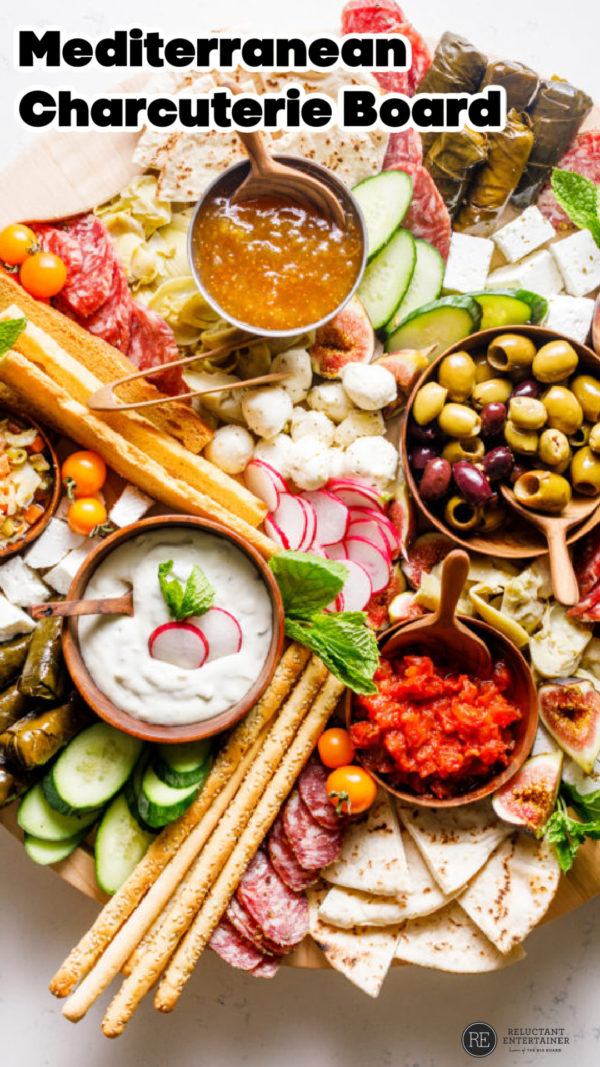 Hello and welcome to my home and table!
I'm Sandy—lover of food, family, cooking, THE BIG BOARD, travel, and bringing people together. Through great recipes and connection around the table, we become better, stronger, and more courageous people. Feasting on Life is real, and every time we do it, we grow a little more. Read more...