Happy St. Patrick's Day Charcuterie Board
Happy St. Patrick's Day Charcuterie Board is an Irish cheese board served with a selection of artisan charcuterie foods, snacks, and more.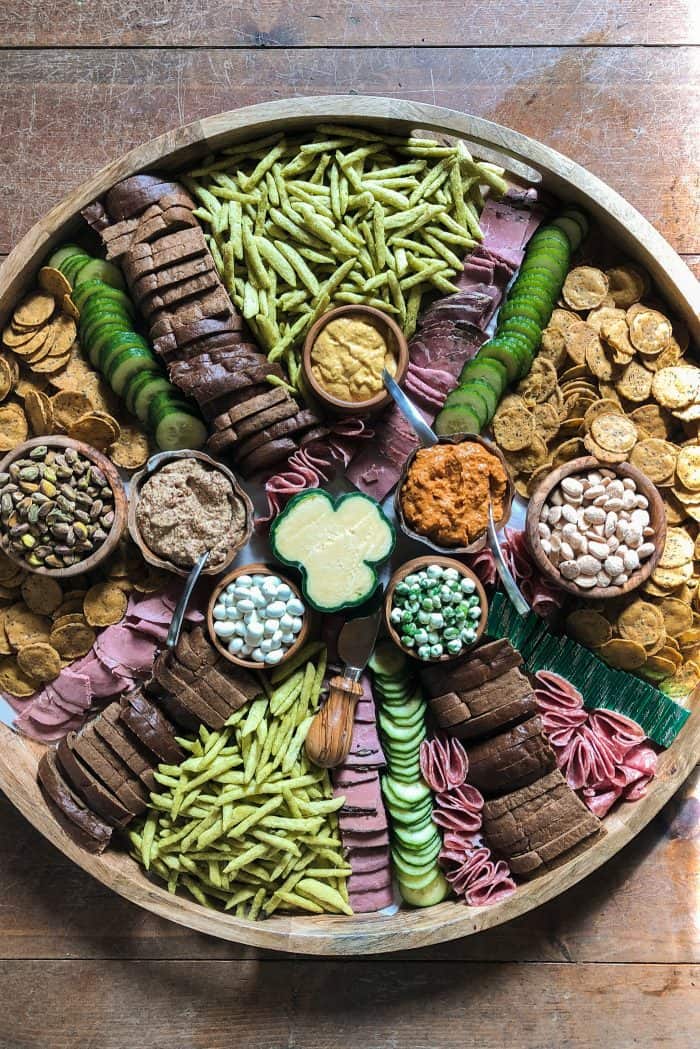 Friends, you can make so many people happy with a little variety of meat and cheese. Just in time for St. Patrick's Day, with a whole lot of green, enjoy this giant, no-fuss Happy St. Patrick's Day Charcuterie Board that I've put together–with pastrami, salami, and cheese!
Happy St. Patrick's Day Charcuterie Board
Follow 'how to make an epic charcuterie board' video for more info! Or, grab my Eat the Rainbow Charcuterie Board idea!
Whether you're serving a hearty Irish stew, a shepherd's pie, or corned beef with cabbage and Irish soda bread, your guests will love you if you set out a giant, festive charcuterie board, or snack board, served with your favorite beer!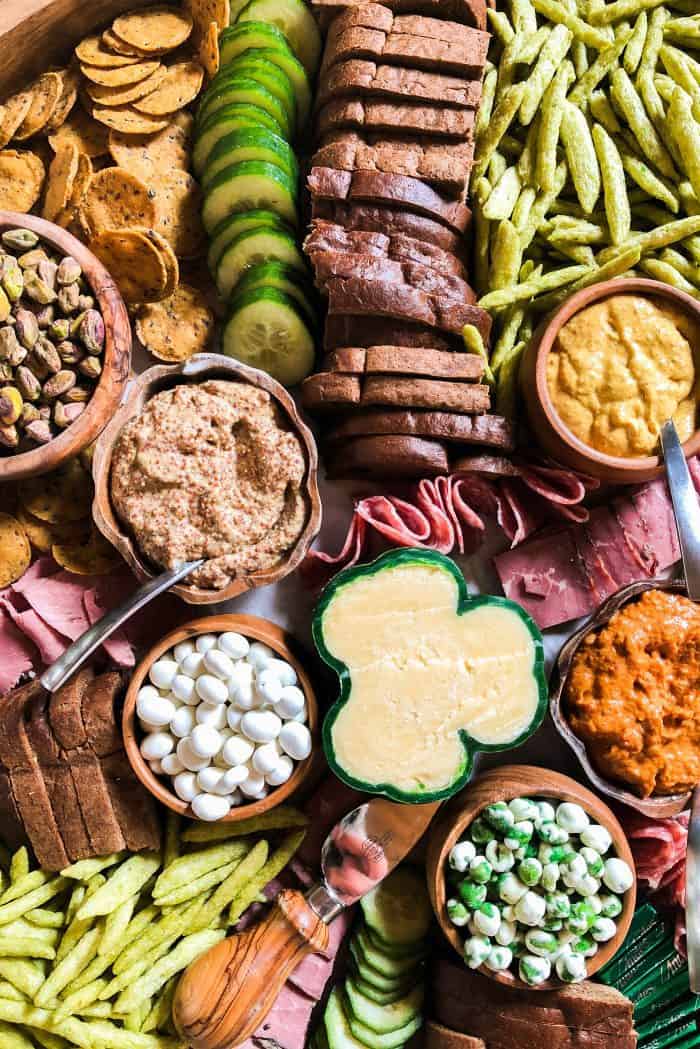 What I love about a cheese board is that it can actually be the main course to your meal.
Actually, the only course that you need, and I spy a little bit of chocolate on this board for dessert as well. Do you see it? (Mm-m-m … Andes Thin Mints:) But wait … if you want a "real" dessert, don't forget Irish Dark and White Bread Pudding!
St. Patrick's Day Charcuterie Board
A charcuterie is meant to be shared and very hands-on!
This past weekend, we set out this Epic St. Patrick's Day Charcuterie Board (with plenty of green nibbles) for our family and friends, along with some good Irish beer.
Let everyone dive in and make their own pastrami sandwiches (on rye bread), and nibble on other salty snacks. Keep it light!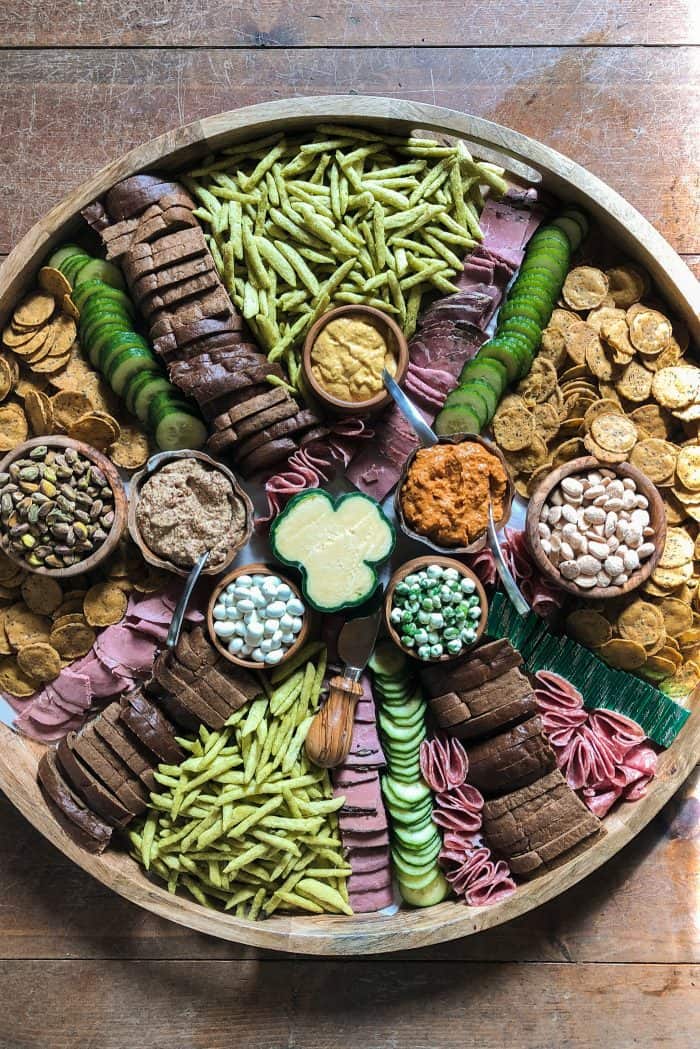 What is charcuterie?
By the way, what is charcuterie? It may sound fancy, but did you know that it's literally the French word for anything meat – smoked, dry-cured or cooked. So I used pastrami!
Set the table
A few years ago, it was warm enough to host a party outside in our southern Oregon home.
With touches of green, and plenty of Guinness, this Happy St. Patrick's Day Charcuterie Board was a great way to get the party started!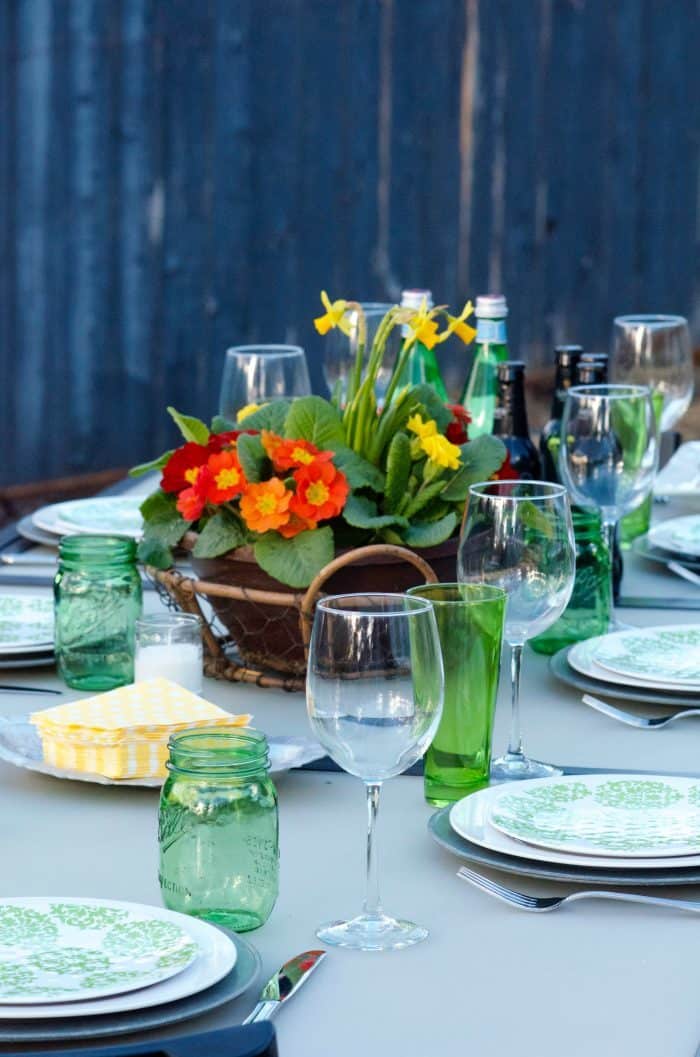 And as I always say here on RE, I feel blessed to have creative family and friends who can cook and contribute to a meal, bring drinks, ice, or even stop by the store if needed, so I take advantage of this when we host a dinner party.
Why should I have to do it all, when our friends can help make the meal fabulous?
Your charcuterie board shopping list:
A board that is big enough for all the nibbles. I love "round," because a lot of people can gather around it.
Several kinds of smoked, dry-cured or cooked meats!
Cheese is everything! Add a fun mix of firm and soft cheese, mild and sharp!
Don't forget accoutrements, for this board: mustard!
Fruit, nuts, veggies, crackers, and bread (rye)!
A sweet nosh: Chocolate is always a party fave! Don't forget the Andes Mints!
Try something new for spring! It's super-fun to create your own holiday charcuterie, considering different aspects of what can complement your board!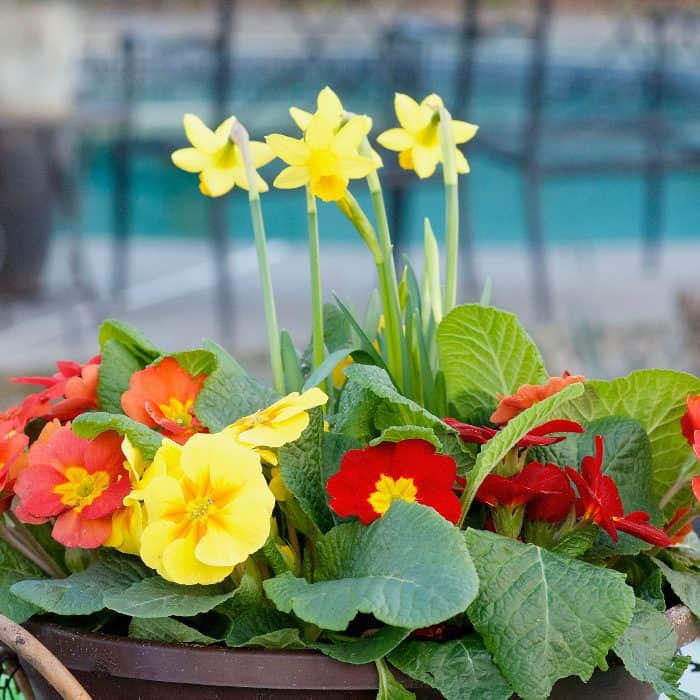 Some people say there is a certain way to arrange a charcuterie board, but I say just make it pretty and accessible, which is why I love a round board.
Set it in the center of a table and let everyone dig in!
Friends, The Big Board is here! Yes, I've partnered with JK Adams, the premier woodmaking company in Vermont, with my own line of RE boards!
20-inch
26-inch
12 x 36-inch
23-inch Lazy Susan
A board with a lip (or raised edged) so the food doesn't fall off
FOOD SAFE
Made in the USA
Undercut handles (a unique design)
Thank you for your support, as we've sold out so many times already!
Order The Big Board today!
More snack board ideas:
Healthy Snack Ideas with Hummus [Your Homebased Mom]
Single Serve Charcuterie [Tried and Tasty]
Banana Split Honeycrisp Apple Nachos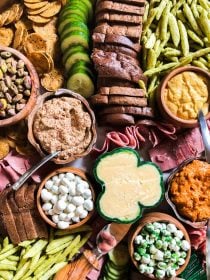 Get the Recipe: St. Patrick's Day Charcuterie Board
Ingredients
12 oz. pastrami
1 pound dark rye bread
1 large hunk aged white cheddar cheese
Beer 'n Brat Horseradish Mustard
Chipotle mustard
Whole grain garlic mustard
2 large English cucumbers, sliced
Harvest Snap Snapea Crisps
16 oz. Italian dry salami thin slices
4 oz. Maracona almonds
Sweet potato crackers, RW Garcia
4 oz. pistachios, shelled
4 oz. yogurt-covered raisins
5 oz Andes Thin Mints, 28 pieces
4 oz. wasabi peas
Instructions
Get a giant board ready for arranging the charcuterie. If not food-safe, lay down parchment paper.

Slice veggies, meats, and cheeses.

Fill small bowls with mustards and nuts (anything small).

Arrange all the food in an organized fashion, with the aged cheddar in the center.

Serve and enjoy!
Notes
Reposted from March 2018.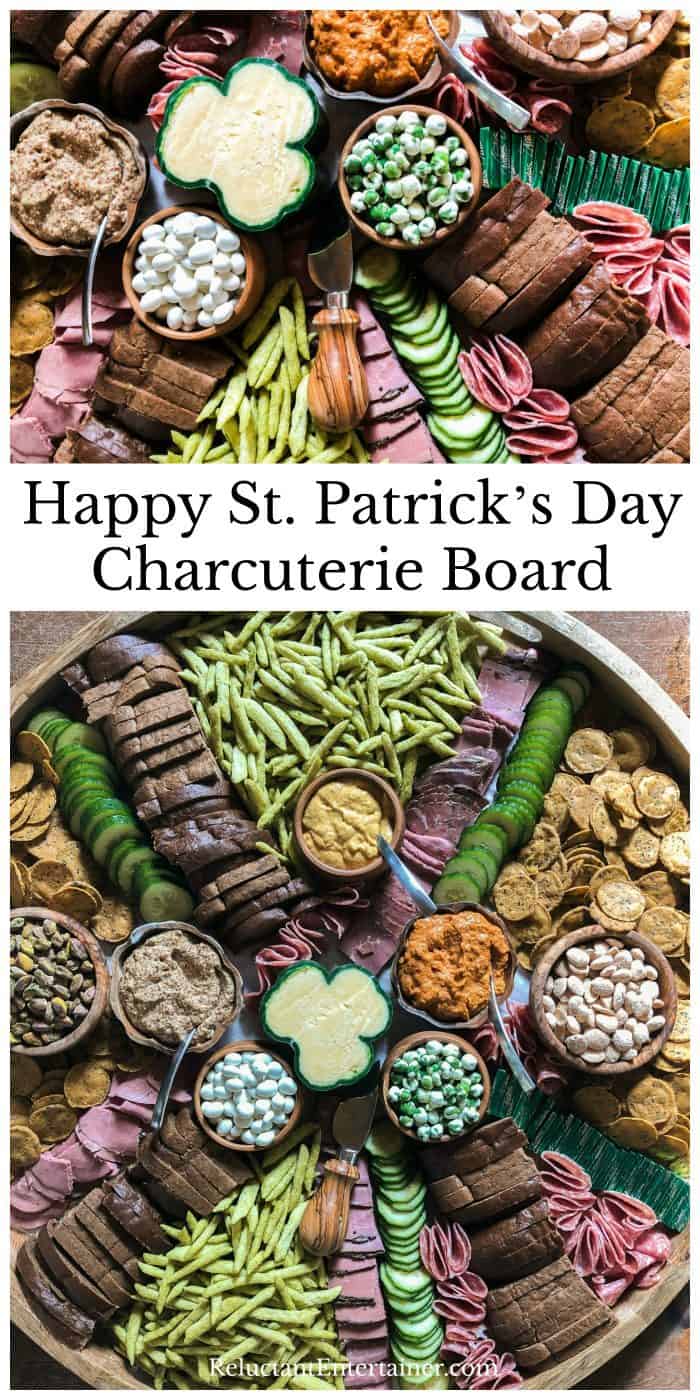 Hello and welcome to my home and table!
I'm Sandy—lover of food, family, cooking, THE BIG BOARD, travel, and bringing people together. Through great recipes and connection around the table, we become better, stronger, and more courageous people. Feasting on Life is real, and every time we do it, we grow a little more. Read more...