Mushroom Farrotto
Ever heard of farrotto? It's risotto's cousin, a creamy, cheesy, savory dish made with farro. This hearty grain is so delicious and so easy to work with, and this Mushroom Farrotto is fabulous! Filled with earthy mushrooms and plenty of umami, this side dish is hearty enough to be the main event.
This Mushroom Farrotto recipe is so good! In some ways, it is easier than a traditional risotto because farro is harder to overcook. And it's just as delicious, if not more so, because the farro has more inherent flavor than rice.
Mushroom Farro
Like any risotto, this farrotto is all about the ingredients that you add to it. Use good-quality wine, fresh mushrooms, and fresh Parmesan cheese. Before long, you'll have a delish meal ready to devour! It's delicious served on a Chicken Farro Salad Board, too.

What is farro?
Farro is trendy right now, and while it was once hard to find, these days, you can buy it in most large grocery stores. You may have to look in the health food section, but most supermarkets keep it near the other grains and rice products.
Farro is a kind of wheat, but it's an ancient variety. It has a nutty flavor and a toothsome texture which makes it a great pick for dishes like this twist on classic risotto. You can cook it a variety of ways, but in this creamy recipe, we're treating it much like rice.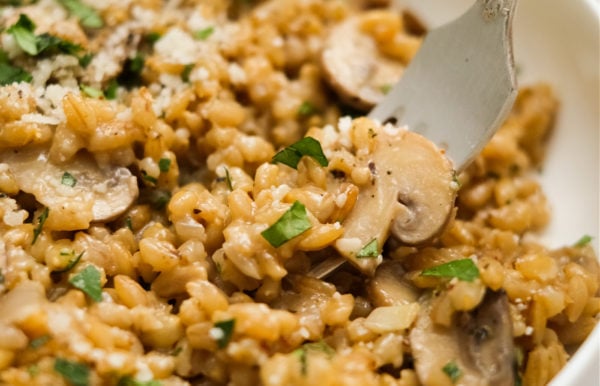 Why I love this recipe
It is easier to make than traditional risotto, which can overcook in no time
It is hearty, healthy, and fabulous!
You can turn it into a vegetarian farrotto by swapping the chicken stock for vegetable stock and using vegetarian-friendly cheeses.

Gather these ingredients
Olive oil – I prefer extra virgin olive oil.
Shallots – Onions milder, sweeter cousin; finely diced.
Onions – Yellow or white onion; chopped.
Farro
Mushrooms – I like baby Bella mushrooms in this dish; sliced.
Pinot grigio – Or another dry white wine.
Chicken stock – Or vegetable broth to make vegetarian Mushroom Farrotto.
Butter – I use unsalted butter in this recipe.
Salt and pepper
Lemon juice
Parmesan cheese – Shredded. Use vegetarian Parmesan cheese for a vegetarian version of farrotto.
Fresh parsley – Finely chopped.
Cracked black pepper – Optional garnish.
Pecorino Romano cheese – Optional garnish; grated.

How to make Mushroom Farrotto
Add 2 tablespoons of olive oil to a large skillet and heat over medium-high heat.
Add the shallots and onions and cook for 2-3 minutes or until translucent.
Add the farro and mushrooms and stir to coat the farro with oil.
Turn the heat to high and add the white wine. Reduce the wine in the farro and mushrooms until nearly evaporated.
Reduce the heat to medium-high and add half the stock. As the farro absorbs the stock, add more while stirring.
Cook the farro while adding ladlefuls of stock until the farro is tender and the stock is mostly absorbed.
Stir in the butter and Parmesan cheese. Season with salt and pepper and add the lemon juice. Cook another 5 minutes until the farro is cooked but still a bit al dente.
Serve with freshly cracked black pepper, chopped parsley, and pecorino romano cheese on top.

Tips & substitutions
You can use any kind of mushrooms in this recipe. Wild mushrooms are especially good, if you can get them locally.
Dry white wine is the best for cooking – use a wine that you'd be happy to drink.
Season as you go! Just like rice, farro needs to absorb salt as it cooks to be properly seasoned.
To speed up the cooking process, heat the broth in a saucepan before adding it to the farro.

Serving suggestions
Mushroom Farrotto can be a meal all on its own, but I also love serving it as a side dish next to roasted meats, cedar planked salmon, pork tenderloin, and more.
Storage
Store any leftover farrotto in an airtight container in the fridge for 3-4 days. Add a few spoonfuls of water or chicken broth to the farrotto when reheating it to loosen it up.

Check out these awesome farro recipes while you're here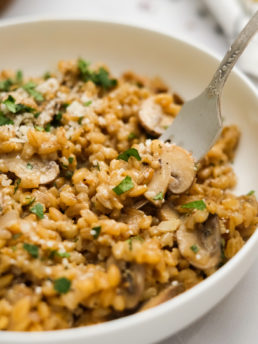 Get the Recipe: Mushroom Farrotto
This creamy Mushroom Farrotto is fabulous, filled with earthy mushrooms and plenty of umami and Parmesan cheese; a hearty main or side dish.
Ingredients
2 tablespoons olive oil, extra virgin
¼ cup shallots, finely diced
½ cups onion, finely diced
1 ½ cup farro
2 ½ cups mushrooms, baby Bella, sliced
1 cup dry white wine, we use Pinot Grigio
6 cups chicken stock, or veggie broth (have more on hand)
2 Tablespoons unsalted butter
Salt and pepper
2 tsp. lemon juice
¼ cup Parmesan cheese, shredded
2 Tbsp. fresh parsley, finely chopped
Cracked black pepper, garnish
Grated Pecorino Romano Cheese, for topping
Instructions
Add 2 tablespoons of the olive oil to a large skillet or frying pan and bring to medium high heat, add shallots and onions and cook until translucent (about 2-3 minutes). Add farro & mushrooms, stir to coat farro and mushrooms with oil.

Increase the heat to HI; add white wine. Let farro and mushrooms absorb the wine while the wine cooks off (2-4 minutes). Reduce heat back to med high.

Add half the stock. As the farro absorbs the stock, continue adding stock gradually. Stir constantly.

Begin to ladle the rest of the broth, stirring it into the farro.

Continue to cook the farro for about 20 to 25 minutes or until just about finished. Reduce the heat to low.

Stir in butter and Parmesan cheese; gently stir together.

Season with salt and pepper to taste and add the 2 tsp. of lemon juice. Cook for another five minutes or until the farro is cooked but still remains a little chewy to the bite (al dente).

Serve in individual bowls, offering additional grated Pecorino Romano cheese (or Parmesan cheese) for topping., a sprinkle of fresh chopped parsley, and cracked black pepper.

TIP: process goes quicker if your stock is heated ahead of time.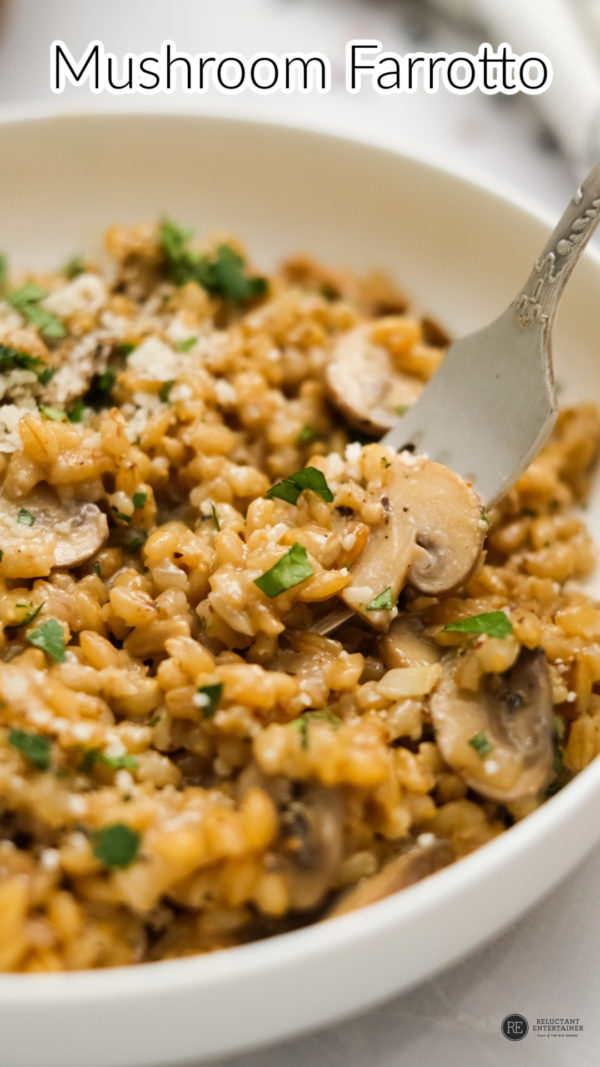 Hello and welcome to my home and table!
I'm Sandy—lover of food, family, cooking, THE BIG BOARD, travel, and bringing people together. Through great recipes and connection around the table, we become better, stronger, and more courageous people. Feasting on Life is real, and every time we do it, we grow a little more. Read more...