Oreo S'mores Bars
Who doesn't love s'mores? This chocolatey treat is adored by kids and adults alike, but this tasty twist puts a spin on the classic preparation by using Oreos. Oreo S'mores Bars are even more delicious than the original, and with plenty of ooey gooey chocolate and marshmallow, everyone will love this way of making them!
S'mores, the classic campfire treat of smooshing a toasty marshmallow between graham crackers and chocolate, get a fun twist in this tasty recipe. Here, we're using double-stuffed Oreo cookies to add even more flavor and crunch to this awesome treat.
Oreo S'mores Bars
You don't need a campfire for this recipe! These tasty s'mores are made in your oven. You will need a food processor to grind up the cookies, but this amazing dessert can be made from start to finish in your kitchen.
Instead of a hand-held treat, this dessert is more bar-like. It's a layered dish built into a 9×13-inch baking dish. Get the kids to help you assemble this dish – it's fun and easy to make!
You can serve these Oreo S'mores bars hot and gooey from the oven or let them cool and serve them once they've firmed up. They're also easy to reheat – just pop them into the oven for a few minutes to warm up, and they'll get all nice and gooey again.

Why I love this recipe
It's made with pantry-stable ingredients so that you can make it anytime!
It makes enough to feed a group, so it's great for entertaining and potlucks.
It's such a fun and tasty recipe with familiar flavors.

Gather these ingredients
Graham crackers
Double Stuffed Oreo Cookies
Sugar – White granulated sugar.
Salt – Just a pinch.
Butter – Unsalted; melted.
Hershey chocolate bars – 7-8 regular or 3 extra-large bars
Jumbo marshmallows

How to make Oreo S'mores
Preheat your oven to 400-F and lightly grease a 9×13-inch baking dish with nonstick spray. Then, line it with parchment paper so that the paper hangs over the sides a bit. Set the pan aside.
Twist the Oreo cookies apart. Divide them, adding the half with NO cream to the food processor. Add the graham crackers to the food processor with the creamless cookie halves and pulse until finely ground.
Transfer the ground cookies to a bowl and add the sugar and salt. Stir to combine.
Add the melted butter to the ground cookies and mix well. Transfer the buttered crumbs to the baking dish and press down gently with your fingers or an offset spatula to form the crust.
Bake the crust for 8-10 minutes or until the edges are lightly golden. Remove from the oven and allow to cook for 5-8 minutes.
Unwrap the chocolate bars and lay them on top of the crust layer, leaving about ¼-inch around the edges uncovered.
Arrange the remaining Oreo halves, cream side up, on top of the chocolate bars.
Add the marshmallows to the top of the cookie halves. Don't worry about covering the whole dish – the marshmallows will expand as they bake.
Bake for 10-12 minutes or until the chocolate is soft and the marshmallows are golden brown on top.
Slice and serve immediately for gooey bars, or allow the bars to cool for at least 20 minutes, then slice and serve for a firmer Oreo S'more bar. Enjoy!

Tips & substitutions
You can get this s'more dessert recipe ready for the oven and then bake it before serving. To do that, prepare the crust, then assemble the rest of the dish. Let it hang out on the counter until you're ready to bake it and eat it.
Plain Hersheys chocolate bars work best in this recipe, but any kind of plain chocolate bar will work.
You can use regular Oreos, but the double-stuffed ones add extra gooeyness.
These ingredients are all pantry stable, so buy them when they're on sale and bake them when ready!

Serving suggestions
This is such a fun and tasty dessert recipe that everyone always loves! It makes a fairly big pan, and I love serving them when we're having family and friends over for cookouts and summer BBQ dinner parties. They pair well with Hawaiian Teriyaki Chicken, grilled brats, and of course, juicy burgers. I'll also put out strawberry lemonade for the kids and Summer Sangria for the adults.

Storage
Store any leftovers in an airtight container on the counter for 2-3 days.

Check out these awesome kid-friendly dessert recipes while you're here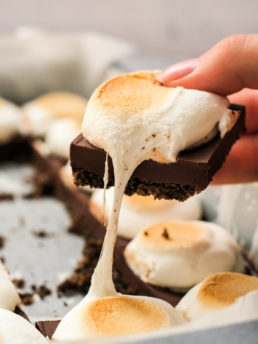 Get the Recipe: Oreo S'mores Bars
You don't need a fire to make Oreo S'mores Bars, just a few ingredients, a pan, and hungry diners to gobble up this ooey and gooey dessert!
Ingredients
Crust:
12 graham crackers
24 Double Stuffed Oreo Cookies
¼ cup granulated sugar
Pinch of salt
8 tablespoons unsalted butter, melted
Topping:
3 extra-large Hershey bars (about 11 ounces), or 7-8 regular-size ones
24 jumbo marshmallows
Instructions
Preheat the oven to 400°F. Lightly grease a 9-by-13-inch baking pan with nonstick spray. Next, line the pan with parchment paper, allowing parchment to hang over the edges.

CRUST: Twist the tops off the Oreo cookies. Set aside the bottoms (with the cream).

In a food processor, add the Oreo cookie tops and the graham crackers; pulse until finely ground.

Transfer the graham cracker/Oreo cookie crumbs to a medium bowl. Add the sugar and salt to the graham-cracker crumbs and stir to combine. Add the melted butter and stir. Pour the mixture into the prepared 9x13 pan. Press the crust with your fingers, to make an even layer.

Bake for 8 to 10 minutes, or until the edges are lightly golden. Remove from oven and allow to cool for 5-8 minutes.

TOPPING: On top of the crust, lay down the chocolate bars, leaving about ¼ inch of crust uncovered around the edges. Next, arrange the 24 cookie bottoms, cream-side up, on top of the chocolate bars. Place the marshmallows on top of the Oreo cookie bottoms. The marshmallows will increase in size as they bake.

Bake for 10-12 minutes, or until the chocolate is soft and the marshmallows are golden brown on top.

Serving gooey bars: Slice and serve immediately.

Serving firm bars: Allow the bars to cool when removing from the oven, for at least 20 minutes.

If serving later, reheat individual servings for a gooey experience!
Hello and welcome to my home and table!
I'm Sandy—lover of food, family, cooking, THE BIG BOARD, travel, and bringing people together. Through great recipes and connection around the table, we become better, stronger, and more courageous people. Feasting on Life is real, and every time we do it, we grow a little more. Read more...