Garden Tri Tip Crostini Recipe
Garden Tri Tip Crostini bites are delicious served as an appetizer or light dinner, using leftover tri tip with pickles, basil and more.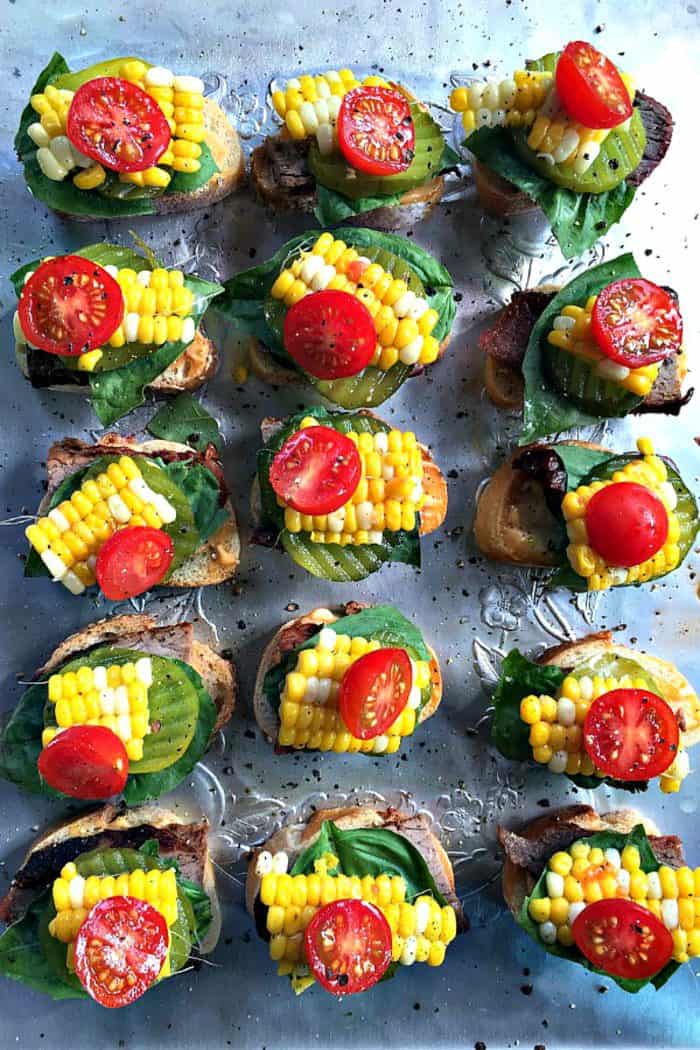 As the day's heat starts to ebb, dinnertime is something I look forward to. I love this time of day, because we're starting to slow down, relax, and I get to come up with something tasty for dinner. Something like this light Garden Tri Tip Crostini Recipe!
Or, maybe you've tried my popular Apple Blue Cheese Crostini Appetizer or this Caprese Crostini Board Recipe. If you want to serve a board, this Naan Tri Tip Summer Garden Board has the best "Farmer's Market" bites for a party!
Garden Tri Tip Crostini Recipe
When it comes to using up the leftovers, some of our best meals have involved creating something different and delicious, like this recipe. Add in cooking spontaneously for friends that may drop by for a glass of wine … it just gets my creative juices flowing!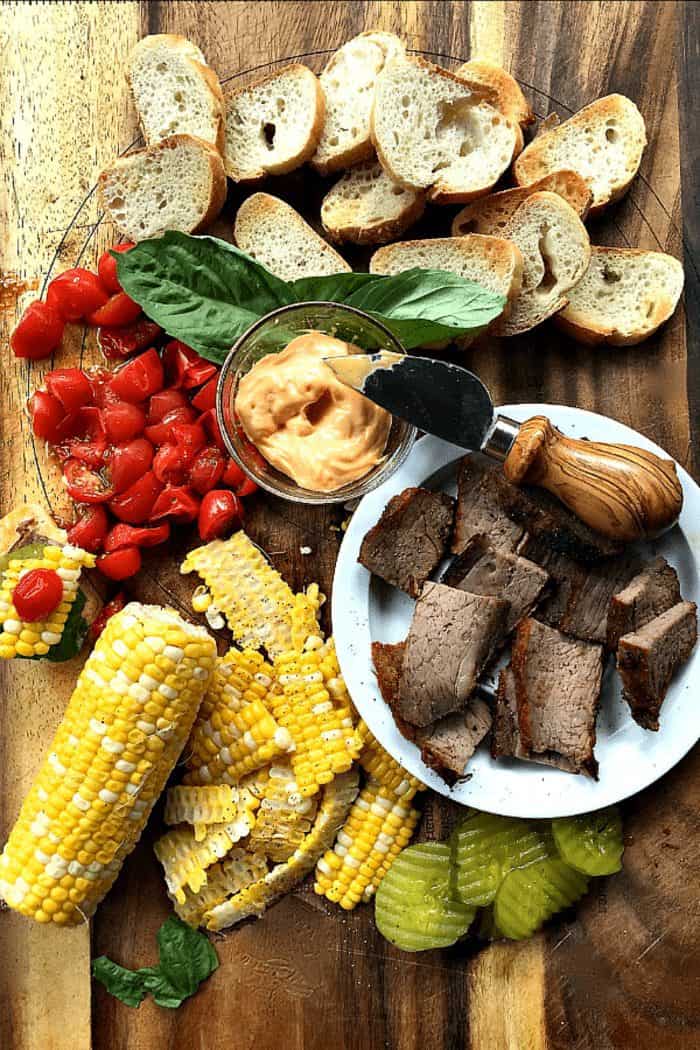 Ingredients for Tri Tip Crostini on baguette bread
All you need are these ingredients:
Baguette loaf
Olive oil
Leftover tri tip meat, thinly sliced
Fresh basil leaves
Favorite sauce, we like Thousand Island or Sriracha
Fresh corn, cooked, cut off the cob
Cherry tomatoes, cut in half
Dill pickle chips
Fresh cracked pepper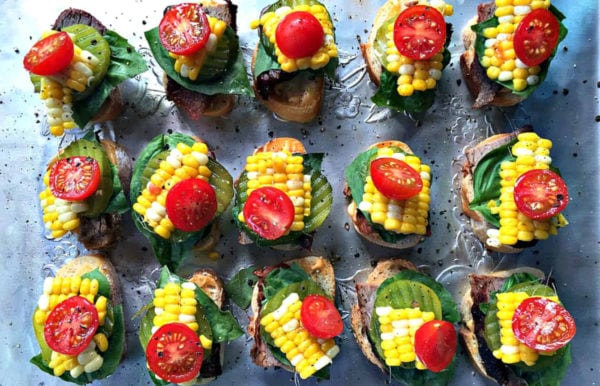 Spontaneous dinner guests
I'm not sure if I've told you this, but cooking for a few friends spontaneously is one of my favorite ways to entertain.
All pressure is off. I'm winging it, and I just don't have time to worry much about the perfect menu!
I throw a few things together using what seasonal foods are in my kitchen, and sometimes I use leftovers from the night before.
This time we had leftover tri tip from this party, and an extra baguette.
Another thing I love about spontaneous guests is that they don't expect much, if anything at all. In fact, I love the element of surprise!
Use fresh garden ingredients
Here's the real secret for making something quick and easy, and pretty much 100% guaranteed to turn out: Use the freshest fruits and vegetable of the season.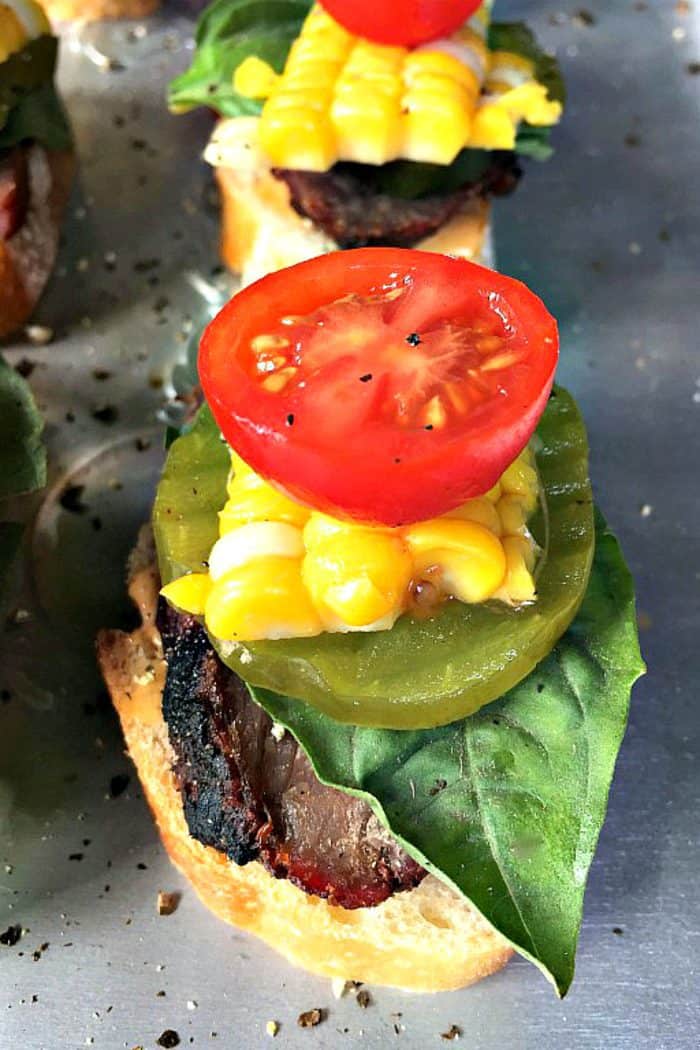 Tri Tip Crostini
Well, you can see here what I whipped up.
Fresh corn, tomatoes + leftover tri tip, your favorite sauce + toasted baguette.
You'll have delightful crostini, filling, and delicious, paired with a glass of red wine.
This may be enough, or you may want to toss a giant salad to go with the bites.
Don't forget a summer dessert like this Homemade Vanilla Ice Cream!
Happy Weekend, Friends!
More crostini recipes:
Fig Gruyere Crostini [That Skinny Chick Can Bake]
Smoked Salmon Crostini [Real Housemoms]
Strawberry Brie Crostini Appetizer
Prosciutto Goat Cheese Crostini
Get the Recipe: Tri Tip Crostini
Toast bite-sized slices of baguette, thinly sliced with leftover tri tip, and fresh basil, tomatoes, and corn.
Ingredients
1 Baguette loaf, sliced and toasted
Olive oil, for drizzle on baguette bread
2 cups Leftover tri tip meat, thinly sliced
12 Fresh basil leaves
Favorite sauce, Thousand Island or Sriracha sauce
4 cobs Fresh corn, cooked, cut off the cob
1 cup Cherry tomatoes, cut in half
½ cup Dill pickle chips, drained
Fresh cracked pepper
Instructions
Slice a baguette loaf and lay slices on a baking sheet. Drizzle with olive oil and broil for 1-2 minutes until toasted.

Assemble the crostini by adding a thin layer of your favorite sauce (we used Sriracha or Thousand Island Dressing), a thin slice of tri tip meat, a leaf of basil, dill pickle chip, chunk of fresh corn, and cherry tomato.

Sprinkle with fresh ground pepper; serve!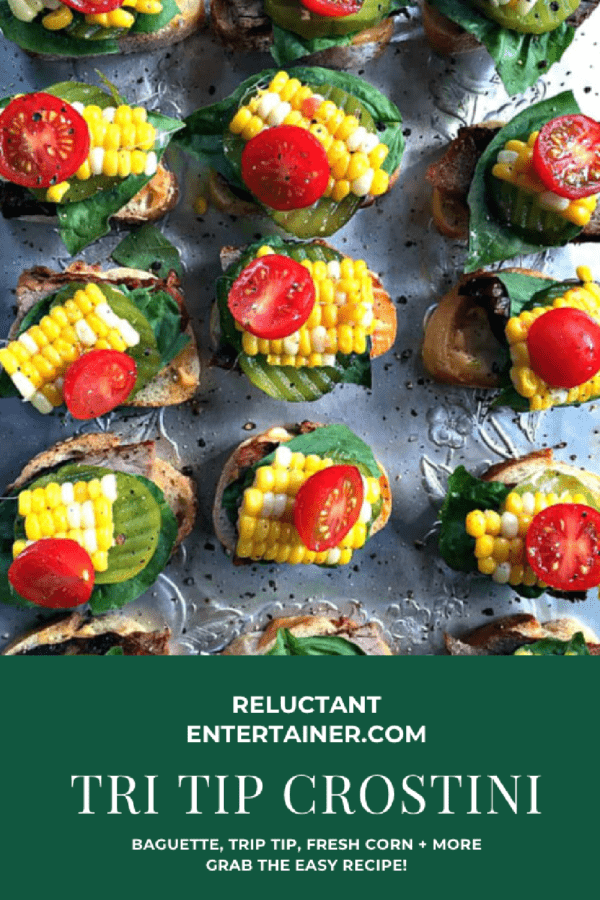 Hello and welcome to my home and table!
I'm Sandy—lover of food, family, cooking, THE BIG BOARD, travel, and bringing people together. Through great recipes and connection around the table, we become better, stronger, and more courageous people. Feasting on Life is real, and every time we do it, we grow a little more. Read more...