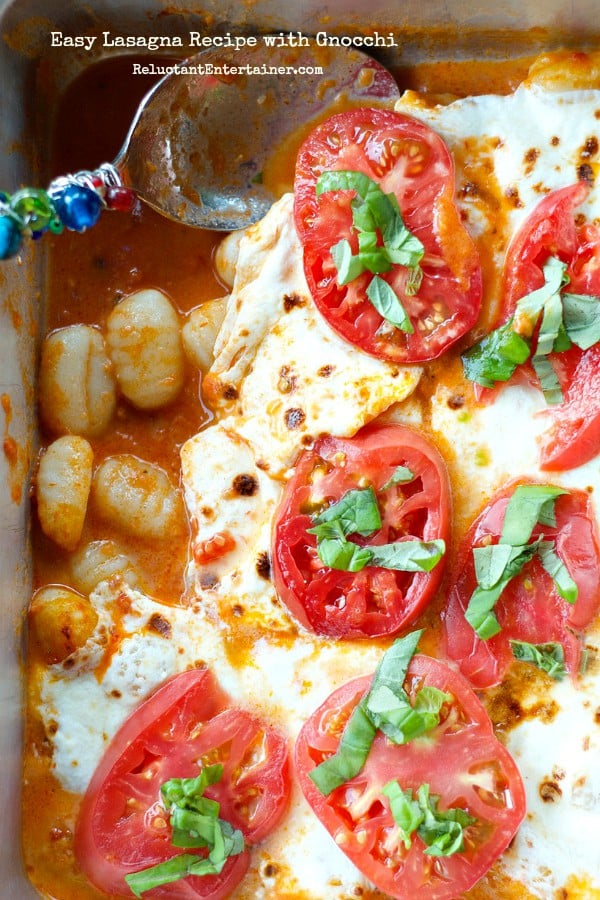 Lasagna is a wonderful food for its versatility, made with pasta, cheese, and sauce (sometimes meat or vegetables). Today I'm serving a different spin on the standard recipes: Easy Lasagna Recipe with Gnocchi. But the question is, is gnocchi a pasta or a dumpling? I've asked around and everyone has a different answer. So I went to the experts: DeLallo Foods, who I think has the best pasta around! (Plus, my entire menu is at the very bottom of this post.)
What is gnocchi?
Though descendants of Northern Italy, where heartier pastas reign, gnocchi have become a part of Italian cuisine—from north to south and everywhere in between. The word "gnocchi" (pronounced N'YAW-kee) has an unknown origin, but it's speculated to come from the Italian word nocca, meaning knuckle. Essentially, gnocchi are a form of dumplings, and, of course, not exclusive to Italy. But their light, airy texture and full potato flavor makes them a unique pasta with a long history in classic European cuisine. Even different regions of Italy have their respective versions, and before it was made with potatoes, gnocchi existed, but with different ingredients—breadcrumbs, squash, chestnut flour, egg and cheese, just to name a few. Gnocchi, being filling and inexpensive, were the perfect peasant food. For this reason, many parts of the world have made and appreciated dumplings for centuries. –DeLallo
I'm raising my hand here! Both sides of my family have special "family peasant food recipes" using dumplings!