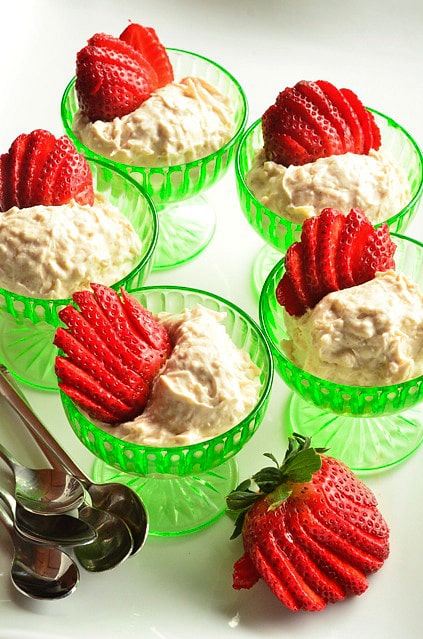 I love stocking up on ingredients that can go quickly into a scrumptious dessert, especially when my vegan friends are coming for dinner. My friend, Syndi, made this for us at a ladies gathering, and served sweet, juicy blackberries on top. Most any fruit would be amazing. But for coconut lovers, this 5-Minute Coconut Cream Dessert is the ultimate.
Entertaining is like a muscle.
Prepping, cooking, cleaning, oh my! It can get crazy before guests arrive for dinner, but the more I entertain, the easier it is. It's like a muscle–the more you use it, the stronger you get, and the easier it becomes!
You become more proficient, it becomes smoother–just like getting in shape and exercising. After awhile you develop a rhythm, and it takes less effort.
Entertaining more also increases your confidence in your ability to do it.
We all feel better when we believe that we can do something. And with entertaining, you want to do it well.
5-minute vegan dessert.
So little tips like, "How to make a vegan dessert quickly" can help any aspiring hostess, right? Especially when it can be made in 5 minutes.
RE is about helping, giving tips, and making entertaining easy. I'll never say it's not stressful, but when you have a plan, you can streamline and sometimes go the "easy" route, like with this simple recipe today, then entertaining becomes way more enjoyable.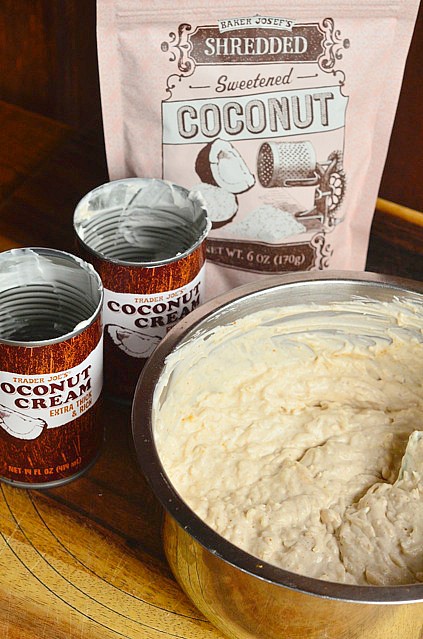 Keep these (2) ingredients stocked.
Next time you need a quick, classy dessert for a dinner party, pull these simple ingredients from your pantry: coconut cream and shredded coconut.
Within 5 minutes, follow the recipe below, and you can have a fantastic dessert ready for your guests.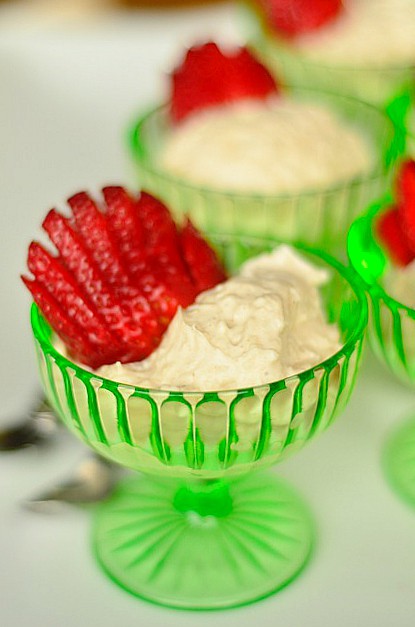 St. Patrick's Day dessert.
Since St. Patrick's Day is almost here, I pulled my grandmother's green sundae dishes from the hutch – perfect green for a little ambience, and added a fresh strawberry on top. (Here's another tip on how to slice the perfect strawberry.)
What's your go-to 5-minute dessert you like to make for guests?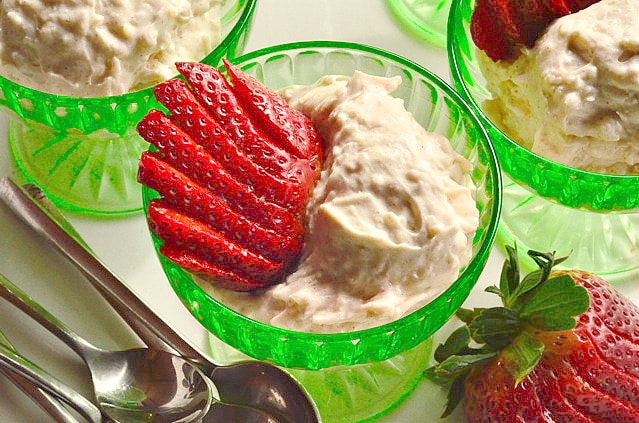 5-Minute Vegan Coconut Cream Dessert
Yield: 8
Prep Time: 5 minutes
Total Time: 5 minutes
Delicious, creamy vegan dessert. Eat it plain or with fruit on top. For a smoother dessert, finely pulse the coconut into smaller pieces.
Ingredients:
2 cans of whole organic coconut cream
2 cups of organic shredded coconut
1 tsp. vanilla
1/2 tsp. nutmeg
1 tsp. cinnamon
4 T. coconut sugar
Directions:
Mix together in a large bowl. Scoop into dessert cups or dishes; serve with fresh fruit on top.
Sprinkle nuts on top (optional).