Creamy perfect winter-into-spring pasta dish, Linguine with Shrimp and Green Onions, perfect to serve at any dinner party!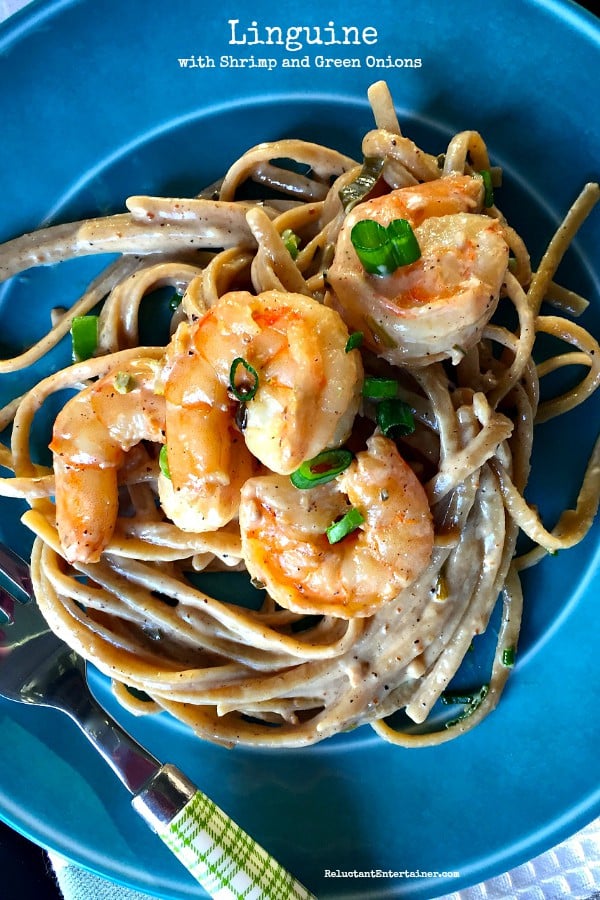 Dinner invitations are tricky, yes. But they don't have to be complicated. Sometimes they just require a little thought about who you're in the mood to gather with, or who you want to connect with. Which reminds me of last Friday night.
My husband and I have a couple in our lives whom we really love "one-on-one" time with. We feel that it's more intimate and our conversation goes deeper when it's just the 4 of us.
Large or small.
Some people do better with larger groups, and some with smaller.  My husband and I purposely invite others over for dinner because we need our friends! Around our table we discuss the real stuff of life: compassion, courage, perspective, insight, and love. We try to talk "less" about people, and "more" about how to make the world a better place. Of course we're not perfect, but we do have a purpose for getting together.
Life is always offering itself to us, but we have to be available and open to receive it–which is why I believe entertaining is important.
Introverts or extroverts.
Maybe it has to do with our personalities, whether we prefer a large or small group to dine with, which is a subject I've started diving in to lately. What is it about our personalities with entertaining–all of us introverts and extroverts–and do our personalities have anything to do with the size of group we like to host, or who we like to invite?
My hand is raised!
I say it makes a big difference.
Linguine with Shrimp and Green Onions.