Best Peach Tart
The perfect easy dessert to make for summer guests, gatherings, picnics, potlucks, or holidays is this Best Peach Tart recipe!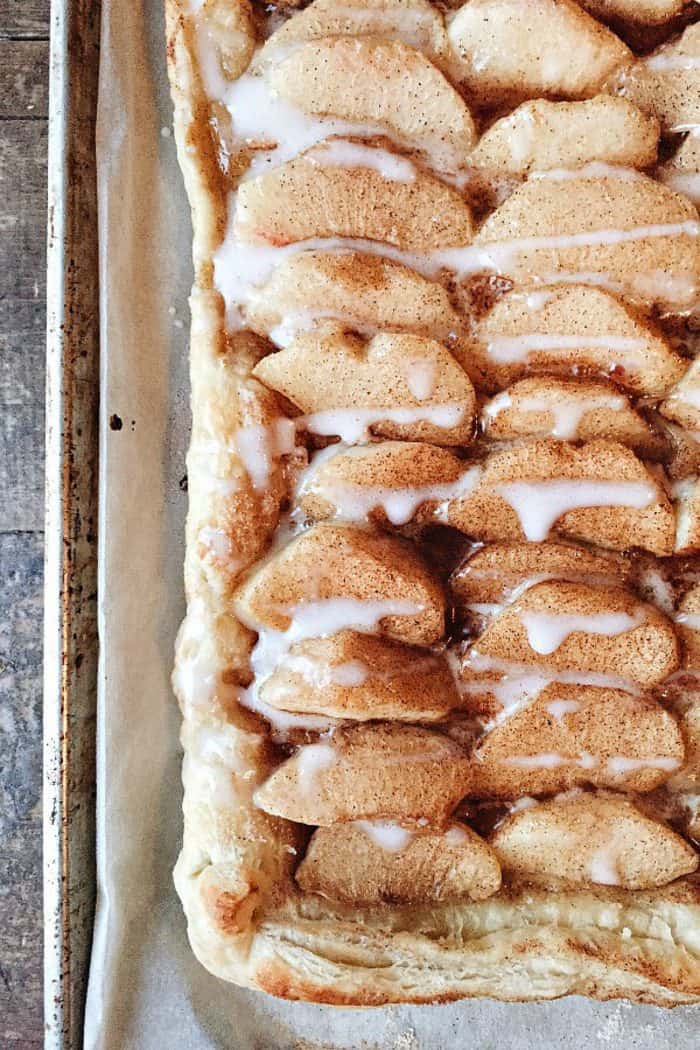 "Eating with the fullest pleasure is perhaps the profoundest enactment of our connection with the world. In this pleasure, we experience and celebrate our dependence and our gratitude, for we are living from mystery, from creatures we did not make and powers we cannot comprehend."
The quote from Wendell Berry's book, The Unsettling of America, always reminds me of the Fourth of July, and why we gather.
Besides celebrating our nation's independence, summer is a great time for gatherings, for enjoying the beautiful weather, nature, and our yards, water, the beach … and we seem to eat well over the holidays!
Summer white peaches
Summer is also much easier to eat fresh and spend less time in the kitchen, which is what I love.
Lately we cannot get enough of these delicious white peaches! They've always been our family's favorite summertime fruit!
Here are some more peach recipes I've shared over the years: Salted Caram Peaches and Ice Cream, Wonderful Peach Cobbler, Peach Avocado Salad, and Peach Breakfast Cake. You may also love Angie's Fresh Peach Ice Cream or Trish's Peach Blueberry Pie with Pecan Streusel Topping. YUM.
Best Peach Tart
I also love sumer food because preparation seems easier, like this Best Peach Tart recipe I'm sharing today.
My daughter and I have been making a few dishes together in our new, unfinished kitchen. We're enjoying the time involved, then sitting down together to talk about the day, about life, and to enjoy the meal we created.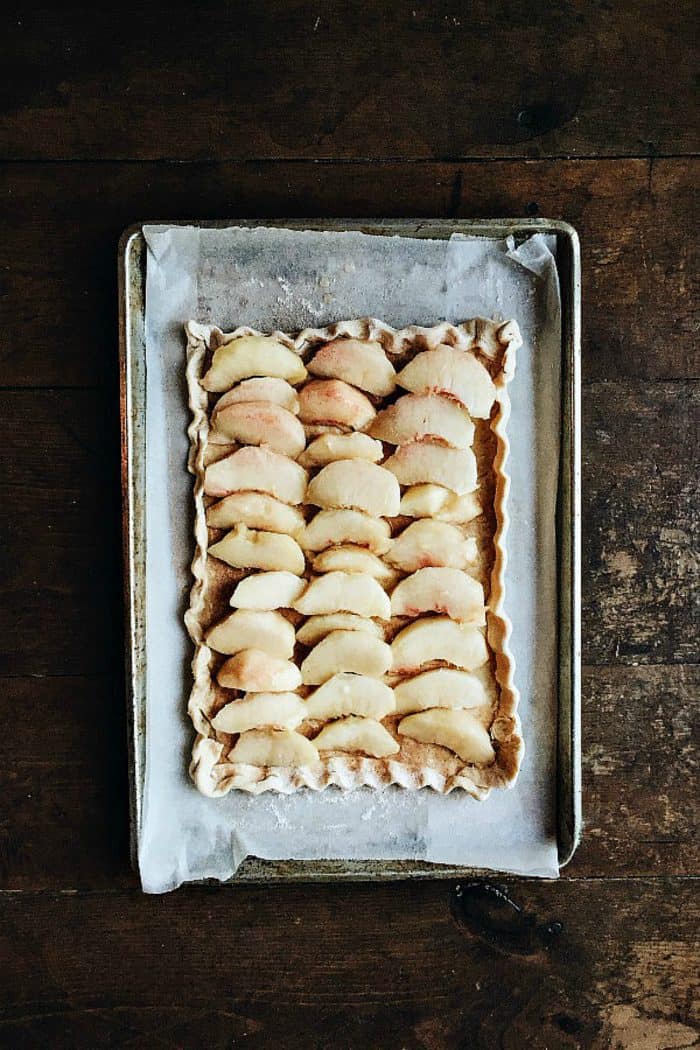 Prepare the puff pastry, dust with cinnamon and sugar, and then add the fresh white peaches.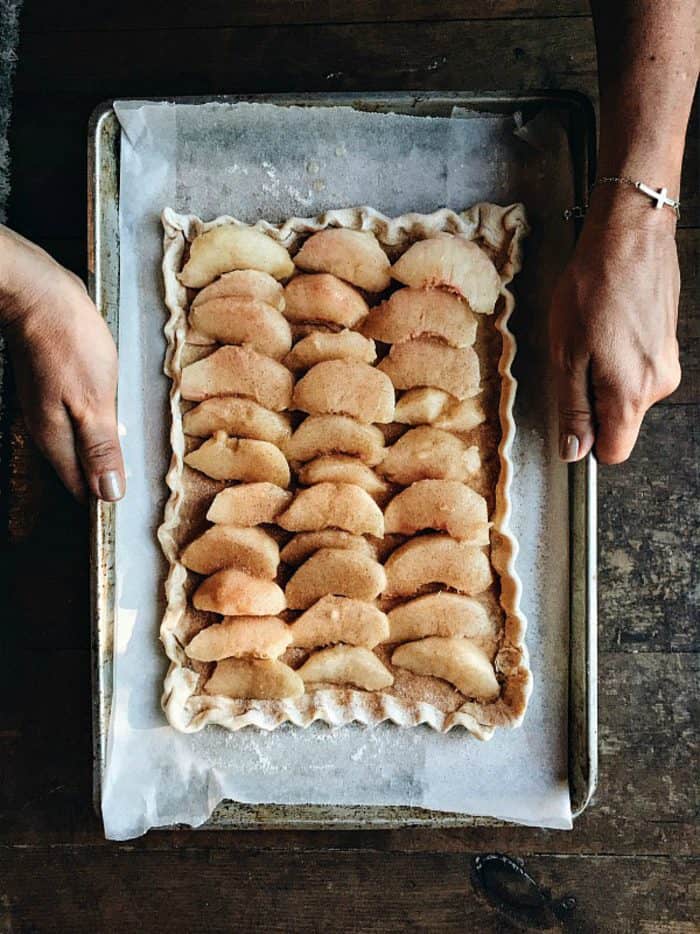 Drizzle with a yummy glaze; serve!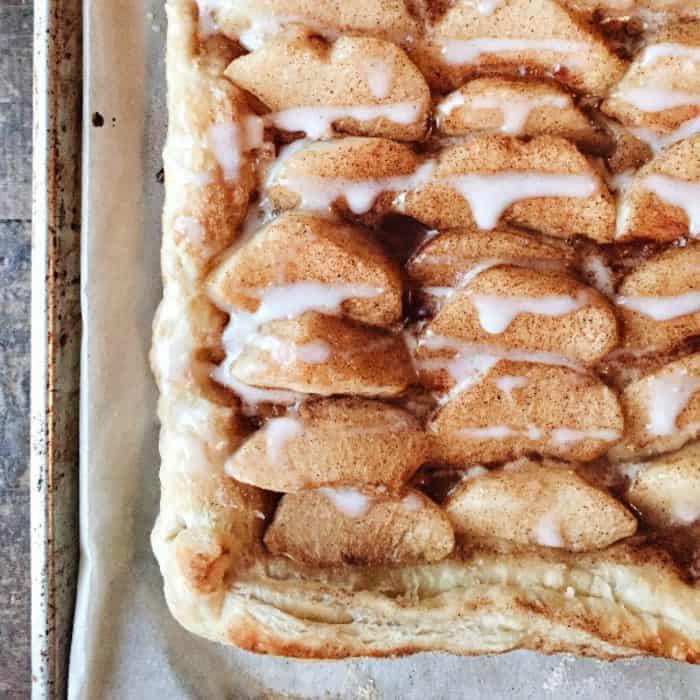 Slowing down
I'm thankful for the slower food movement during the summer months, and for this weekend ahead. For our family, it will be about enjoying the outdoors, sitting and savoring, hiking, walking, maybe kayaking–just enjoying life together.
Food reminds us that for some things in life, we have to slow down.
Happy July!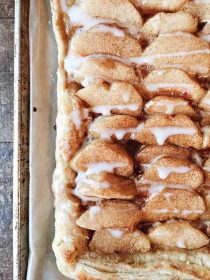 Get the Recipe: Best Peach Tart
Ingredients
1 sheet frozen puff pastry, thawed (I buy Pepperidge Farms)
3 large white peaches, peeled and sliced
4 Tbsp. white sugar
2 tsp. cinnamon
1/4 cup confectioners' sugar
2 tsp. milk
1/2 tsp. vanilla
Instructions
Preheat oven to 400 degrees. Line a baking sheet with parchment paper.

Peel and slice the peaches; set aside.

In a small bowl, mix the white sugar and cinnamon.

Unfold the puff pastry onto the baking sheet; slightly roll to a 9×13 size. Lightly fold up the edges around the dough to make a tart, pinching together. Prick the pastry all over with a fork. Sprinkle with half of the cinnamon and sugar mixture.

Arrange the peach slices so they are slightly overlapping each other in three rows on top of the pastry dough.

Sprinkle the other half of the cinnamon and sugar mixture on top of the pastry dough.

Bake the tart for 20-25 minutes until it is golden and puffed. Remove the tart and let it cool slightly.

In a small bowl, add the confectioners' sugar, milk, and vanilla; mix well. Drizzle on top of the warm peach tart; serve!
Hello and welcome to my home and table!
I'm Sandy—lover of food, family, cooking, THE BIG BOARD, travel, and bringing people together. Through great recipes and connection around the table, we become better, stronger, and more courageous people. Feasting on Life is real, and every time we do it, we grow a little more. Read more...