Sisters' Christmas Dinner and Chocolate Rolled Angel Cake
What do you do when your table only holds 8 comfortably, and you're hosting a large Christmas dinner?
For our family, this was our last meal to entertain for the holidays this past weekend, and my sisters and their families were coming.
I wanted all 15 of us to all sit down so we could enjoy our time together.
For large groups like this, I have several sets of tablecloths, extra tables in the garage, and I borrowed a few chairs from a friend.
Wah-Lah … a long table eating area has been created.
Every year we rotate houses for our "sister dinner." It's special because ever since our Mother passed away, we told each other we'd still give small gifts to each other.
Our Mom loved to give gifts, and she always picked out just the right thing.
So our giving, in a sense, was a reminder of our Mom.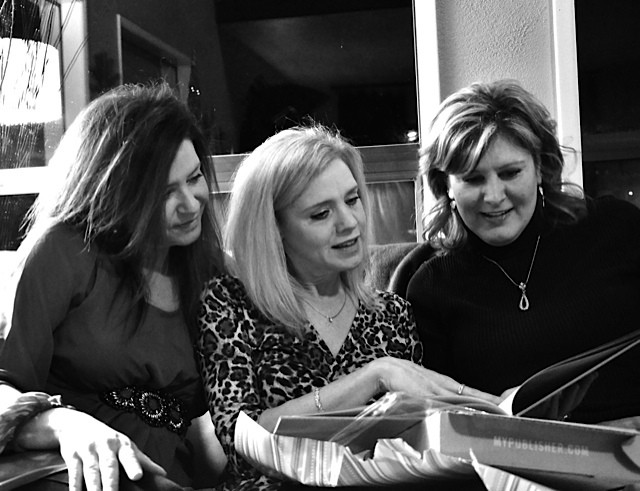 I also planned out the meal and delegated many of the dishes. And we did it a little differently this year.
-We seated everyone and served the salad.
-For the main course we served the prime rib and all the side dishes buffet-style.
-Dessert came way later as we all mingled in the kitchen.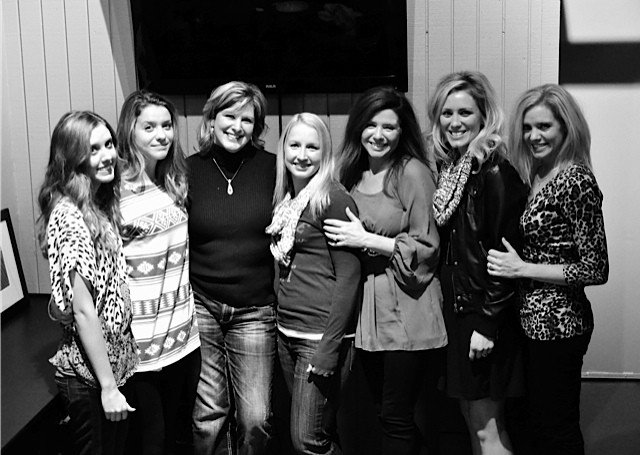 In Christmas tradition, we always take a picture of the women in the family. :)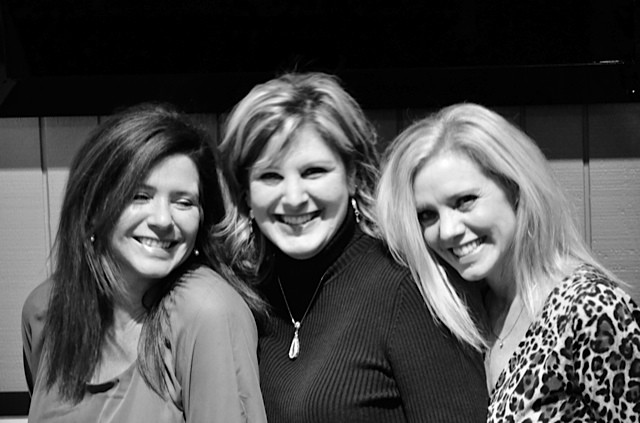 And the sisters. :)
I'm thankful for sisters, for delegation so I don't have to cook an entire meal for so many people, for love and gifts at Christmas, and for yummy desserts.
Speaking of desserts …
Don't you find that sometimes it's hard to serve dessert right after a big meal?
We decided to wait about an hour before cutting into my sister's heavenly cake (well, it does have Angel Cake as an ingredient) that she brought. (It's a good one because it serves at least 12.)
You'll see how light and simple the recipe is, and elegant, too. Raspberries on the inside and just a few for color on the serving platter. Beautiful!
What's your tradition for serving dessert after a large meal? Do you serve it right away or wait to serve it later?
[print_this]
Recipe: Chocolate Rolled Angel Cake
Summary: Light and festive cake perfect for a holiday dinner party.
Ingredients
1 (16oz) pkg angel food cake mix
1-1/4 cups water
2 Tbls cocoa
2 Tbls powdered sugar for dusting
1-1/2 cups whipping cream
2 Tbls powdered sugar
1-1/2 cups fresh raspberries
Instructions
Heat oven to 350. Grease 15x10x1-inch baking pan. Line bottom of pan with waxed paper.
Prepare cake batter as directed on package using water (add cocoa). Spoon batter into lined pan.
Bake at 350 for 17-22 minutes or until golden brown and cracks in cake appear dry.
Meanwhile, place clean towel on work surface. With sifter, lightly sprinkle powdered sugar onto towel.
Loosen edges of warm cake with spatula; immediately invert cake onto sugared towel. Remove pan and waxed paper.
Starting with long side, roll up cake in towel, cool on wire rack for 45 minutes or until completely cool.
Meanwhile in large bowl, beat cream and powdered sugar until stiff peaks form.
To assemble cake, carefully unroll cooled cake, remove towel. Spread whipped cream evenly over cake, leaving 1/2-in border.
Sprinkle raspberries over whipped cream. Roll cake, jelly-roll fashion (cake may crack).
Place 2 spatulas under roll, and transfer seam side down, to long platter. Store loosely covered in refrigerator at least 1 hour or up to 6 hours.
To serve, sprinkle roll with sifted powdered sugar and garnish with raspberries.
Preparation time: 40 minute(s)
Cooking time: 20 minute(s)
Number of servings (yield): 12

[/print_this]