Marionberry Ice Cream Sandwiches
Pull out your favorite ice cream and cookies to make these simple summer treats, Marionberry Ice Cream Sandwiches. Freeze and serve for drop-in company!
Friends, enjoy for summer these Marionberry Ice Cream Sandwiches! So refreshing and delicious to pull from the freezer for a great treat.
Marionberry Ice Cream Sandwiches
Love this snack to keep on hand for drop-in company, too!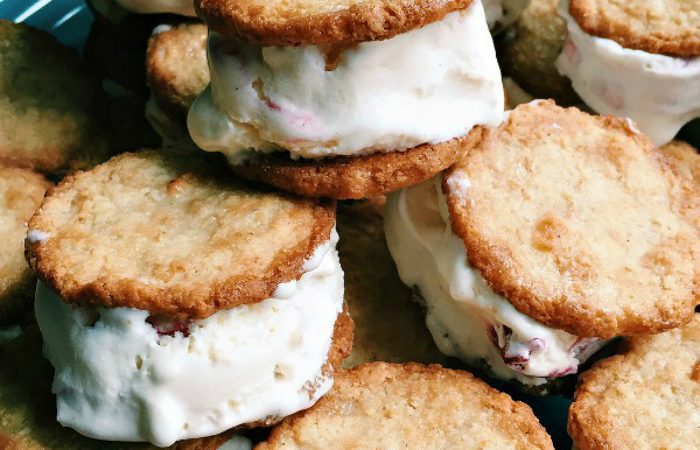 When our dear friends dropped by for lunch, on their way to celebrating their 60th wedding anniversary on a 10-day trip through Eastern Oregon, they brought the most thoughtful house warming gift. Some may think it's old-fashioned, because it does seem to be a lost art and a practice used years ago, but a "guest book" is a lovely way to remember who came to visit, and when, and it included a personalized note—a handwritten message.
I was tickled pink when I unwrapped the beautiful book, with their special note and wishes for our new home inside.
Handwriting–a lost art. (And letter writing)
Sitting and enjoying a meal together in the middle of the day, is sometimes a lost art.
Listening to a darling couple, married 60 years, talk about their guest remembrances, special places and memories they've lived in the world, a gift indeed.
Their stories. The way they value people and connection. The way they care enough to ask us about our lives.
Our friends are people people. They value relationships and experiences. It has defined them over the years.
A sweet memory for me, as we were cleaning out our house to move to our new location, was the box I found under my bed of our wedding cards, from 25 years ago.
I thumbed through the cards to find one from Faye for my wedding (25 years ago!) shower!
To Sandy, with love. Your very own Swiss knife and key ring (it was red), for quick picnics with your husband and friends, and happy nibbles on trips and adventures! You are a honey, love, Faye.
Even back then, they were encouraging when it came to relationships and hospitality.
How to make Marionberry Ice Cream Sandwiches
So together, my husband, daughter and I enjoyed a bowl of this soup, and then I pulled out of the freezer one of my all-time favorite summer desserts.
Easy to prepare a head of time.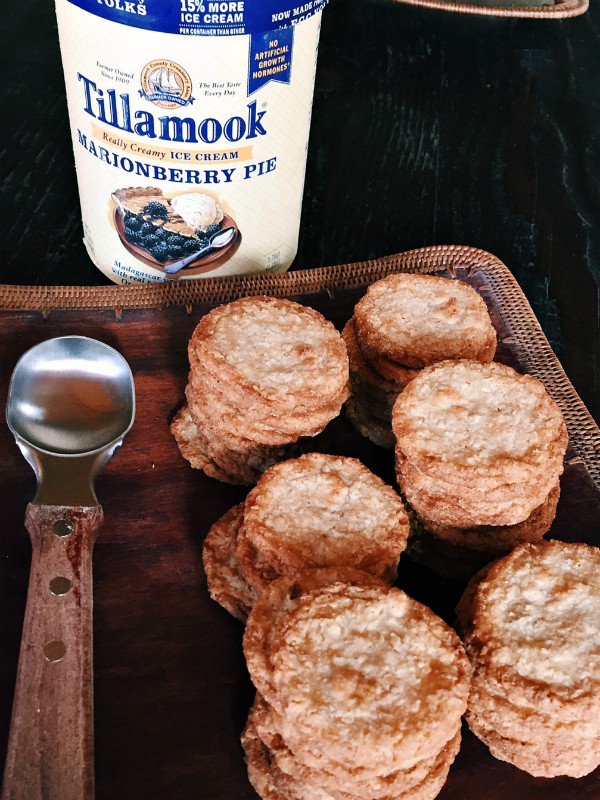 All you need is good cookies (I buy these Oat Crisps from IKEA and freeze them), and good quality ice cream.
Tillamook is where it's at for me, being an Oregonian, and a lover of marionberries!
Put together and freeze!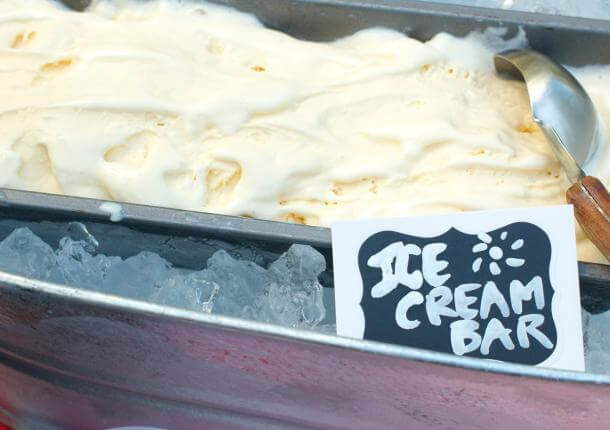 Also, in celebration of National Ice Cream Day, I posted an easy sundae ice cream bar idea over at Chinet. ENJOY!
Happy Friday, Friends!
Get the Recipe: Marionberry Ice Cream Sandwiches
Ingredients
1/2 gallon ice cream
24 small flat cookies, I use Oat Crisps from IKEA
Instructions
Lay out 24 small cookies. Fill 2 cookies with ice cream in between. Wipe around the edges. Freeze; serve!
More summer ice cream treats:
Orange Creamsicle Freezer Dessert
Hello and welcome to my home and table!
I'm Sandy—lover of food, family, cooking, THE BIG BOARD, travel, and bringing people together. Through great recipes and connection around the table, we become better, stronger, and more courageous people. Feasting on Life is real, and every time we do it, we grow a little more. Read more...