Meat Cheese Olive Charcuterie Board
This post may contain affiliate links.
Want to make your own Meat Cheese Olive Charcuterie Board? A charcuterie board is filled with cured meats and cheese, perfect for holiday entertaining. 
There's no right or wrong way to display a charcuterie plate or a meet and cheese platter, but to simply enjoy it. For all The Big Board ideas, click the link and get inspired!
What is a charcuterie board?
Charcuterie usually means cured or cold meats. But the usual term "charcuterie board" means an assortment of meats that are paired with different cheese, crackers, fruit, nuts, and often dips or sauces.
Beautiful charcuterie board
Few settings are as hospitable as hosting a gathering in nature's great outdoors. I just love the feeling we get from our wrap-around-deck that let's us take in the top of all our quaking aspens.
The sound the wind makes through them makes me giddy, especially when we're sharing appetizers on our deck with friends. Like this beautiful charcuterie board.
But before we get up here, our guests arrive all around the same time with their potluck dish in hand, and a bottle of wine in the other.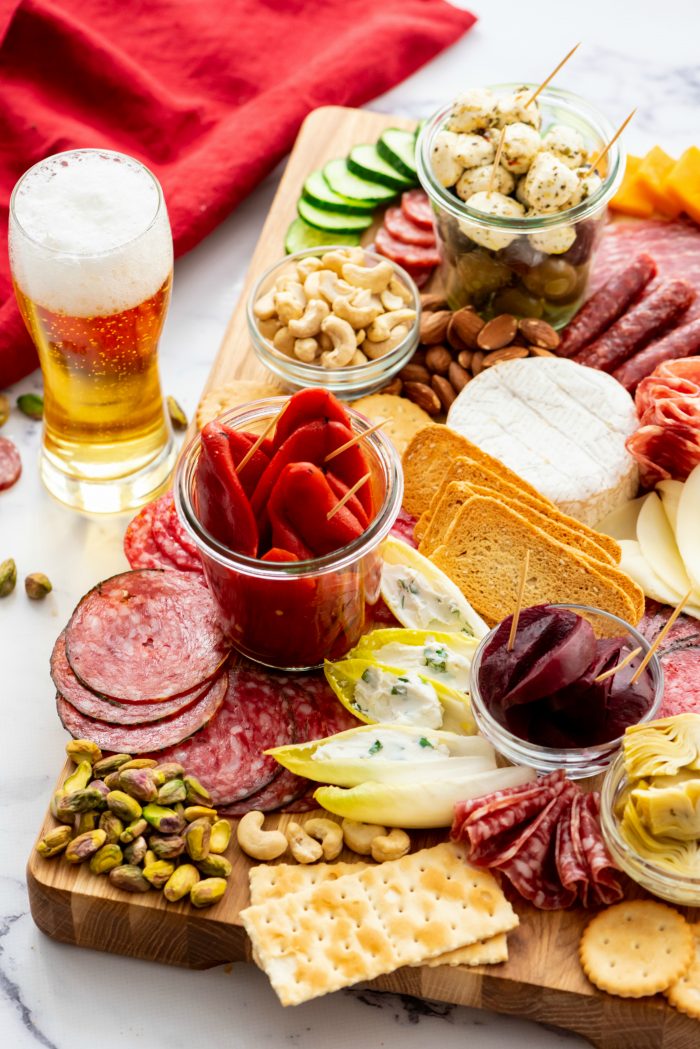 Charcuterie plate
Ready on the table is a giant charcuterie plate, for a quick indulgence.
This might sound strange, but I love these moments–maybe awkward moments when the guests arrive–when you're trying to find a free hand to give a hug!
These hugs say some of my favorite words: Come in, put your things down, grab a glass of wine, and let's visit!
Meat Cheese Olive Charcuterie Board
Having an appetizer ready (remember this beautiful board?) is everything. A Meat Cheese Olive Charcuterie Board is the ultimate summer spread; one of these BEST appetizers to serve (made with cured meats, olives and antipasti).
Meat and cheese platter
My friend Laurel and I had a great time putting this Meat Cheese Olive Charcuterie Board together. Isn't it pretty? Always a great time to catch up, while we chopped and played with food :) It's always fun to make a board with a friend!
Why charcuterie boards are popular
Reasons why most people love making charcuterie boards:
Super easy to make.
Something already constructed (not deconstructed), which means, ready to take a bite – now.
They want something meaty, salty, tasty.
People love nuts, meat, cheeses, olives—all the perfect bite!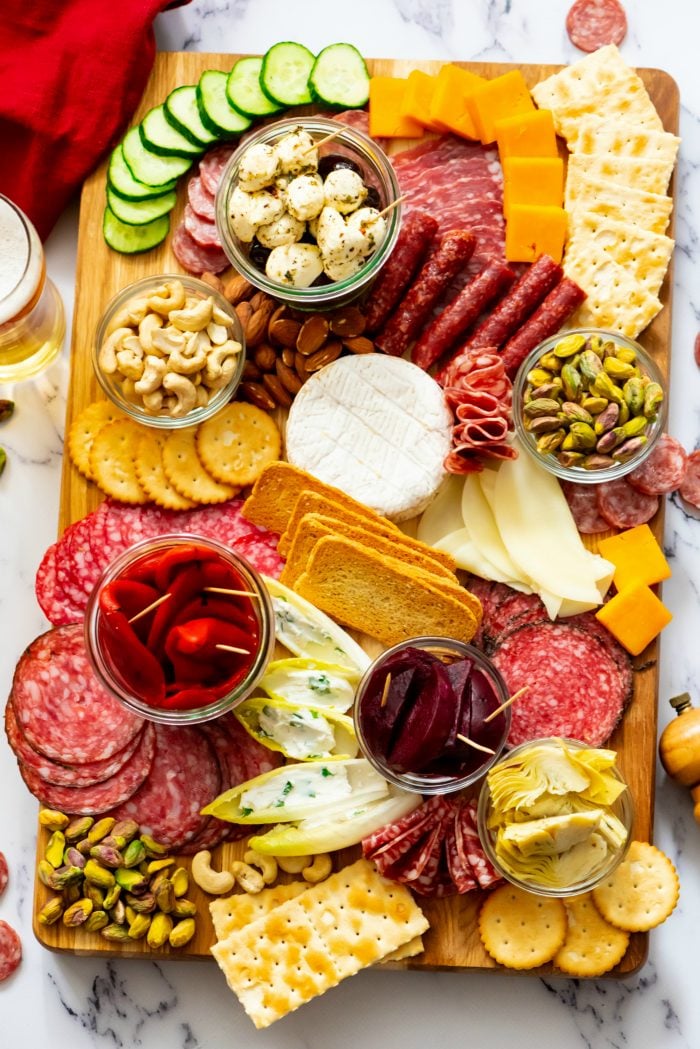 How to make a charcuterie plate
Stuff the endive with goat cheese and fresh basil.
Slice the cheeses and meats.
Chop the pepperoni to add to the mozzarella balls.
Add the olives, nuts, and crackers (with a few veggies)
Get your party started and watch everyone mingle and dug in with so many flavors and delicious bites to choose from!
Don't forget to check out my Charcuterie/Cheese Board ideas!
Happy Hosting!
28-inch Charcuterie Board
Friends, here are the boards that I LOVE. A "lip" is the secret to the best charcuterie or dinner board, because the food does not fall off. [This post has affiliate links. Every purchase from these links supports RE at no extra cost to you. Thank you!]
Here are the affiliate links:
LARGE Hand-Carved Gabrielle Tray, Large – 28.5 inches round.
LARGE Hand-Carved Gabrielle Tray (gray) – 24 inches round.
MEDIUM Hand-Carved Vine Round Tray (white washed)
SMALL Hand-Carved Gabrielle Tray (gray) – 18 inches.
Rememember it says it is "not food safe," so you need to prepare the board by either laying down parchment paper under the food, or you can "season" it like we did.
How to season a Charcuterie Board
If a wood board says it "not food safe," you can lightly sand it down with sand paper, and rub down with beeswax and mineral oil.
Follow along how to season a charcuterie board for the details, but we used this butcher block and cutting board oil conditioner after we lightly sanded the board down.
Everyday Enamelware Serving Tray
Today I'm using an Everyday Enamelware Serving Tray by LeCreuset!
It has a porcelain enamel durable coating, easy to clean, it's shatterproof, and resistant to stains, scratches and rust. YAY!
It's also lightweight and versatile, and I LOVE IT.
Did I mention, it's food safe?
Use it for a tray to carry food or glasses to your deck, or as a food board!
You can buy the Everyday Enamelware Serving Tray by LeCreuset, HERE.
I also found this on Amazon, a LARGE charcuterie board, but it doesn't have a lip. This Pine Extra Large Charcuterie Board is 22 inches round.
More Charcuterie ideas:
Cheese Picnic Tarts [Foodness Gracious], Dessert Charcuterie Plate [Pint Sized Baker], Smoked Salmon Appetizer Platter [RE], and How to make an EPIC Charcuterie Board [RE].

Meat Cheese & Olive Charcuterie Board
A Meat Cheese & Olive Charcuterie Board is filled with cured meats and delicious cheeses, perfect for holiday entertaining. There's no right or wrong way to display a charcuterie plate or a meat and cheese platter, but to simply ENJOY it.
Ingredients
Pistachios
Roasted almonds
Cashews
12 oz. Grilled Piquillo Peppers
12 oz. Grilled Artichoke hearts
Roasted beets
Cucumber, sliced
Salami
Short Stick Pepperoni
Black Pepper Sweet Sausage
Italian Herb Sweet Sausage
Hot Calabrese Cured Sausage
Provoloni Antipasti
Pitted Olives Jubilee
Aglio Green Pitted Olives
Brie cheese, softened (heated)
Cheddar cheese, sliced
Endive stuffed with goat cheese + fresh basil
Mozzarella balls sauted in DeLallo Roasted & Grilling Veggie Marinade
3 varieties crackers
Instructions
Slice meats and cheeses; place all ingredients on a large board, moist ingredients (artichokes, olives, beets, etc.) in small dishes.

Layer with crackers, thin salami slices, and add a small container of toothpicks.

ENJOY!
Notes
originally posted JUNE 2017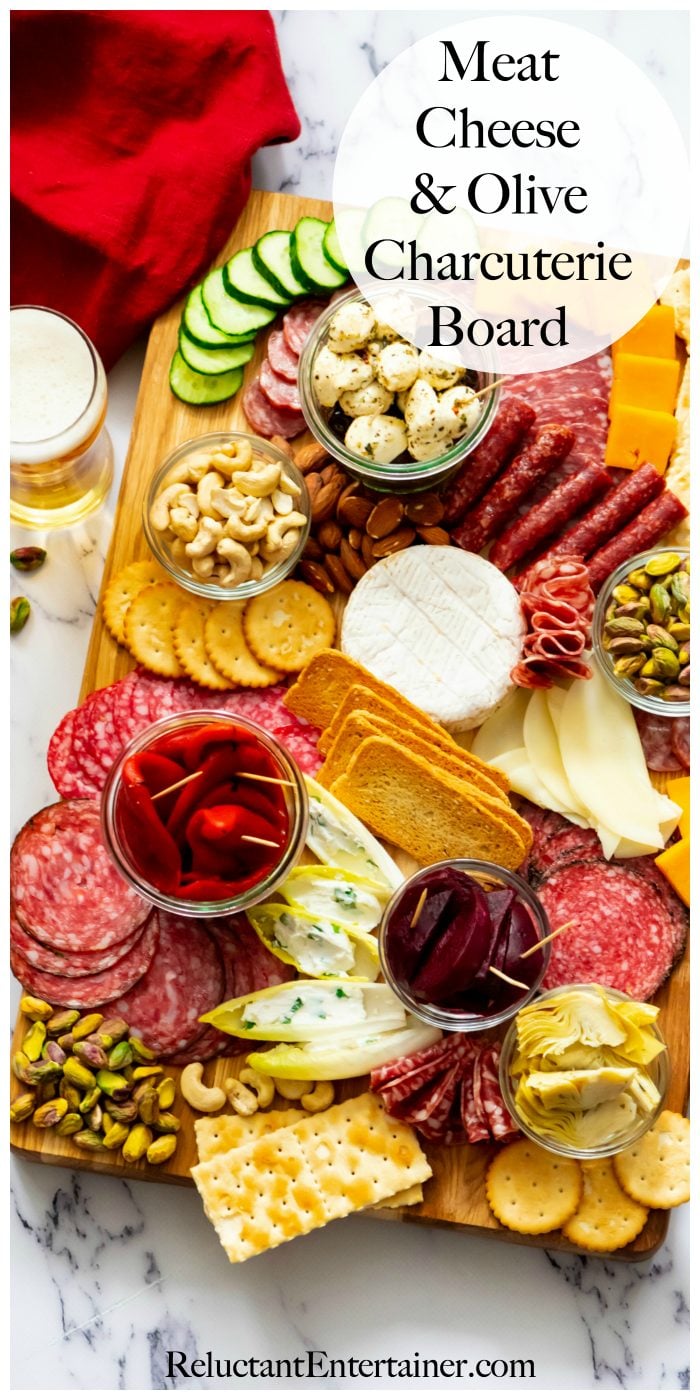 This post is sponsored by DeLallo Foods. We love their product and have used it weekly in our kitchen for years. As always, all opinions are my own!
We are a participant in the Amazon Services LLC Associates Program, an affiliate advertising program designed to provide a means for sites to earn advertising fees by advertising and linking to amazon.com.