This Peach Arugula Pasta Salad is the perfect summer salad to bring to potluck, baby or bridal shower, or enjoy on a hot evening for dinner. You can also add chicken!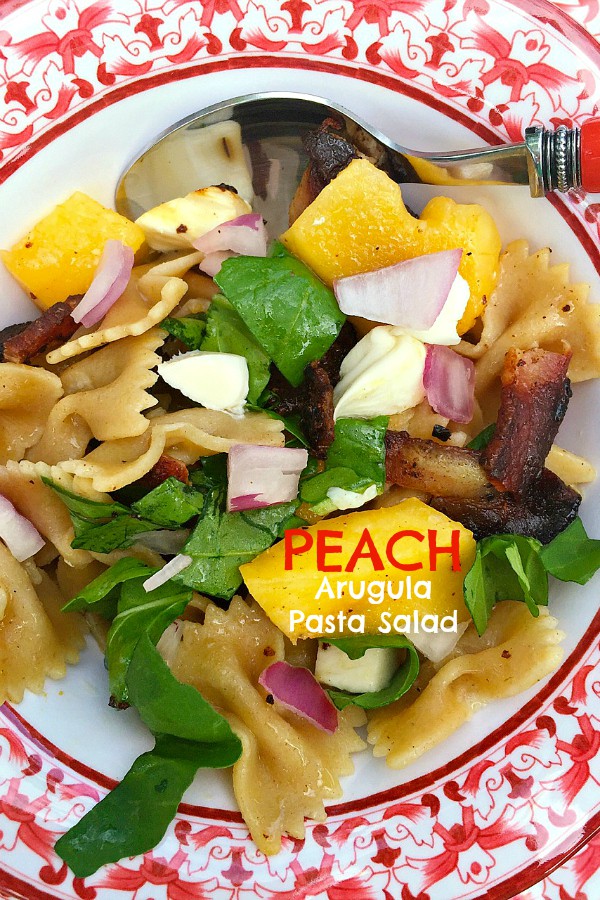 If life were a peach, I'd eat one every day! I wouldn't just set them on the counter, because they are pretty to look at (and they smell so sweet!), but I'd cook with them like crazy and enjoy them and share them with my friends. And share the recipes and dishes with my friends!
Our life is a gift, and our friendships are a gift. (And today's my birthday, so I'm thankful for all of my beautiful friends in my life.)
Getting ready to eat!
For me, there's really no greater moment in entertaining, than right before the meal. Since we serve so many buffet-style meals in our home, that's when we gather around the food–plates in hand–and give thanks, or gather around the table with heaping plates, ready to dig in. Everyone looks at each other … is it time?
That look and feeling makes me happy.
It's a level of anticipation … which is a very sweet moment.