One of our favorite weeknight meals, Roasted Bratwurst Potatoes and Peppers, with little prep, and dinner on the table in 50 minutes!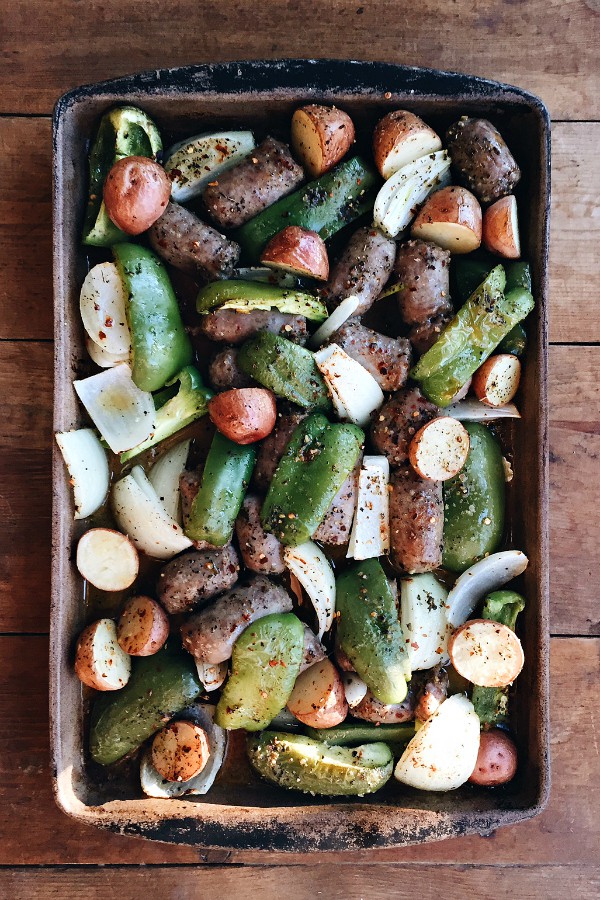 Friends, moving to a smaller house has had its challenges, but it's also been a freeing experience.
I'm loving the simple message of Shauna Niequist's new book. We were already a few steps ahead, so much of her book I can really resonate with. Coming here with 5 cars, we're down to 3 (we are sort of empty-nesters, 3 kids in their 20s, 2 at home this summer), I downsized my closet by half (yes, half), and we found several consignment places in town–a tool place, clothing, and outdoor stuff, and then of course we've made about a dozen stops at Goodwill. In fact, I love Melissa's post, Having Less Will Make You Happier.
We've done a great job thinning out our stuff, and we're reusing and repurposing as much as possible. We still have a ways to go, but what we've accomplished so far has been great. A reader asked about all my table settings, and before we moved here I gave a lot away, took some to Good Will, and then I saved my favorites, because we will still be entertaining in our new house! For example, our every day flatware I sold at our yard sale, and I'm using my "company" flatware now for every day. One large set–Easy!