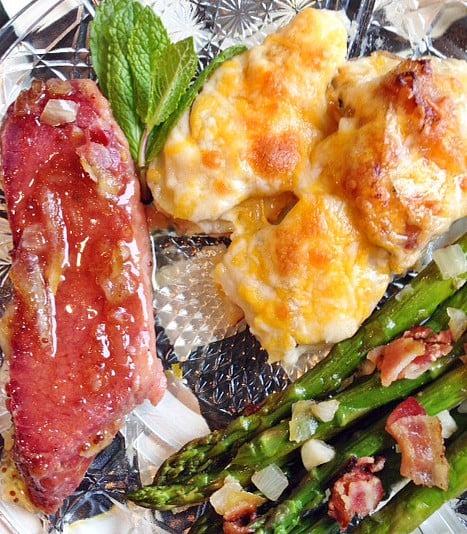 What's the perfect way to cook a corned beef brisket? First of all, we only treat ourselves to this Irish meal once a year, and our family loves the recipe I'm sharing today, Marmalade Glazed Corned Beef . It's sweet and savory, with a tangy glaze–excellent for an Irish Dinner Party!
Earlier I shared a fabulous appetizer using micro greens (that look like little shamrocks), and an easy Coconut Cream Dessert (vegan, too), which were a part of my dinner party menu this past weekend.
This corned beef recipe is adapted from the Silver Palate Cookbook (I know, I'm dating myself) for Glazed Corned Beef. The sauce is amazing, and instead of using orange marmalade like the recipe recommends, I used Harry & David's Meyer Lemon Marmalade. Fantastic! Plus a zippy honey hot mustard. Oh, boy!