Grilled Apricots with Sweet Cream
What is apricot? A juicy, soft fruit, like a small peach, of an orange-yellow color. Enjoy Grilled Apricots with Sweet Cream, the perfect summer dessert!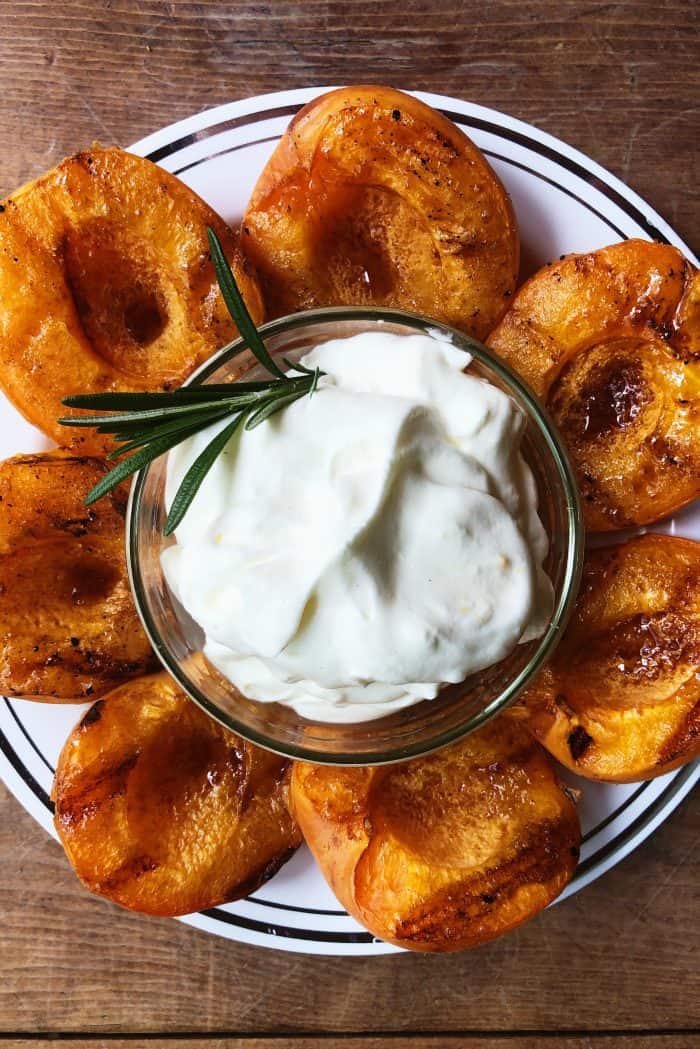 Summer is slow and steady, full of so many hospitable opportunities. Summer is a time of bringing in people together from the daily rush and chaos of life, creating a space full of safety and soul. I say "soul," because if you're intentional about the time with your guests, you'll dive in and go a little deeper with them. That is, if you want to get to know them more.
Today I'm also sharing one simple conversation starter to use at your next meal. If you want to hear your guests' stories, but you don't know where to start, begin with one question.
Grilled apricots
Summer is also … delicious fresh fruit. So enjoy this Grilled Apricots with Sweet Cream recipe, or if you're a peach lover, Carmelized Peaches Recipe (so good!). So easy, for your next summer party. Or, if you have apricots sitting on the counter and you want to make an appetizer? This Summer Apricot Goat Cheese Appetizer is quite tasty, too!
Grilled Apricots with Sweet Cream
A few weeks ago, we served these delightful Grilled Apricots with Sweet Cream, a light dessert, a perfect ending to a summer meal!
Preparation is so easy, WOW. And apricots scream summer, don't you think? They can be a little tart, so the cream on top is the perfect sweetness needed.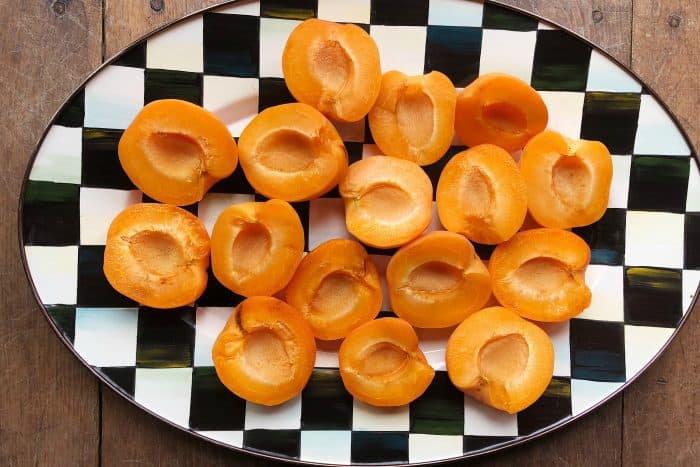 Cut the apricots in half.
Brush with olive oil.
Dust with coconut sugar.
Grill, and serve warm with an amazing mascarpone whipped cream.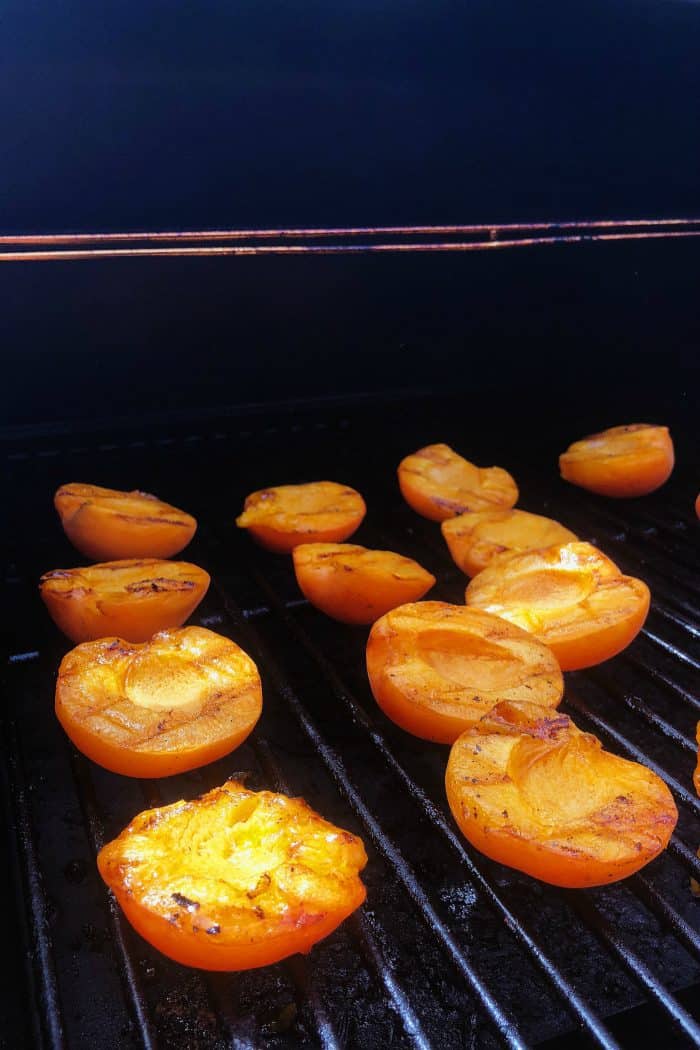 One conversation starter
Back to the party……my husband and I decided to change up the conversation a few weeks ago, and ask one question that would be helpful for getting to know one another better at the table.
Who in your growing up years (through age 12) was the most influential in your life?
A contemplative question indeed, but since we all come from such different backgrounds, what a great way to learn more about who impacted our lives.
"There are people we meet who have but little roles to play in our lives, who happen to be no more than a special appearance to our story. People, who influence, who possess the drift, the force whose implication leads us forward in our course of life. We might have never come across them until today and probably not hear from them tomorrow or ever after, for all that exists is this moment, a moment enough for them to fulfil their purpose to help us find our way and enough for us to fulfil ours to actually find it, reach it, accomplish it. They are the ones who bring meaning to our lives, who happen to inspire, who spark a fire that we carry with us for the rest of our days, who are but pillars of hope and sometimes sacrifice, life-changers, life-savers, catalysts." – Chirag Tulsiani
In the end we realized that the most influential individuals in our lives were evenly split between the sexes (female and male). I loved that!
Why ask questions?
Here's why we love to ask questions, even if they goes deep into our history. It's because we really want to invest in people and learn more about them. Asking a conversation starter at a dinner in a way implies, "What made you – you?" and even deeper, "Where did you come from?"
I love this so much, because our stories matter!
Oh, and one more thing. The wonderful thing about conversation starters is that everyone gets to respond. Even the quietest person at the table can jump in and be heard. The table is a safe place for people to interact together and to connect!
Let me know if you use this question, and how it impacted your meal and friendships with your guests!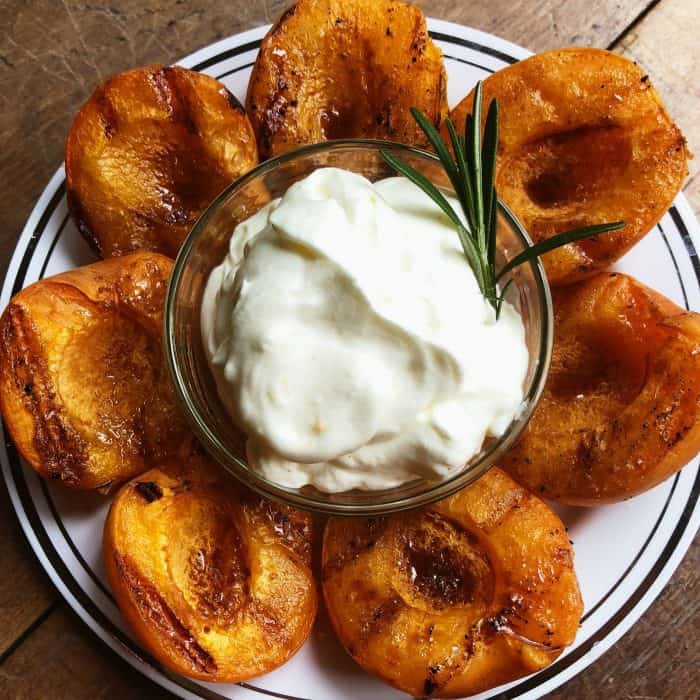 Get the Recipe: Grilled Apricots with Sweet Cream
Optional for garnishing: Drizzle with honey and a few toasted walnuts or pecans.
Ingredients
8 ripe apricots, halved, pitted
2 tablespoons olive oil
2-4 Tbsp. coconut sugar
1½ cups heavy cream
1 teaspoon almond extract
4 ounces mascarpone cheese
1/2 cup powdered sugar
Honey, for drizzling
Instructions
Prepare a grill for medium heat. Brush the cut side of each apricot half with oil and grill apricots, cut side down, until lightly charred and juices start to seep out of fruit, 6–8 minutes.

Using a metal spatula, carefully turn apricots, and grill a minute or so until the other side is lightly charred. Transfer to a plate. Lightly sprinkle with coconut sugar.

Using an electric mixer, beat cream until almost thick, then add in the mascarpone cheese, almond extract, and powdered sugar. Beat for 30 seconds until medium peaks form.

Divide warm apricots among plates. Spoon whipped cream on top. Optional for garnishing: Drizzle with honey and a few toasted walnuts or pecans.
More apricot recipes: Apricot Greek Yogurt Chicken Thighs (easy!), Apricot Blue Cheese Babka [Brown Eyed Baker], Apricot Crisp Bars [Barefeet in the Kitchen], and Goat Cheese Apricot Jam Appetizer.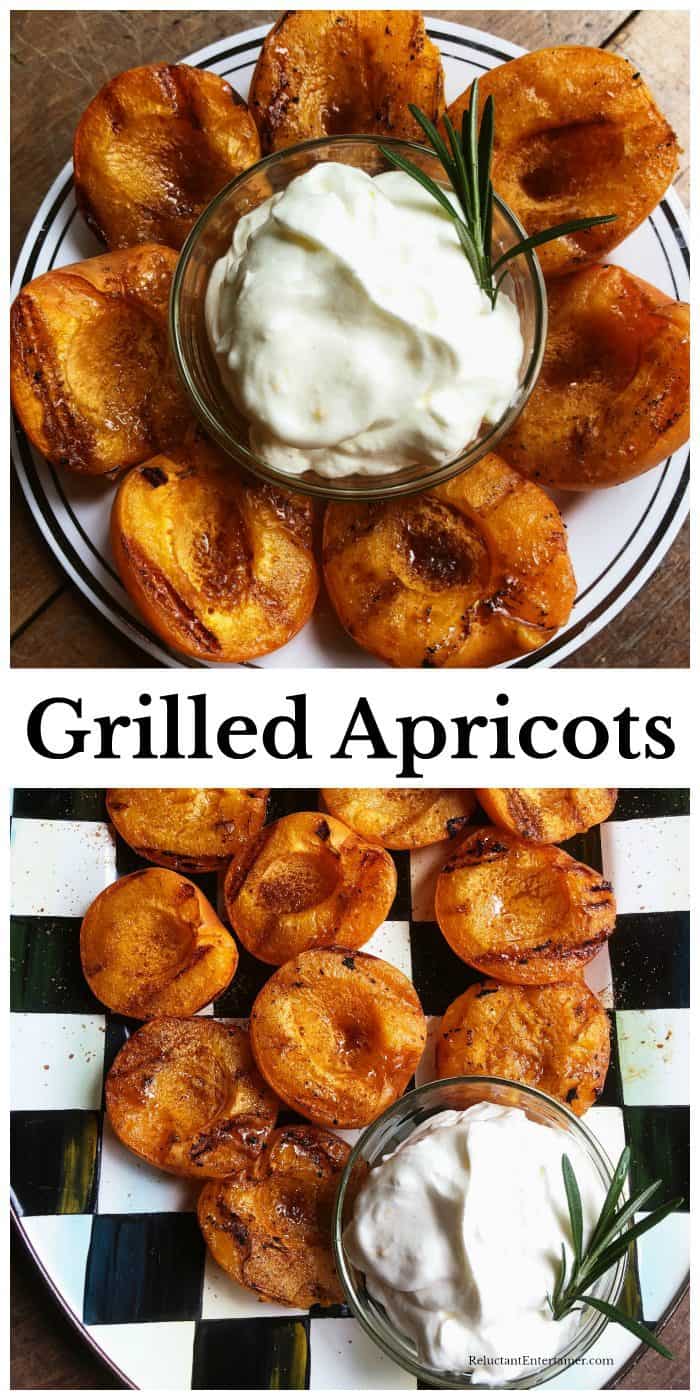 Hello and welcome to my home and table!
I'm Sandy—lover of food, family, cooking, THE BIG BOARD, travel, and bringing people together. Through great recipes and connection around the table, we become better, stronger, and more courageous people. Feasting on Life is real, and every time we do it, we grow a little more. Read more...