Butternut Squash Hatch Green Chili
Enjoy a bowl of Butternut Squash Hatch Green Chili, a protein-packed butternut squash chili recipe packed with chicken and white beans!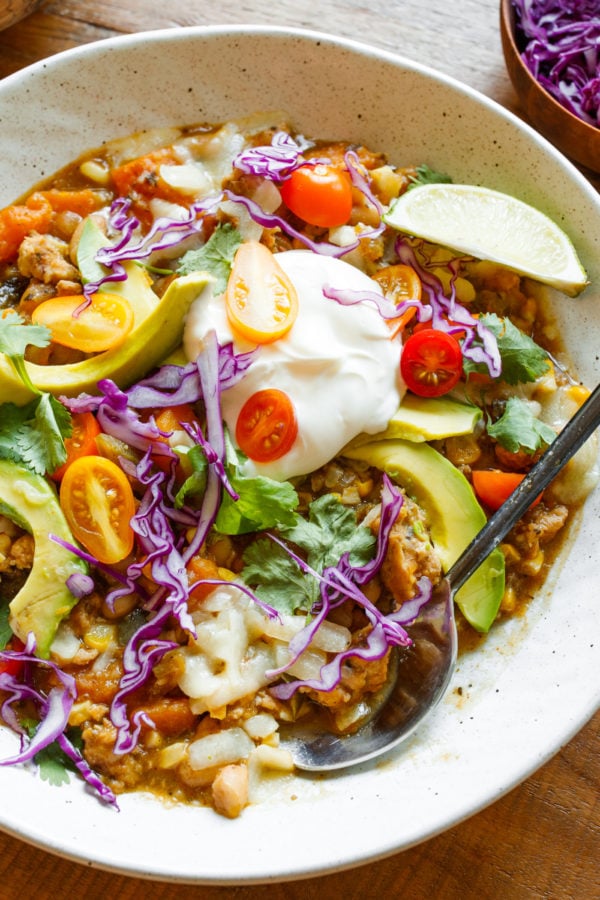 IT'S CHILI TIME! The perfect season for making a pot of Butternut Squash Hatch Green Chili and inviting your friends over.
Butternut Squash Hatch Green Chili
This recipe is out-of-this-world good, and super fun to serve with all your favorite toppings. In fact, serve it on The Big Board, like this chili board we made a few years ago. Oh, and if you have leftover chili, use it in this Chili Pot Pie (fun idea for Halloween!)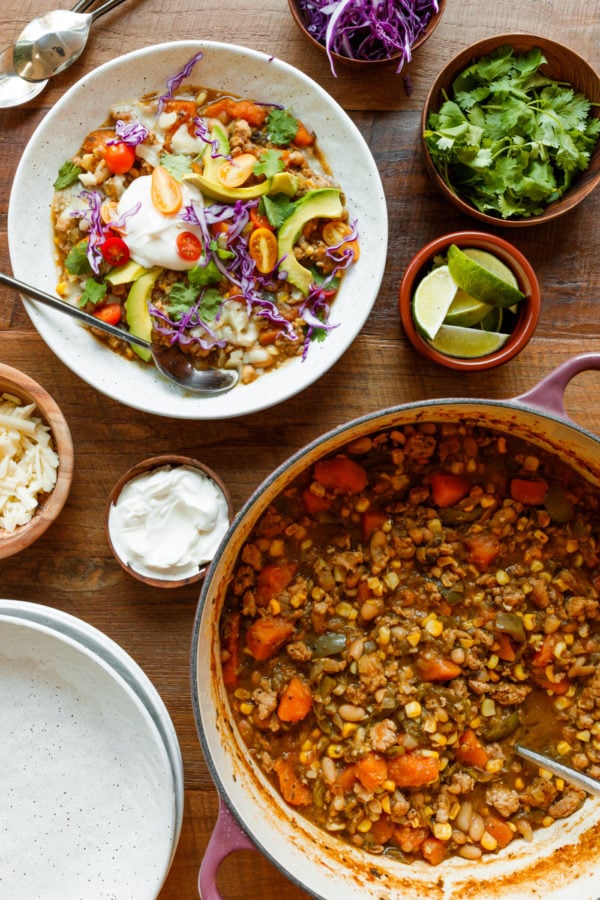 Hatch green chili with butternut and beans!
Butternut squash, beans, and chicken soup (or chili) gives you a daily source of fiber and potassium! Getting enough potassium helps lower your risk of heart disease and protects your muscles and bones from wearing down.
Seriously, we were talking about how healthy we feel when we eat a hot bowl of chili. Especially when it's cold outside :) Oh and a piece of Grandma's Buttermilk Cornbread.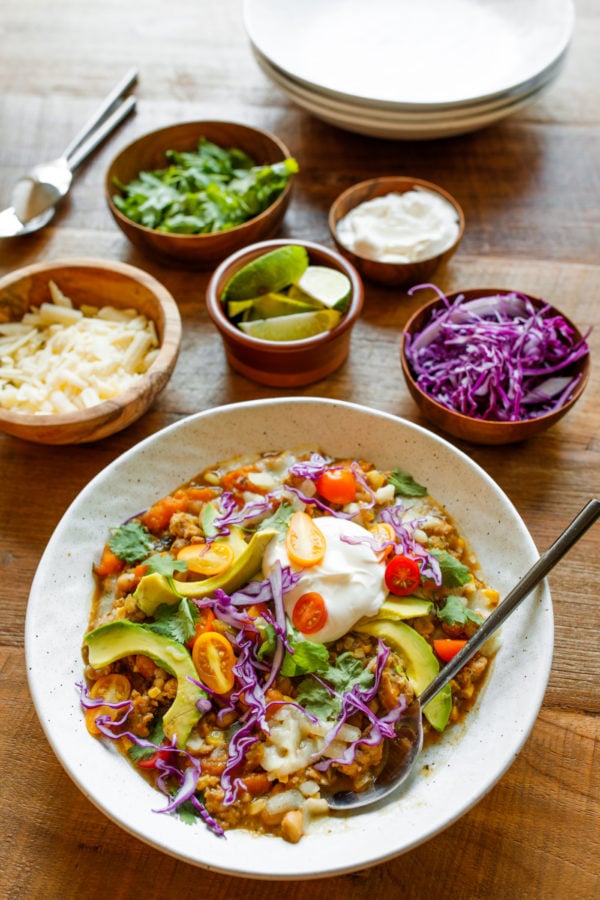 And then there are the hatch green chilies that make this chili especially complex. Look for them where other hot peppers are sold.
Ingredients for Hatch Green Chili
Butternut squash + salt
Olive oil
Hatch green chiles
Mexican oregano + cayenne pepper + cumin + coriander
Ground pepper + kosher salt
Red onion
Green bell pepper
Garlic
Ground chicken or turkey
Chicken stock
White wine
Worcestershire sauce
White cannellini beans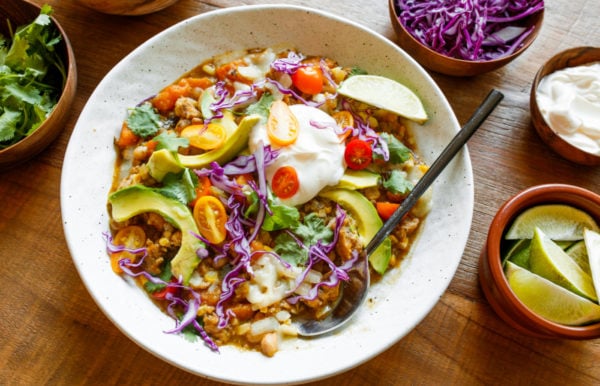 What chilis can you substitute?
Substitute with two light green Anaheim peppers or two poblanos.
Or these:
Jalapeno pepper
Cayenne pepper
Bell pepper
Habaner
Pepper or banana pepper
Chili powder or chili flake or green chili pepper
Toppings to serve on chili
Purple cabbage
Cilantro
Sour cream
Avocado
Sharp white cheddar cheese
Lime wedges

Can you freeze chili?
Most of the chilis I make are heavy in savory tomato flavor. This Hatch Green Chili, however, is brighter and a bit lighter in flavor. Like most soups, stews, and chilis, the longer it sits, the better it gets, so it's a great meal to make if you want delicious leftovers. This chili also freezes wonderfully, so you can save any extras for a last minute freezer meal.
I have quite a few chili recipes on this blog, mostly due to the fact that I love warm bowls of soup or chili in the fall and winter nights (I mean, can you blame me?).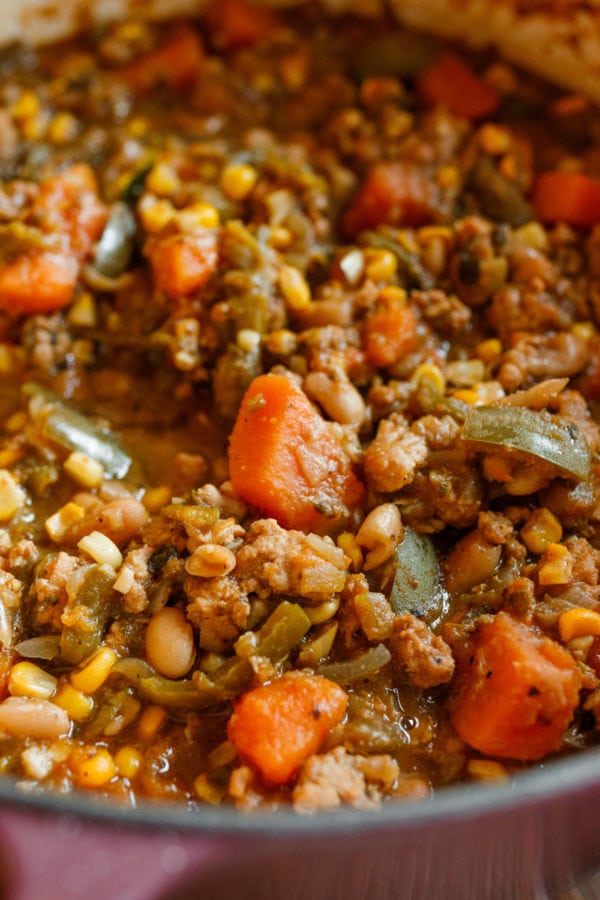 Can you make it in a slow cooker?
Yes, you can make this Butternut Squash Hatch Green Chili in a slow cooker, if that's what you have in your house.
We simmered it on the stove, which was quite easy. Serve with your favorite corn bread!
This is how we're enjoying our October so far
It's fun in the evening to cozy up to our favorite TV shows. As long as we don't spend hours doing this, it's okay to take a mini vacation from the 'real world' and enjoy our favorite Netflix shows.
Wrap up in a cozy blanket. We have lots of comfy blankets in our living room, and we love turning on our gas stove.
We're starting to cook with squash, using various recipes! My favorites are listed below!
We take long, relaxing nature walks. We headed out this week in the fall colors to take a long walk while it's still warm. There's something about the fall colors that make you slow down and take in the sights and sounds all around you. I just can't get enough of the breeze in the aspens!
Cozy coffee drinks! You can make your own homemade pumpkin latte, or my friend Ree's Hot Apple Cider! Oh, and are you ready for "hot toddy" season?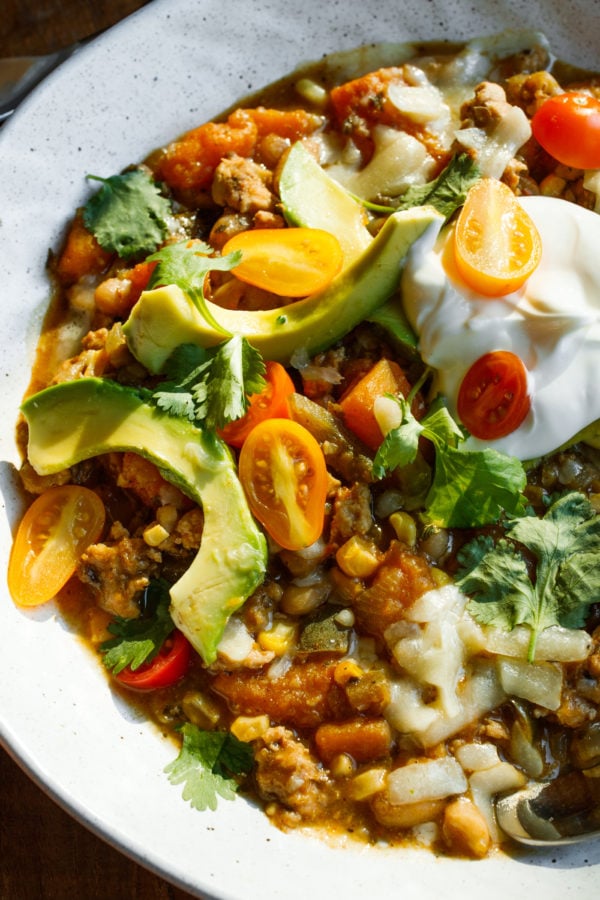 ENJOY!
More recipes with butternut squash:
Seared Scallops Coconut Butternut Soup
Pear Butternut Squash Breakfast Casserole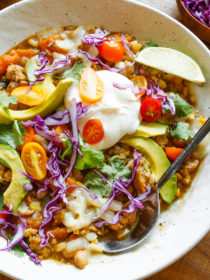 Get the Recipe: Butternut Squash Hatch Green Chili
Ingredients
2 lb butternut squash, cut into 2'' cubes
Salt to season
½ c olive oil, divided
6-8 hatch green chiles, about 1 heaping c or 2-3 4 oz cans green chile
1 ½ Tbsp Mexican oregano
2 tsp cayenne pepper
2 Tbsp cumin
1 Tbsp coriander
1 tsp ground pepper
2 tsp kosher salt, plus more to taste
1 large red onion, finely diced
1 large green bell pepper, diced
10 cloves garlic, minced
2 lb ground chicken or turkey
4 c chicken stock
1 c white wine
3 Tbsp Worcestershire sauce
2 14 oz can white cannellini beans
TOPPINGS:
Purple cabbage, thinly sliced
Cilantro
Sour cream
Avocado
Sharp white cheddar cheese
Lime wedges
Instructions
To roast butternut squash, preheat oven to 500 degrees, and line a large baking sheet with parchment.

Toss butternut in 3 Tbsp of olive oil and season generously with salt. Place on the bottom rack of the oven for 5-7 minutes, then toss the cubes and return to the center rack. Reduce heat to 450 and bake for 10-12 more minutes. Remove when squash is browned and just fork tender—it's okay if they aren't fully cooked, as they will continue to cook in the chili. Set aside.

NOTE* This step is to build flavor, by browning the squash. If you don't want to roast the butternut, simply cut into 1/2'' cubes and add it to the chili along with the onions, pepper, and garlic.

To roast the hatch chilis, preheat broiler to 500. Place chilis on a baking sheet and broil 4-6 minutes per side, or until charred and peeling. Place in a bowl and cover with plastic wrap to steam. Once steamed and cooled, peel off the skin and remove the seeds. Cut into 3/4'' pieces and set aside.

In a small mixing bowl, combine the oregano, cayenne pepper, cumin, coriander, pepper, and salt. Set aside.

In a large pot or Dutch oven, add 3 Tbsp olive oil and hat over medium-high. When shimmery and hot, add the onion, green bell pepper, garlic, and a generous pinch of salt. Lower heat to medium-low and cook until softened—10 minutes. If you are NOT roasting the butternut, add it to the pot now.

As the vegetables cook down, heat 2 Tbsp oil in a pan over medium-high heat. Add half of the meat in a single layer and sprinkle with half of the seasoning. Let sit, untouched for 3-4 minutes, to brown the bottom, then break into smaller pieces and cook for 3-4 minutes more. Transfer to the pot. Repeat with the remaining spice and meat—add more oil to the pan if needed.

Once the meat is in the pot, add the chicken stock, white wine, Worcestershire, hatch chilis, and beans. Stir to combine, bring to a boil, then reduce heat and simmer for 45-60 minutes, stirring occasionally.

Serve warm with sour cream, purple cabbage, fresh cherry tomatoes cilantro, avocado, sharp white cheddar, and fresh-squeezed lime.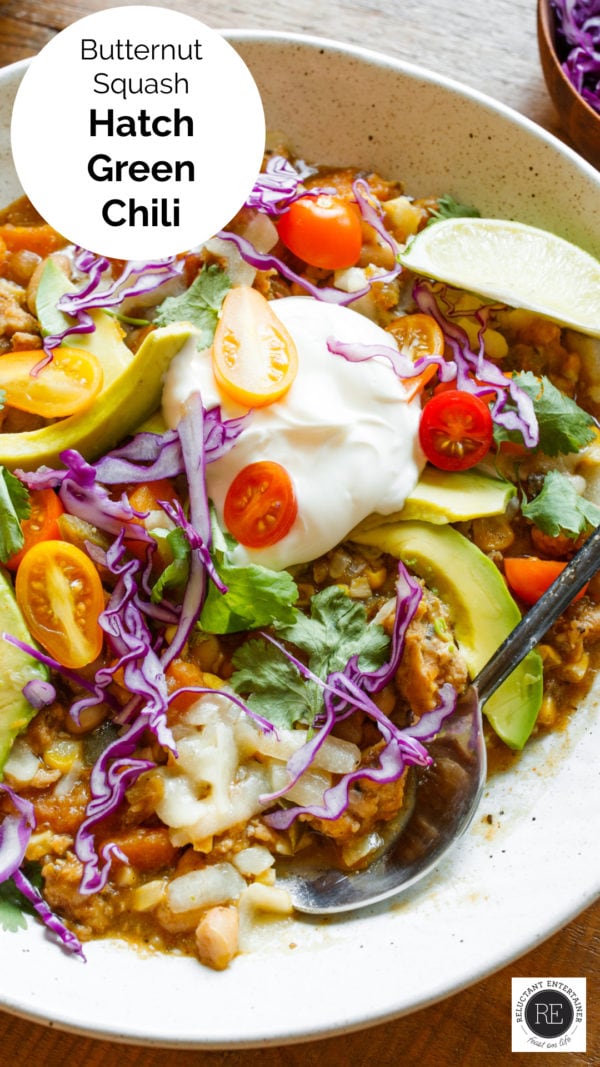 Hello and welcome to my home and table!
I'm Sandy—lover of food, family, cooking, THE BIG BOARD, travel, and bringing people together. Through great recipes and connection around the table, we become better, stronger, and more courageous people. Feasting on Life is real, and every time we do it, we grow a little more. Read more...