EASY 4-Ingredient Chocolate Cherry Cake
Make an easy 4-Ingredient Chocolate Cherry Cake recipe, moist and tasty. The perfect weekend dessert served with Vanilla Ice Cream! Watch the video!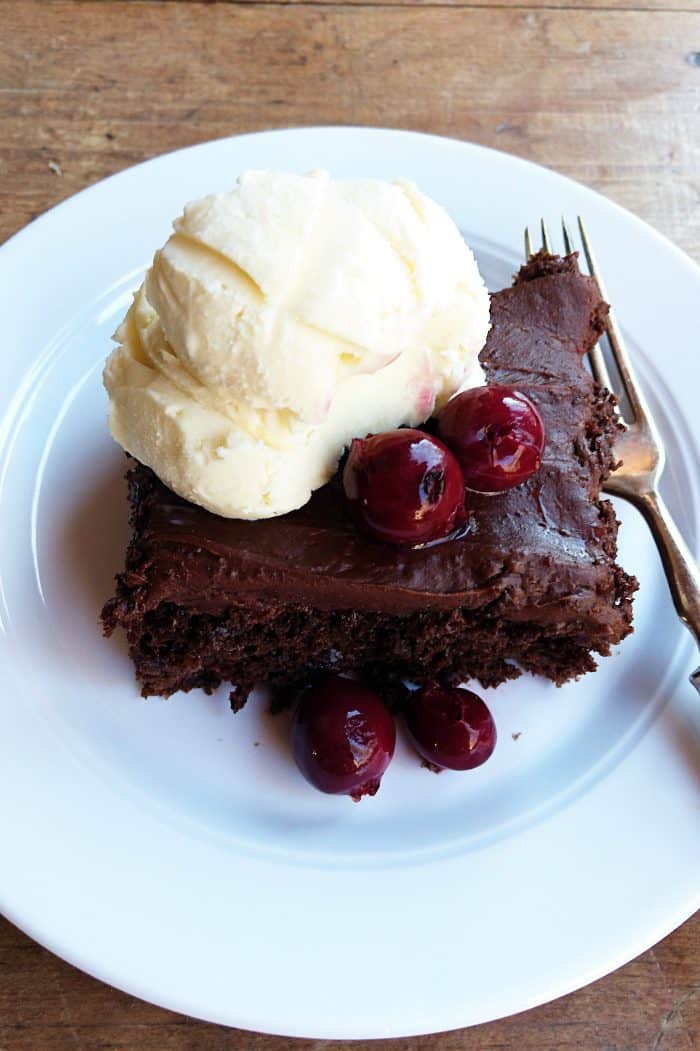 This 4-Ingredient Chocolate Cherry Cake recipe is a great any-time of year cake to make. It's perfect for any occasion, with easy ingredients to keep in your pantry, and everyone loves it. We call this our 30-minute cake, because it's out of the oven in 30 minutes, and ready to frost (or not) and serve!
If you love chocolate, you've also got to try my Toffee Chocolate Bundt Cake!
4-Ingredient Chocolate Cherry Cake
Friends, I've had this recipe for years. It was my sister's go-to chocolate cake recipe over 40 years ago. This recipe anyone can make, especially when you're in a pinch with impromptu guests coming in 30 minutes. Or maybe you've forgotten you committed to bringing dessert to a party (do you do that, too?). Let's get started: All you need are these ingredients to bake this cake.
Ingredients for 4-Ingredient Chocolate Cherry Cake
Devils Food Cake Mix
Can cherry pie filling
Eggs
Almond extract

You can buy the frosting for a quick spread while the cake is cooled, or make your own.
Frosting ingredients:
Powdered sugar
Butter
Milk
Semisweet chocolate chips
Vanilla
Cocoa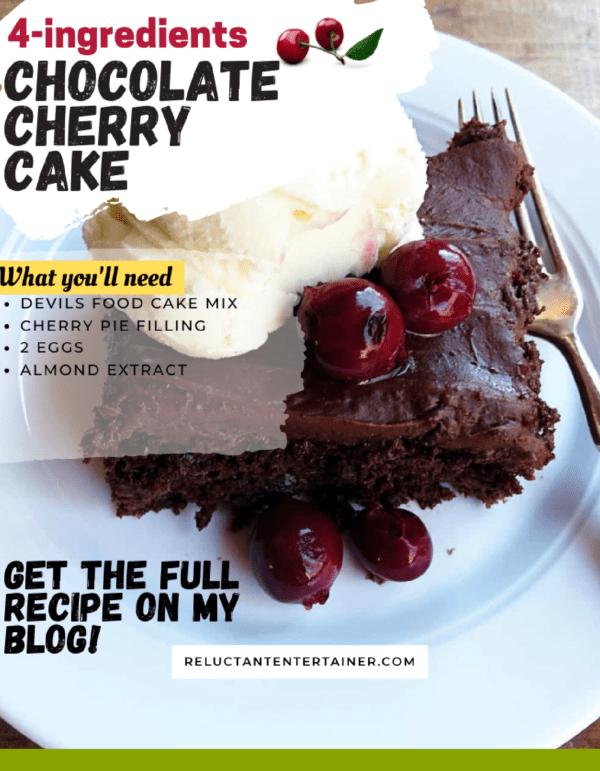 Here are the reasons why we love this cake!
Anyone can make it. Even a small child!
Easily stocked ingredients in the pantry.
Everyone loves it. Everyone!
You won't go home with leftovers (if you bring to a party).
You won't be tempted with leftovers (if the party is at your house). HA.
Any kind of ice cream pairs well with this. We love vanilla!
If you don't want to make a frosting, serve it with ice cream OR … a warm fudge topping!
How do I make a chocolate cake moist?
All you need on hand is a chocolate cake mix, a can of pie cherries, eggs, and the secret ingredient … almond extract.
What makes the cake so moist is the can of pie cherries!
Tips and Variations:
It's the ultimate QUICK and tasty, moist chocolate birthday cake – ever! My sister's touch is to add almond extract! (Good job, sis!)
Optional to leave out the almond extract if you want only a chocolate and vanilla flavor.
Be sure to check every cherry for pits. Once in awhile a pit is left in one or two of the cherries, and you don't want your guests to break a tooth.
Change up the cake mix for a variation of chocolate cake mixes, or even try a white or yellow cake mix. But then again, it wouldn't be called "chocolate cherry" cake. LOL
Don't overbake the cake. You want it to be perfectly moist.
Serve with vanilla ice cream or whipped cream. You can also spread a jar of Trader Joe's fudge on top, for a quick frosting.
The cake is amazing served warm.
Add more cherries on top when you serve each piece.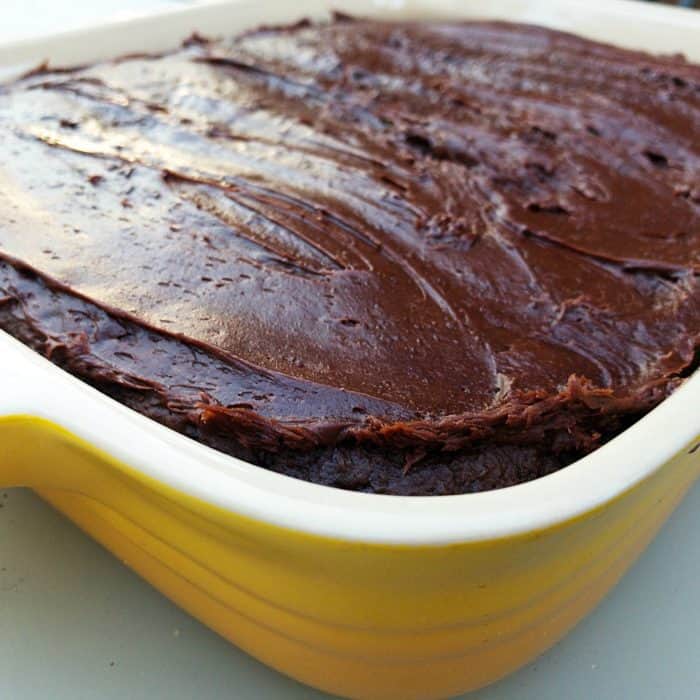 How to make a simple frosting?
Wanna make the frosting?
Mix together powdered sugar, soft butter, milk, semisweet chocolate chips. Cook over stovetop at medium heat and then add vanilla and cocoa.
Spread over the warm cake immediately.
It's also great to serve for any special occasion? Like Game Day or Valentine's Day or Christmas — or family night or a potluck?
I am a huge fan of my Le Creuset pan and KitchenAid mixer (or hand-mixer) for baking cakes!
More easy chocolate desserts to try:
Irish Black and White Bread Pudding (yes, chocolate and white chocolate)
Cherry Berry Dump Cake [Crazy for Crust]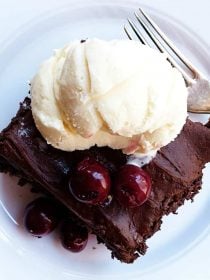 Get the Recipe: 4-Ingredient Chocolate Cherry Cake
Wanna make the frosting? Mix together 1 cup powdered sugar, 5 T. butter, 1/3 cup milk, 1 cup semisweet chocolate chips over medium heat; add 1 tsp. vanilla and 1/4 cup cocoa and stir, cooking for 1-2 minutes. Spread over the warm cake immediately.
Ingredients
1 Devils Food Cake Mix
1 can 21 oz. can cherry pie filling
2 eggs
1 tsp. almond extract
Instructions
Place all ingredients in a bowl and beat for 1-2 minutes. If you want chunkier cherries, mix by hand.

Pour batter into 9×13 sprayed pan.

Bake at 350F for 25 minutes. Remove from oven and allow to cool.

Frost with your favorite frosting, whipped cream, or serve with your favorite ice cream!
Notes
reposted from November 2017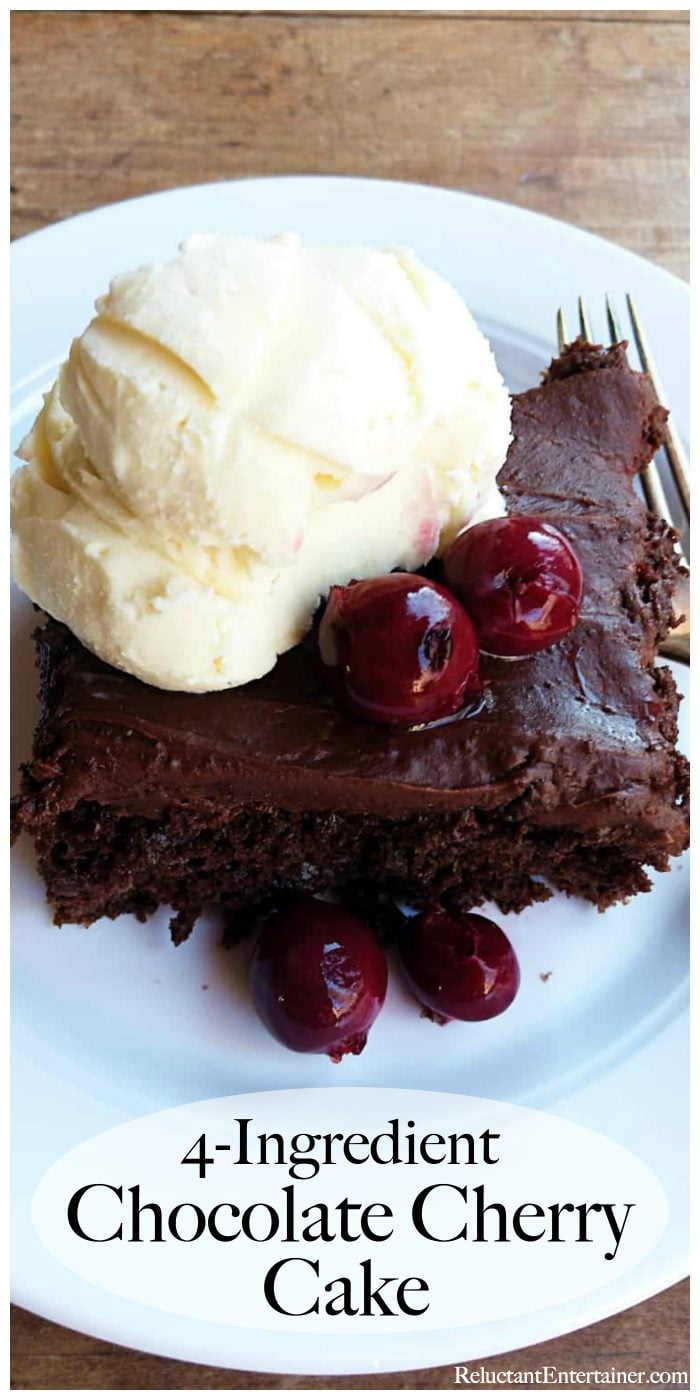 Hello and welcome to my home and table!
I'm Sandy—lover of food, family, cooking, THE BIG BOARD, travel, and bringing people together. Through great recipes and connection around the table, we become better, stronger, and more courageous people. Feasting on Life is real, and every time we do it, we grow a little more. Read more...