How to Fry Corn Tortillas for Tasty Soft Tacos
Love Mexican food? This recipe is simple, with easy tips on how to fry corn tortillas for tasty soft tacos.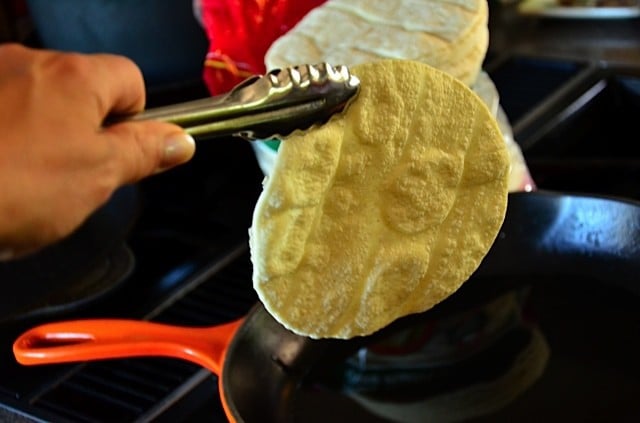 Everyone loves tacos and tacos don't have to be fancy!
That's why they work just fine on the menu when you have weekday company and you also want to keep a frugal menu.
Did you know that you can buy a bag of 100 corn tortillas at Costco for $3.65? I usually divide the bag up into thirds and FREEZE what I don't use.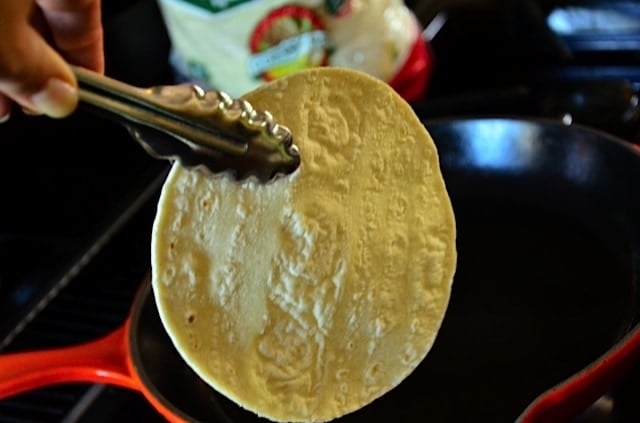 Growing up, tacos were a staple in my home. And on week-long camping trips with family friends (sometimes there'd be 20 in our group), my mom and her friends would cook tacos for the gang. I think they must have fried up well over 100 taco shells. I seemed to always get the job of taking my little hands, tearing off the paper towels, folding them in half, and standing by the cook who was frying up the tortillas.
It was a boring job, but the outcome was very good:
Delicious tacos that for some reason tasted a whole lot better in the outdoors.
Last week was an incredibly busy week for me, and although we don't usually do much entertaining on weekdays, we invited our friends over anyway because it was the only day that worked for both families.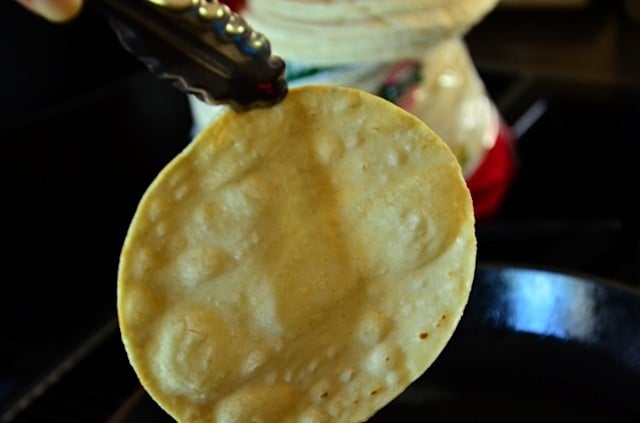 My slow cooker was full of Mango Chicken, which is perfect for tacos, enchiladas, taco salad, or burritos.
We set the table and chopped up all of the condiments. And then my daughter took over the "tortilla job," this time, frying and folding the paper towels. One by one (it takes patience), she fried and stacked up the tortillas. One by one, we demolished the stack as we ate with our guests.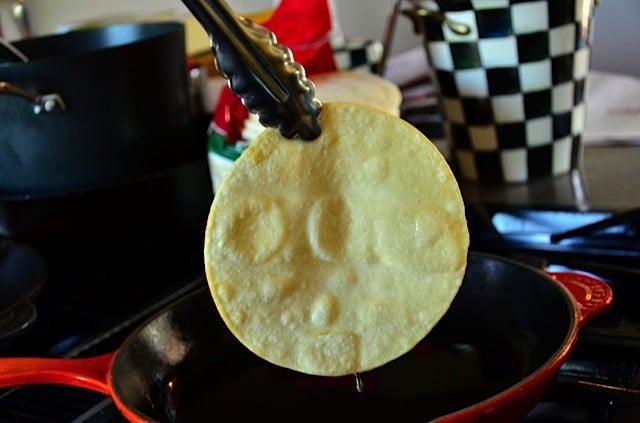 Tacos are actually a very easy dish to serve to guests if you don't mind serving a buffet dinner, because you can cook the tortillas up in advance and place them in the oven to stay warm. You can pre-chop all of the condiments and pull them out of the fridge right before serving.
There's not a lot of stress involved in serving a taco meal!
It's perfect for the "reluctant entertainer."
Taco condiments to add to the buffet line:
Meat, beans, shredded cheese, chopped lettuce, cabbage, sour cream, olives, tomatoes, salsa, or hot sauce, and always cilantro and SLICES OF LIME.

Do you find tacos as an easy menu item to serve to your guests?

How to Fry Corn Tortillas for Tasty Soft Tacos

Ingredients:

Corn Tortillas
Light olive oil or corn oil

Directions:

Heat a heavy skillet over medium-high heat.
Add 1/2 cup light olive oil or corn oil (you may need to add more, depending on how many you fry)
Sprinkle a drop of water into the pan and when it pops, the oil is hot enough to start cooking the tortillas
Fry the tortilla for about 10-30 seconds on each side, until browned and cooked. The tortilla should be soft and pliable, not crispy.
Fold a paper towel in half, place the hot tortilla on one side and fold the other side over. Place the next tortilla on top, add a new paper towel, and continue the process.