Our 20 Most Popular Recipes of 2020
Our 20 Most Popular Recipes of 2020 were inspired by my readers here at Reluctant Entertainer. Click on each link to try these recipes! Happy 2021!
Friends, we've made these recipes over and over, and I know you have too in your kitchen this past year. Thank you for your support of RE, and enjoy Our 20 Most Popular Recipes of 2020!
Our 20 Most Popular Recipes of 2020
Starting with No. 20, I'll work my way up to the top of the list. Which one haven't you tried yet? And what will be the first on your list? From easy chicken recipes to The Big Board ideas, there are easy desserts, too.
When things got tough and scary for us in 2020, many of us turned to the kitchen for comfort and sustenance for our families! And then later in the year, when we came out with The Big Board, it was a great way to take what could have been a sad and boring holiday to a new level. Serve it on a board!
Most Popular Recipes
We have thousands of recipes here on RE, but I'm so happy to share with you the TOP 20 for 2020!
Want to make your own Meat Cheese Olive Charcuterie Board? A charcuterie board is filled with cured meats and cheese, perfect for holiday entertaining.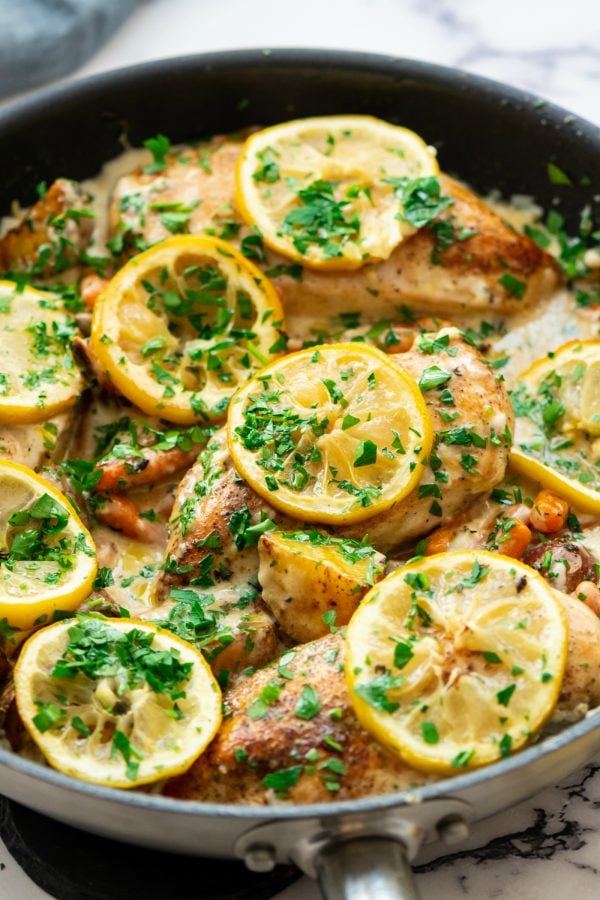 This Skillet Lemon Chicken is a chicken and vegetables dish, with a very simple cream sauce drizzled over the roasted flavors, for a weeknight meal!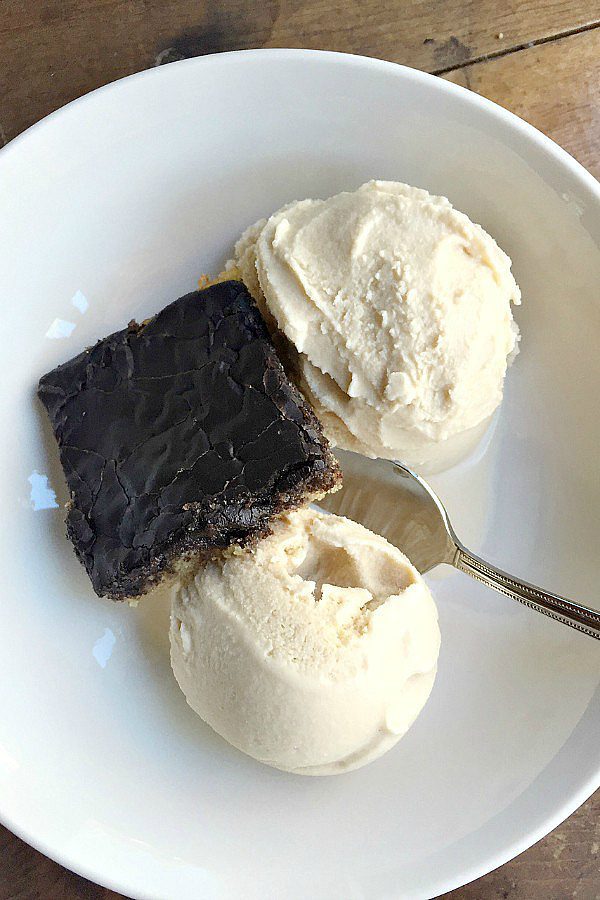 This Old-Fashioned Homemade Vanilla Ice Cream recipe (Millie's recipe, with no cooking involved), is the ultimate summer dessert for feeding a large gathering!
Serve an Epic Chips and Dips Board Recipe for your next gathering, holiday, or game day party! Use an epic board with a lip so the chips don't fall off!
Serve an Easy Taco Recipe Dinner Board for any meal, with your favorite toppings! Make crunchy tacos with turkey, beef, chicken, or pork. Happy #TacoTuesday!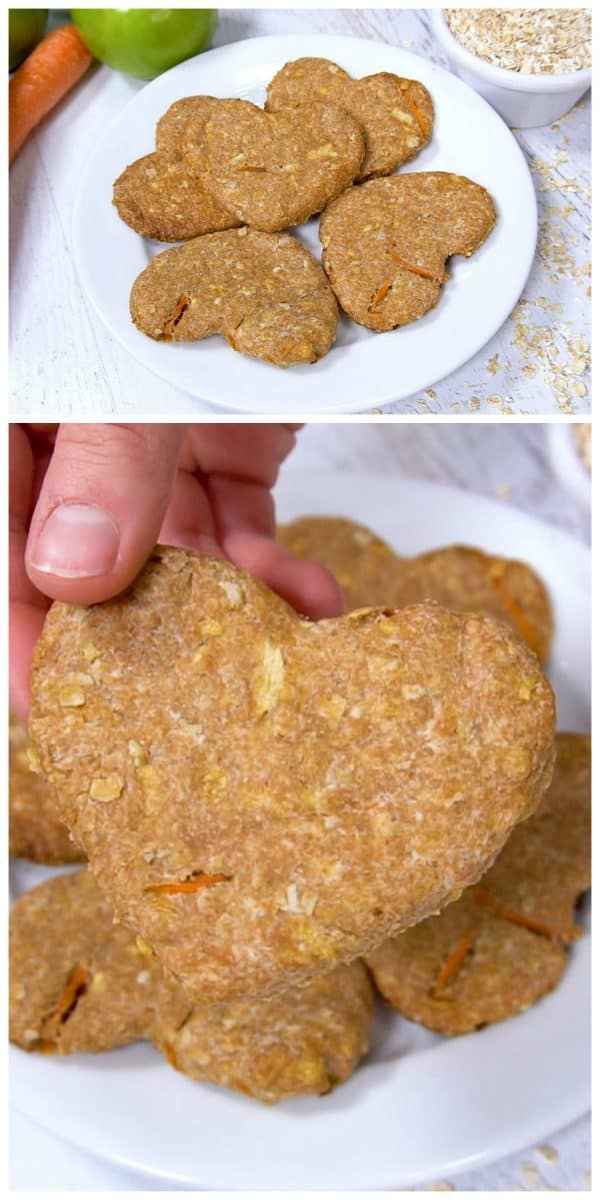 How to make Apple Carrot Dog Biscuits, an easy recipe. Homemade dog biscuits are the perfect hostess gift or stocking stuffer for your dog-loving friends.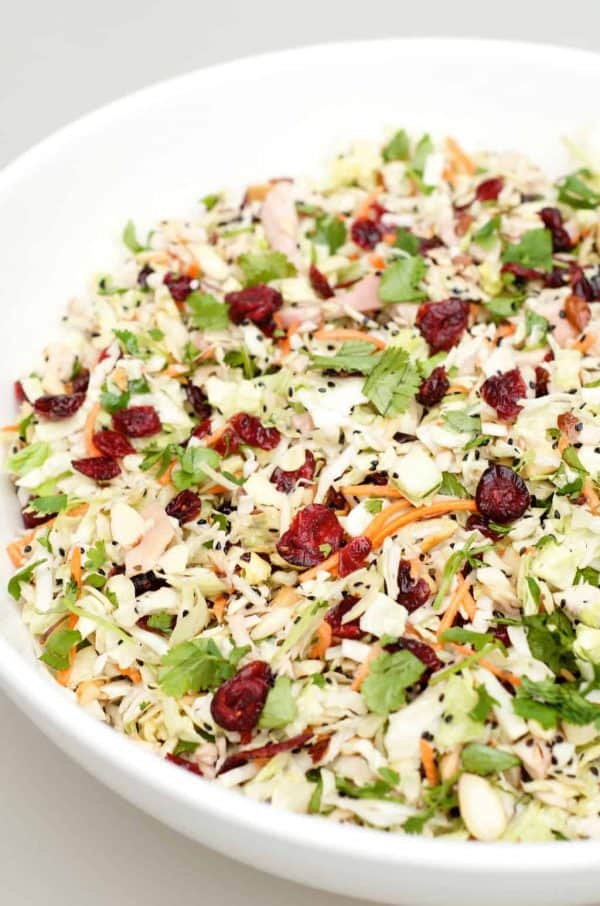 Do you love a good Asian Chicken Salad? Then you'll love the flavors of this Asian Chicken Cranberry Salad, a delicious salad or main dish that is popular at any potluck or holiday party!
Simmer a pot of spicy Easy Chicken Tortilla Soup on the stove, made with fire-roasted tomatoes, black beans, chicken, corn, cheese, and favorite toppings!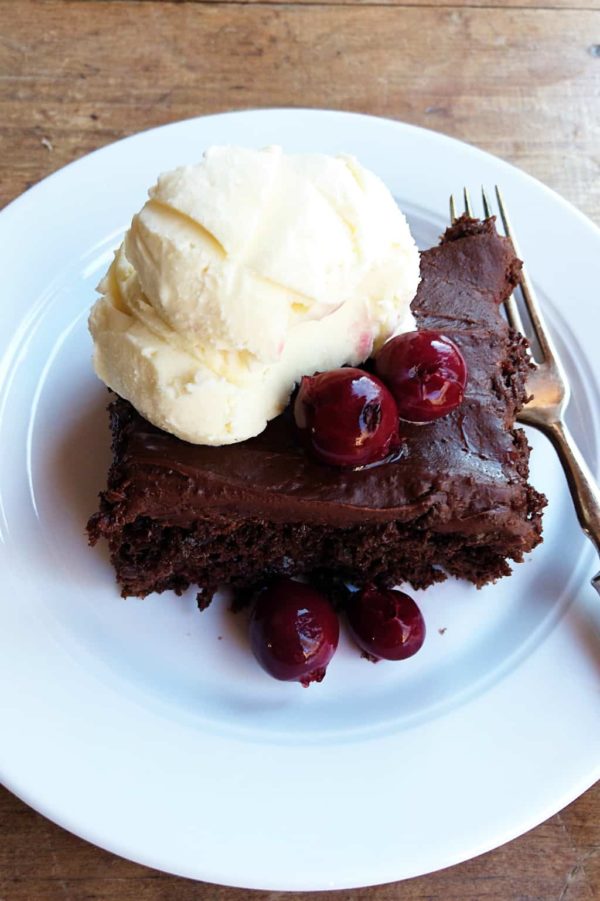 This EASY 4-Ingredient Chocolate Cherry Cake recipe is moist, tasty, and the perfect holiday dessert, served with vanilla ice cream!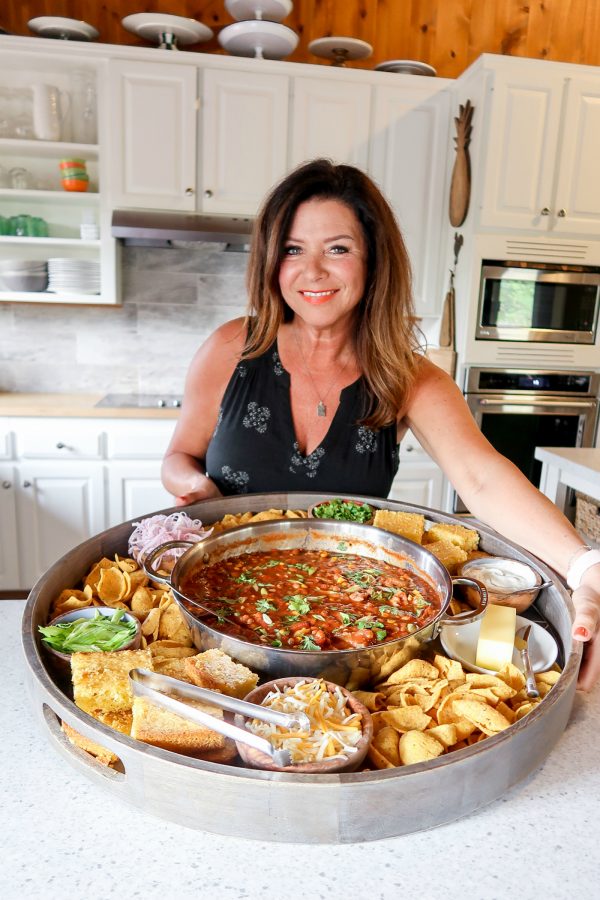 Serve an EPIC Chili Dinner Board; a great way to bring people together around your favorite chili recipe. Top with your favorite toppings and corn bread!
A quick trip to the pantry is all you need to put an Italian spin on this Cheesy Italian Baked Cannellini Beans recipe. Add your favorite cheese and herbs!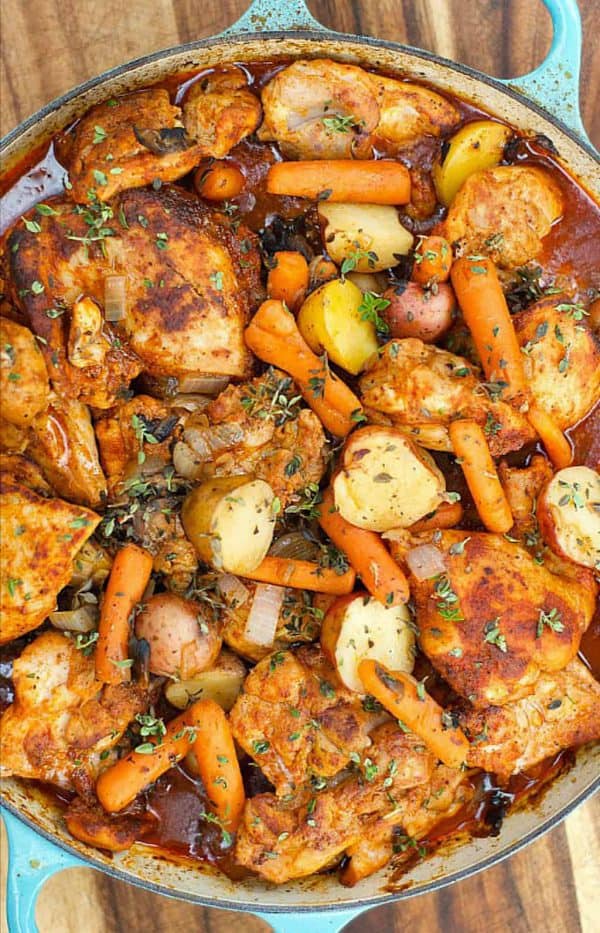 This One-Pot Paprika Chicken Thighs recipe, with potatoes and carrots, is healthy and delicious, and good enough for company!
Best Blueberry Cobbler Recipe is a juicy lemon-blueberry dessert. The recipe comes together in 10 minutes. Serve with vanilla ice cream or whipped cream!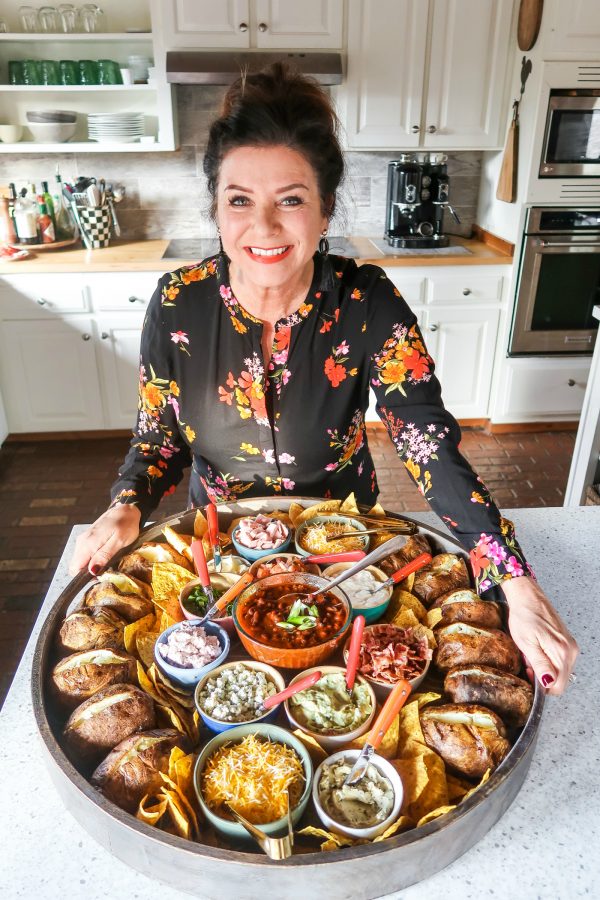 A delicious Baked Potato Dinner Board with all your favorite toppings, perfect for a casual party! Serve a hot bowl of chili in the center!
Bacon-Wrapped Air Fryer Cheesy Jalapeño Poppers, an appetizer made from The Skinnytaste Air Fryer Cookbook! Delicious, knowing this recipe is not "fried."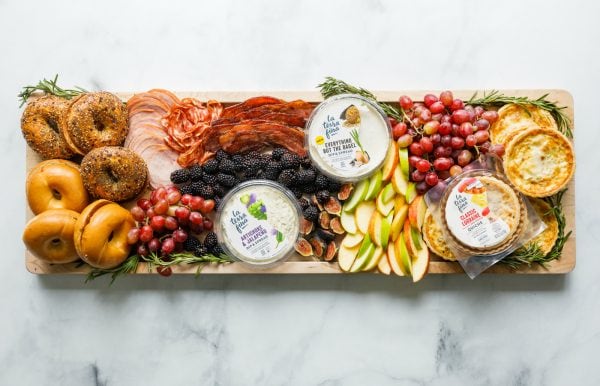 5. THE BIG BOARD page – thank you ALL for your support in 2020!
Setting out The Big Board is a great way to bring people together. It's a casual, fun way to host, where everyone serves themselves! My boards are easy to transport, so the food doesn't fall off, and perfect for any cook's style! Whether cooking from scratch, or buying premade food, building a board is an artful way to present your delicious food!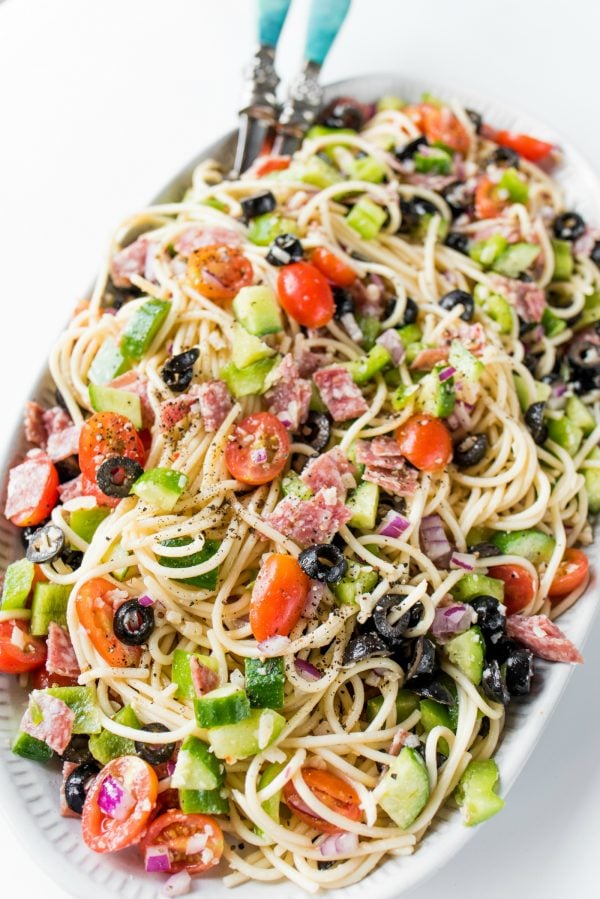 Light and fresh, enjoy this cold Spaghetti Salad. Summer Italian Spaghetti Salad Recipe is a salad with fresh veggies and Italian dressing.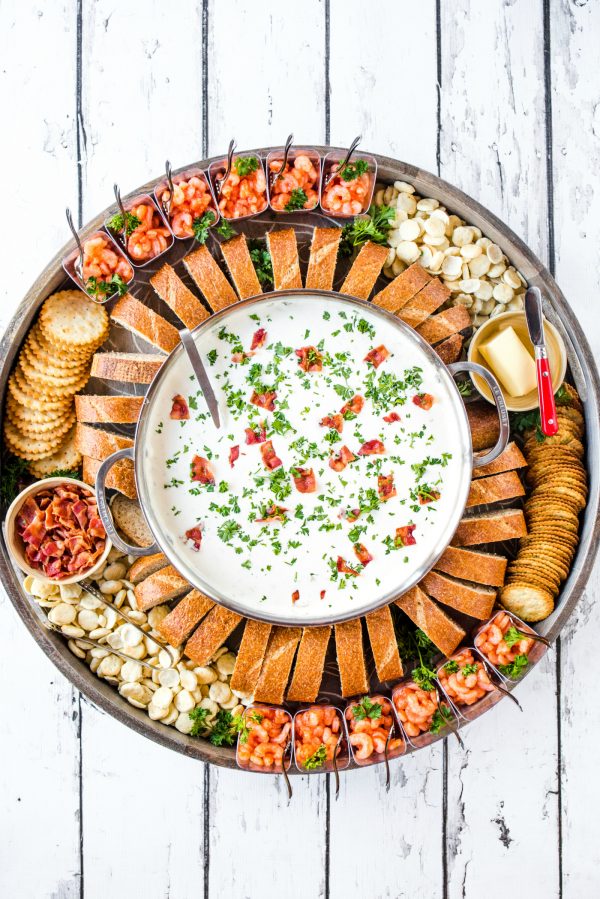 A classic clam chowder recipe for any time of year, with perfect tastes of bacon and clams. The flavors mingle together into a delicious Best Clam Chowder!
What is a charcuterie board? An Epic Charcuterie Board is filled with cured meats, cheeses, veggies, nuts, olives, dried fruits, and crackers!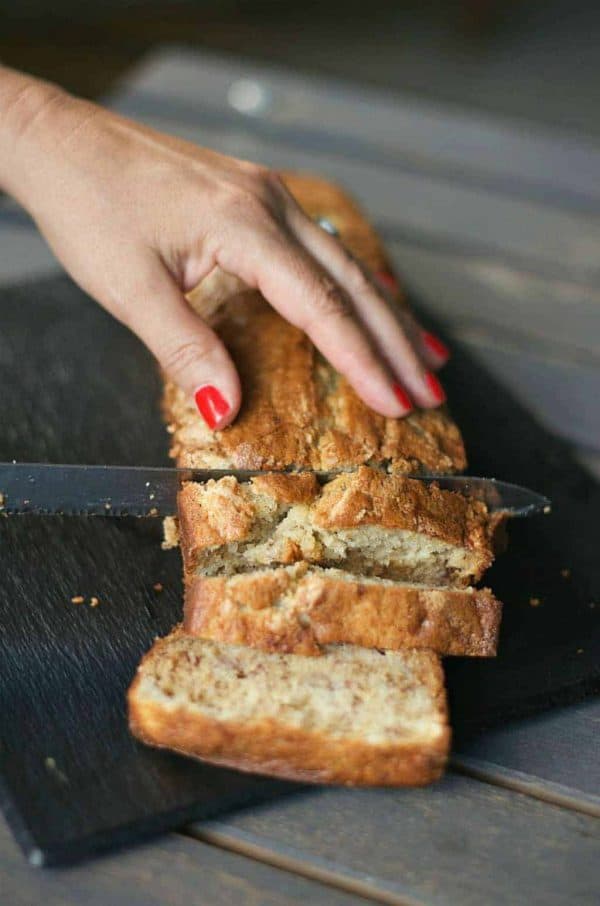 This BEST ever Sour Cream Banana Bread recipe is delicious and moist. It's truly the best ever recipe, so make a loaf and give it away!
TOP 2020 recipes I must include (honorable mention)
These following recipes came so close, so I'm sharing a few more:
Downton Abbey Lavender Tea Bread
Cauliflower Bacon Gratin
Chicken Marsala
Healthy Ground Turkey Puttanesca
Guinness Beer Beef Chuck Roast
Overnight Monte Cristo Breakfast Casserole
Cucumber Chickpea Salad
Best Seafood Chowder
Okay, there you've got it—28 awesome recipes to try this year, if you haven't already.
If you make something from Reluctant Entertainer, would you be so kind as to tag me on social media? Just use #reluctantentertainer on @ReluctantEntertainer (Facebook and Instagram).
Don't forget to rate the recipe and leave a comment.
Thank you, Friends! Happy 2021!
PS. Watch my Instagram reel from last night, where we snowshoed in to Swampy Warming Hut here in central Oregon. We hung out until almost midnight, then hiked back to our car with NO head lamps. The full moon was out.
Hello and welcome to my home and table!
I'm Sandy—lover of food, family, cooking, THE BIG BOARD, travel, and bringing people together. Through great recipes and connection around the table, we become better, stronger, and more courageous people. Feasting on Life is real, and every time we do it, we grow a little more. Read more...